| | | |
| --- | --- | --- |
| | 3600 Nautical Miles on AA Batteries | |
by Alfred Scott
This article appeared in the September 1992 Falco Builders Letter.
Richmond, Virginia, to Coeur d'Alene, Idaho, is 1833 nautical miles at 311°-so says the Trimble Flightmate GPS. I flew out to the West Coast Falco Fly-In in September in the Corporate Disgrace, and I did the whole trip on a hand-held GPS receiver clamped to the right-hand stick of my Falco.
I knew companies like Trimble lend equipment to magazine writers, so I called them and popped the question if they would lend me one for the trip. One day before I left, a box arrived by Federal Express with this little jewel. At Oshkosh, prices of the Sony GPS were down to $750 but that's strictly a lat-long machine, and by now even I know that the real utility in these things is having an aviation database, which the Trimble has.
It's a simple device, looking like a slightly oversized calculator that someone bent in a fit of rage. The bent part contains the antenna, and it's supposed to be facing straight up in the ideal conditions. It runs for about 10 hours on four AA batteries. It has an aviation database that includes airports and VORs, nearest-airport features, and John Oliver just bought one mail order for $1040.
Although I've been hearing people talk about lorans and GPSs for years, and have flown with people who used them, this was my first experience of actually navigating with one of these things. What a revelation it was.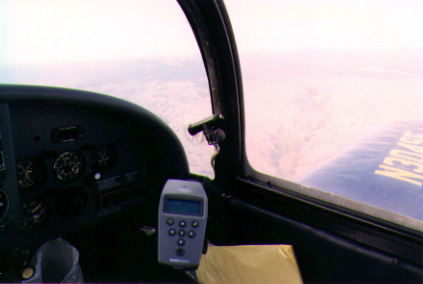 Over Jackson Hole.
I spent the night before, studying the manual and trying to make sense of it all in my living room. There are eight buttons: four cursor arrow keys, an on-off button, a 'menu' button in the middle of the arrow keys and two other buttons. In reading the manual, I came away with a rather strong sense that this thing isn't yet in the easy-to-use category that my Macintosh computer is. But I did get one thing stuck in my head, that you could mash the top-left button and then the top-right button and that meant 'Direct To'.
So the next day, I climbed in my Falco and headed west. With a big nasty front to the northwest, I had only a general plan to fly as far west as possible before sundown and skirt the front. Climbing out of Richmond, I tuned in the Lynchburg VOR and then started fiddling with the GPS. To my surprise, I was able to get Lynchburg entered without any difficulty, and then I cross-checked the VOR and DME with the GPS. When I crossed Lynchburg, I dialed in Roanoke on VOR and GPS, and turned the DME off. When I crossed Roanoke, I turned the VOR off, and I flew the rest of the trip on GPS alone.
My trip took me to Bowling Green, Kentucky, then to Springfield, Missouri, for the night. The front was just moving into the north side of Springfield as I landed. The next day I flew to Hill City, Kansas, to Cheyenne, Wyoming, and then on to Jackson, Wyoming where I spent the night with Frank Christensen. By the way, Frank is every bit the compulsive neatnik that you've heard-I couldn't even find a trash can in their guest room! The next day, Jonas Dovydenas and I joined up at the Jackson airport and flew on to Coeur d'Alene, three hours away across the Montana and Idaho mountains.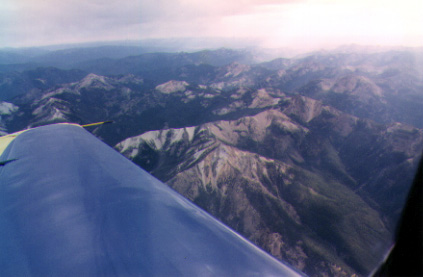 The Montana mountains.
It's on a leg like that the real value of GPS or loran really hits you. My Falco has only 34 gallons of fuel, and I normally want to land in three hours with a comfortable reserve. Sometimes I'll push it to 3:15 and maybe even 3:30, but never more. On a leg like this, I'll measure the distance on a wall chart with my fingers, compare it to other three-hour legs I've just flown and set off. Along the way, I'll monitor my progress and as the trip wears on, I'll break out my calculator, make an estimate of when I'll land and then the worries start.
Did I really figure that right? Out comes the calculator, and I do it all over again. There's always that nagging worry that the winds might have changed, or that I might have made a mistake. On the east coast, you can find an airport in 15 minutes of anywhere, but it isn't like that out west. The Montana mountains are rugged and beautiful, with a thousand bucolic valhallas, alpine meadows edged with groves of golden Aspen trees that look like a bed of goldenrod from the air. But if you had to put it down in many of those parts, you'd be in a world of hurt.
With a GPS, you can leave your calculator at home. This little battery-powered 32-bit computer is cranking out the calculations on a continuous basis. When you take off, you already know how far it is to your destination, and you fly a straight line course. With a VOR, the needle varies in sensitivity depending on how far you are from the VOR, but with a GPS the sensitivity never changes. Wander off the straight-line course and the CDI needle will register immediately, and it'll even tell you that you are 0.1 miles off course.
And you get a continuous readout of groundspeed and track angle, so you can always tell what direction you are flying. But the most comforting feature is the continuous calculation of time enroute and arrival time.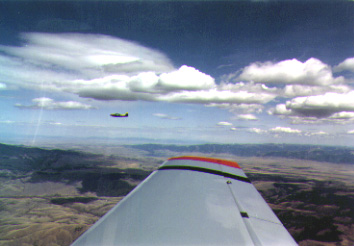 From Jonas's Falco: the Corporate Disgrace and a liquid sky.
If you've been flying loran for a while, none of this is new to you, but for a novice like me a flight across the country with a GPS will forever change the way you think about navigation. Gone are the days of trying to figure if you can make it to Des Moines on the remaining fuel-man, you know. Gone are the days of trying to find an airport in the middle of nowhere.
After thirty hours of flying across the U.S. and back with the Trimble Flightmate, I come away with a sense of how antiquated the VOR system is, not to mention ADFs. I'm such a novice at these things, I can't weigh the merits of one design versus another, but the low cost and ability to work on battery power when your aircraft's system fails is very desirable. By the end of the trip, I had become reasonably proficient at using the Flightmate to navigate to VORs and airports, but there are entire other functions such as nearest airport or setting a user waypoint that I never explored.
For the kind of trip I took, the Flightmate seems ideal. For heavy use in crowded areas, I'd want something that would mount in the panel and would be easier to flip back and forth between waypoints. Everyone raves about the NorthStar being the easier to use. Then I look at the King unit with a moving map display, and I want it all in one package.
Jonas and I sailed into Coeur d'Alene to find a hearty group of Falco pilots shivering in the cold wind. John Harns, Perry Burholm, Larry Black, Jim Slaton, Karl Hansen, Rex Hume and Ray Purkiser brought their Falcos. Jim Baugh had his Sequoia 300 there, and Al Aitken had just completed about eight hours of putting the airplane through a series of engineering test flights to explore the handling qualities.
Dave and Evelyn Thurston came out for the event, hoping to get a ride in the Sequoia, but the next day proved to be very windy, and for most of the day everyone sat around the airport drinking coffee, chatting and watching the sand storm that continued for the whole day.
We'll have a more complete report on the Sequoia 300 from Al Aitken later, but it appears that when the few bugs are worked out, it will be an excellent airplane to fly. Most disturbing was a very serious problem with ground-handling. The airplane has a tendency to get into pilot-induced-occilations on the ground, to the point where Al Aitken was skidding the tires on landing roll. It was more difficult to steer, he said, than any taildragger he had flown. We've since fixed the problem with stronger springs in the steering system. Also, while the airplane is stable in pitch, the stick-force gradient is rather shallow.
The speeds that we are seeing on the various Falcos are all over the map. I own the slowest Falco in the world, and I was burning 7 gph at 12,000' over the Montana mountains while Jonas was burning 5.5 in his 180 hp Falco flying in formation with me. Jonas routinely indicates 155 knots at cruise with full gear doors. Rex Hume indicates 165 knots with the same engine.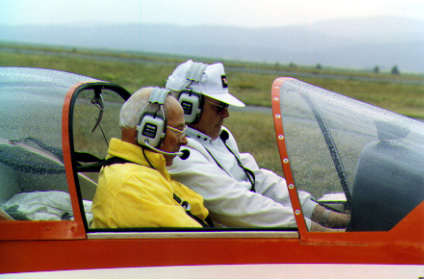 Dave Thurston and Karl Hansen.
Dave Thurston finally got his first ride in a Falco, with Karl Hansen, and he landed to report that they were indicating 182 knots at 25/2500 at 5000 feet. It all sounds like fiction, until you talked to someone who's flown formation with Karl and has tried to keep up. Dave was amazed.
At one point, back in the hotel, a Canadian EAAer wandered in and introduced himself. He was thinking about building an airplane and wanted to know about the Falco. He didn't know what the airplane looked like, so Karl Hansen whipped out his wallet and showed him a picture of his plane. Just so the guy wouldn't come to the wrong conclusion, as he was studying the photo, Karl chimed in with, "It flies better than it looks".
I got a short flight in Larry Black's Falco. It's a beautifully built Falco-but then so were all of the others there. We had a problem on takeoff, Larry has a couple of Porsche seat tracks and while they lock firmly in position in the forward-position Larry uses, they slipped back on me. We took the airplane north of the field for a little spin.
I've flown a lot of homebuilt Falcos, and I think Steve Wilkinson has achieved the lowest control-system friction of any that I've flown. This is mainly a matter of keeping paint off the ends of bushings. Larry Black's Falco was nearly the same, and the rate of roll was higher than that of any homebuilt Falco, though not as fast around an aileron roll as mine.
Larry says, "I like to think I built the Falco to fly the way Frati intended" and it's hard to argue with that. He's proud as a peacock of the fact that his Falco is perfectly trimmed out without a single external tab, but I suspect he's got a rubber band in there somewhere.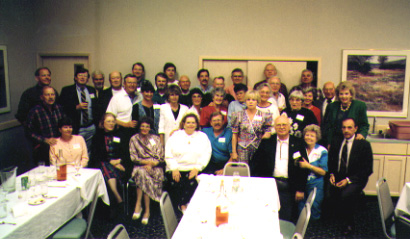 We had about forty people at the dinner on Saturday night, and it was in many ways like a normal party, but then you would sidle up close to a couple of guys sitting around talking and realize they were deep into construction techniques. "They're talking about part numbers again!" said Barbara McMurray as she fled the scene as Dave McMurray, Cecil Rives, Dan Martinelli, Craig Bransfield and others a-building chatted away.
We took an informal poll of the personalities involved. Dave and Evelyn Thurston got the award for coming the farthest. Craig Bransfield was the hands-down winner for the most compulsive-if he continues his present pace, by the time he finishes his airplane his photo album will weigh more than his Falco! We decided Jimmy Shaw won the piece-of-work category, and everyone agreed that Gene Glenn was the no-contest winner of his category-although no one could agree what that category was!
I headed out the next day due east and ran into all kinds of nasty clouds over the mountains, so I peeled off and flew down over McCall, Sun Valley and landed at Pocatello. Then it was on to Cheyenne, Des Moines for the night, and home the next day. Jonas went south to visit friends in Nevada and when he got home he called to say that he got a great tailwind that took him from Minneapolis to Lenox, Massachucetts in 5.5 hours.
Never mind that he had to sit on the ground in Minneapolis visiting relatives for three days waiting for the weather to clear. When you're figuring your groundspeed with a tailwind, you never should count such things.