| | | |
| --- | --- | --- |
| | Falcos Unite Down Under | |
This article appeared in the September 2001 issue of the Falco Builders Letter.
by Juliet Ferguson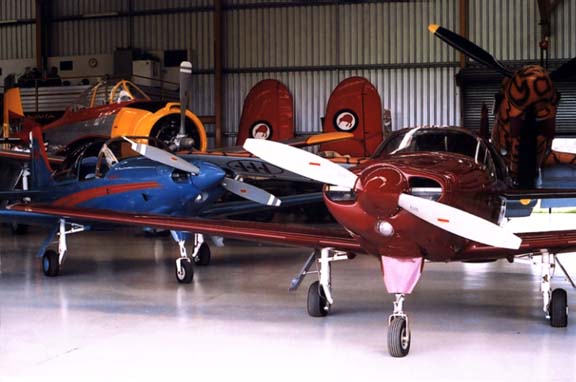 Inside the Zuccoli hangar
The meeting in Toowoomba Queensland was over a weekend in November 2000. Stephen and Annie Friend flew in from Goulburn, NSW, Ian and I from Yabba North in Victoria and Lynette Zuccoli and Wayne Milburn were there in Toowoomba with Lynette's Falco to greet us. At this stage there were only three Falcos flying in Australia. Falco builders Drew and Judy Done, Neil and Gwyn Aitkenhead, Graham Lean and Rob Phillis also came -- Rob from Western Australia, which even by Australian standards is a long way from Toowoomba.
We left home in fine, humid weather flying over large areas of flooded country then the jagged Warrumbungle Ranges and were gradually pushed lower and lower by cloud as we approached the Great Dividing Range in light rain and turbulence. Things improved again and as we approached Toowoomba the sun was shining between long cloud streaks. Toowoomba is a moderate sized town on a plateau which drops steeply away to the east. The airstrip is bitumen in a brilliant green field studded with beautiful purple Verbena (not beautiful says Lynette -- it's a weed).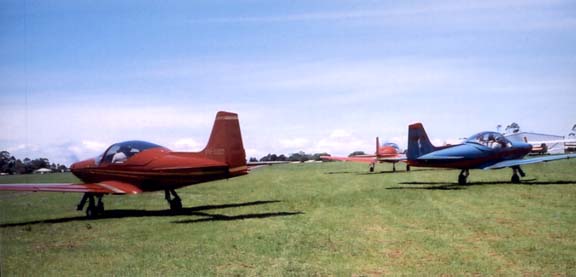 Our aircraft were housed in the immaculate Zuccoli hangar among an extraordinary and colorful collection of aeroplanes including Sea Fury, Fiat, Boomerang, Trojan and Harvard. A wonderful site for the first Australian Falco meeting.
Above and overlooking the collection is a balcony with kitchen, chairs and table where one can sit and ponder over the aircraft while eating and drinking, which we did quite frequently as Lynette produced meal after meal.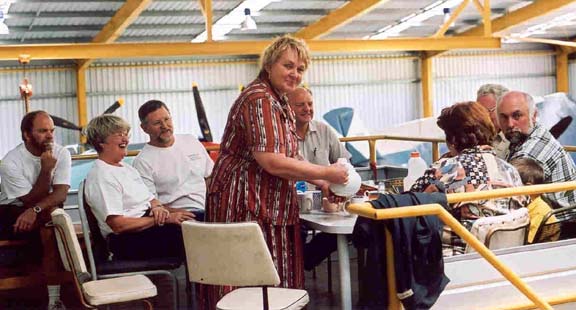 Lynette serving tea
The weather was beautiful. We did a bit of flying and a lot of talking. On Saturday evening we had drinks at Wayne and Anthea's place near the edge of the plateau. This was followed by a celebratory dinner at the motel where we were all staying. The next day Wayne chased us all over the sky in Lynette's Falco, then we all went home. An excellent meeting which we plan to repeat.
Some of us did in fact meet again a few months later -- at Mangalore over Easter. Lynette and Wayne were busy displaying the Boomerang in New Zealand-but again there were three Falcos -- the third this time was Drew and Judy Done's completed at last and close to perfect -- well really, it is perfect and won the prize for the best all wood aircraft.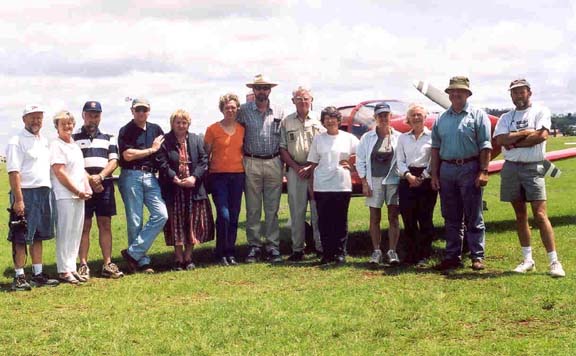 | | | |
| --- | --- | --- |
| | Let's see now, left to right are: Neil and Gwyn Aitkenhead, Wayne Milburn, Rob Phillis, Lynette Zucolli, Marylin and Graeme Lean, Ian and Juliet Ferguson, Judy Done, Annie and Stephen Friend and Drew Done. | |

Go back to Fly-Ins