| | | |
| --- | --- | --- |
| | Falcos Formate Down Under | |
by Drew and Judy Done
This article appeared in the March 2003 issue of the Falco Builders Letter.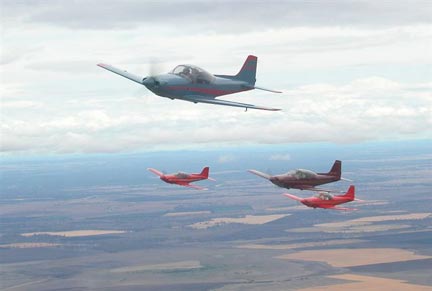 The 2nd Bi-Annual Downunder Falco Get-Together was held in Toowoomba (Australia) during November with a good complement of builders and flyers having a great weekend together. It was held in Lynette Zuccoli's hangar which provided a great backdrop of immaculate warbirds and other interesting airplanes to look at as a break from Falco talk. Some lucky people even got to fly in the Harvard and Trojan.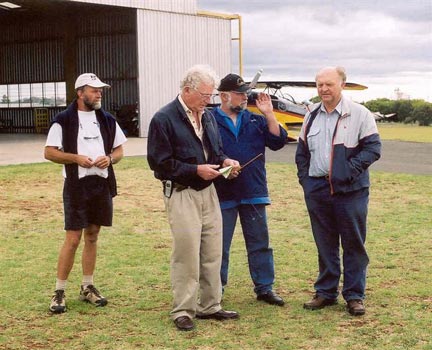 | | | |
| --- | --- | --- |
| | Formation pilots prepare. Drew Done, Ian Ferguson, Wayne Milburn and Stephen Friend. | |
Ian and Juliet Ferguson, Stephen and Annie Friend, and Drew and Judy Done flew in from their respective homes, having to fly through dust storms, lightening, bushfires, rain and lots and lots of cloud-dedicated lot aren't we! On average it took four hours Falco flying time.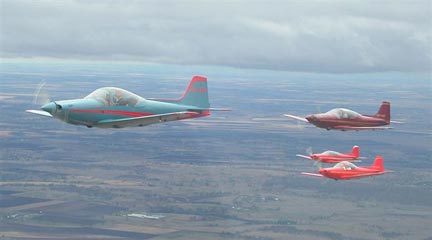 Other builders came from near and far-Neil Kowald from Adelaide, Neil and Gwen Aitkenhead and Graeme Lean from Queensland, and what was an exciting addition to our group-the New Zealanders came over for a few days-Giovanni Nustrini and George & Vicky Richards. It was great to meet up with them, and by the sound of it, we may all be going to New Zealand for a Falco Fly-In sometime in the future.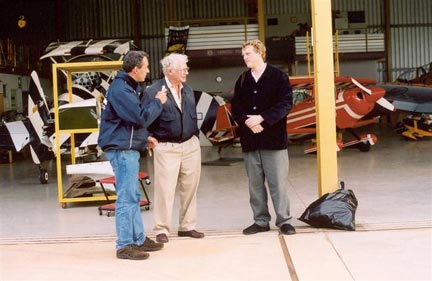 | | | |
| --- | --- | --- |
| | Giovanni Nustrini, Ian Ferguson and George Richards | |
One of the builders was flown over from Adelaide by Ted Knight in his Lancair 360 (which we made him hide round the back of the hangar). Drew suggested he come for a fly in his Falco to feel what a real plane feels like, and after landing we joked that we may soon see ads for a second-hand Lancair for sale.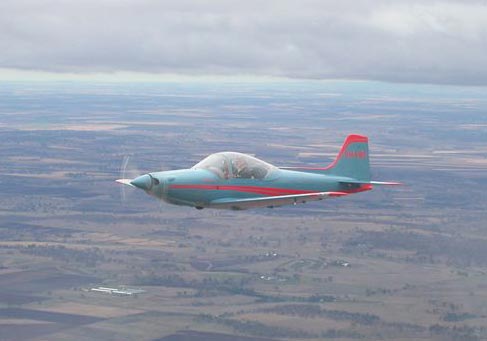 So what about this Falco formation? Over the last few months, Ian, Stephen and Drew have been completing their formation flying endorsement, so it was a great opportunity to join with Wayne Milburn in Lynette's Falco and get in some practice. Up until now the boys had just been practising in their three Falcos together, so they weren't so sure how they would go with another Falco and a Harvard as lead and camera plane. Juliet is an avid photographer, so was only too happy to go up in the Harvard to be our Falco photographer.
So after an initial briefing they set off with some trepidation, and found themselves 'all over the sky', realising that this wasn't going to be as straightforward as they thought. Juliet's initial photographs prove this. Before the second flight an in depth discussion took place, and Wayne (who has had much more experience than the others) suggested a change of reference points. This turned out to be a great idea as their formation was much more compact and tidy.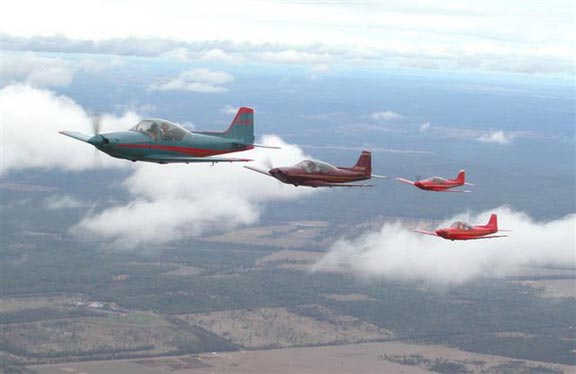 Unfortunately the Harvard wasn't included in this flight, so the resulting photographs are of only three Falcos, with Juliet in with Ian in the lead plane. Wayne's experience showed through when he told us that, as one reference for power changes, he was using the on and off flicker of the gear warning light in Drew's plane ahead of him.
The rest of the weekend was taken up with talking, eating, talking and more eating. The hospitality shown to us by all at Aerotec was amazing-just ask the others about Anthea's cheese muffins and lemonade scones!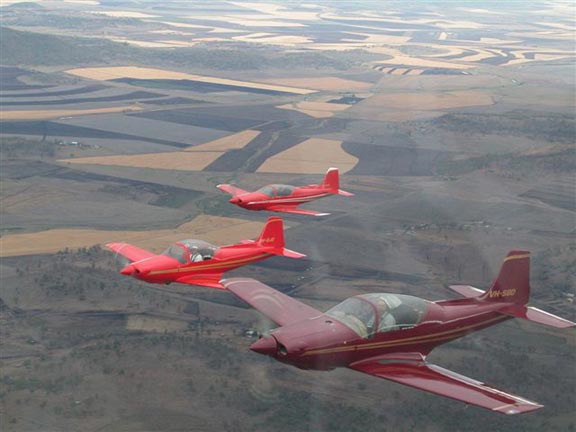 | | | |
| --- | --- | --- |
| | Top to bottom: Zuccoli, Done and Friend | |
It is get-togethers like this that inspire builders to go home and get stuck into their projects, and for those of us who are flying our Falcos, it cements relationships with other flyers and reinforces our pleasure in flying these beautiful machines.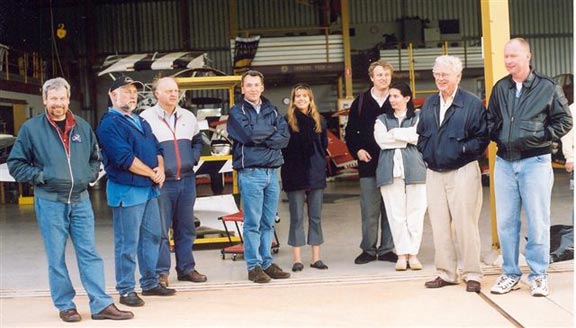 Neil Kowald, Wayne Milburn, Stephen Friend, Giovanni Nustrini, Kylie Sharp,
George and Vicki Richards, Ian Ferguson and Matt Handley.