| | | |
| --- | --- | --- |
| | Falcos Downunder 2005 | |
by George Richards
This article appeared in the June 2005 issue of the Falco Builders Letter.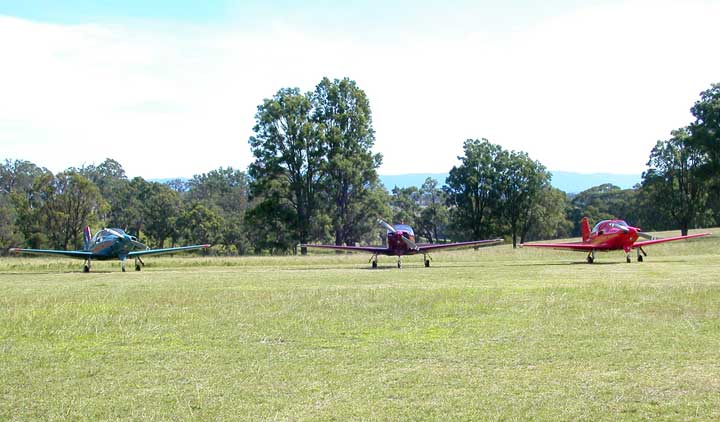 The idea of a Falco fly-in with three Falcos may seem a bit strange from an American perspective, but when you consider the rarity of the breed and the expanse of the Australian territory, it is really quite an achievement. And I attest to the fact we have a lot of fun. I'm sure we carry on in the same manner that all Falcophiles do when gathered in a flock. And like all meets, there is at least one moment where a couple of people are lying on their back under someone's Falco discussing or viewing the gear with photographic evidence. Its great fun, and I for one look forward to them.
This year's event was organised by Drew and Judy Done, and it was held at their home base airport of Merimbula on the Sapphire coast of Australia. I confess to it being the first time I'd ever really considered where Merimbula might be, or what it would be like. So when I ordered the plane tickets (my Falco wasn't ready for such a big outing, and I didn't have the time either), it was a bit like heading into uncharted territory for an ignorant Kiwi like myself. What we found was that Drew and Judy live in an idyllic little seaside resort that we certainly look forward to visiting again.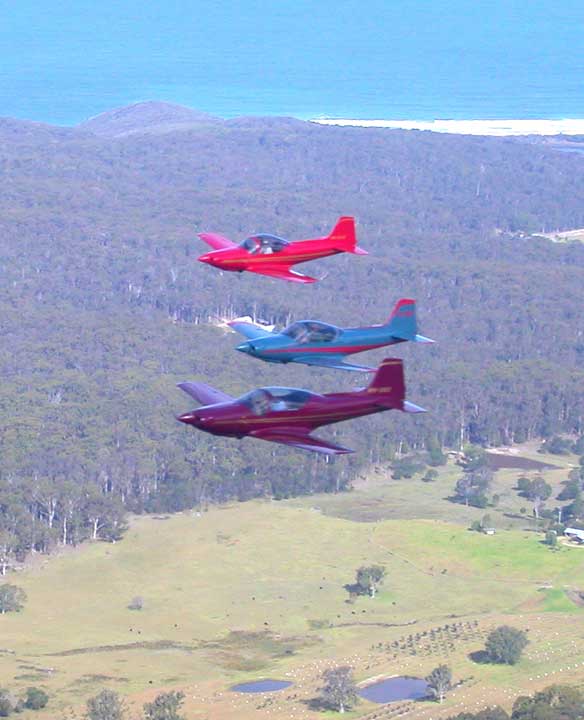 Top to bottom: Drew Done, Ian Ferguson and Stephen Friend
Our arrival was a bit late, due to a work stuff up, arriving Saturday morning. Most of the others had arrived Friday at some time earlier and spent the night out at a seafood restaurant re-acquainting themselves. As our Metroliner taxied in, we could see the Falcos in the corner of the field being readied for the day's activities. I was suddenly in a hurry to get out! Judy Done and Juliet Ferguson were our greeting party, and they showed us to our rental car pick-up point and bags.
After picking up our rental car—which was adorned with the largest damn spider I'd ever seen—we headed down to a little room that was arranged for the get-together to meet the rest of the gang. You couldn't really miss the fact that this meeting room was intended for Falco types. Both entrance doors had the "Nine Intoxicating Flavours" posters on them and inside were various magazines with Falco references and Drew's plan set, info pack and photo construction log. I haven't got to the bottom of who that young guy in the photos was yet though.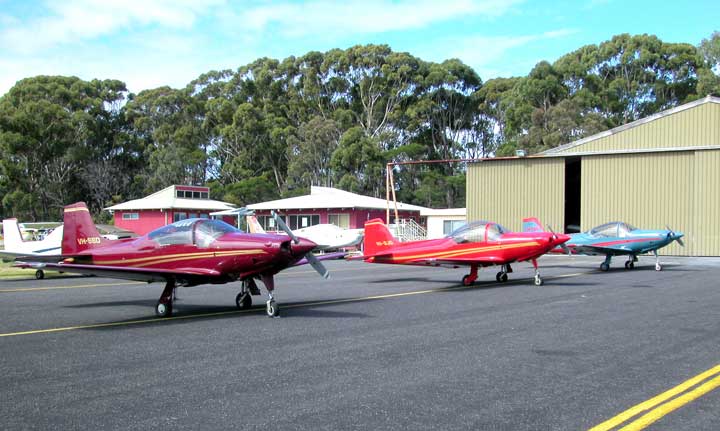 Outside on the flightline, the group had gathered, and I guess you could say the fly-in had begun. The Falcos of Done, Ferguson and Friend were in the process of being lined up on the hardstand and milling around watching their arrival was the balance of the group. Present were Drew and Judy Done, Ian and Juliet Ferguson, Steven and Annie Friend, Neil and Gwyn Aitkenhead, Rob Phillis, Garry and Brenda O'Leary and (myself) George and Vicki Richards. Let the aeroplane talk begin!
The rest of the morning was spent on Falco talk while the girls visited a local country art gallery with Judy. Lunch time rolled around pretty quickly and so with the arrival of the girls back from their tour we all headed off for a casual lunch at the local golf club. Despite the beautiful course with lush green fairways nobody seemed keen to dump the Falco group in favour of a quick nine holes—I certainly wouldn't, but that is an article in itself—so after lunch it was back to the airport for the whole group.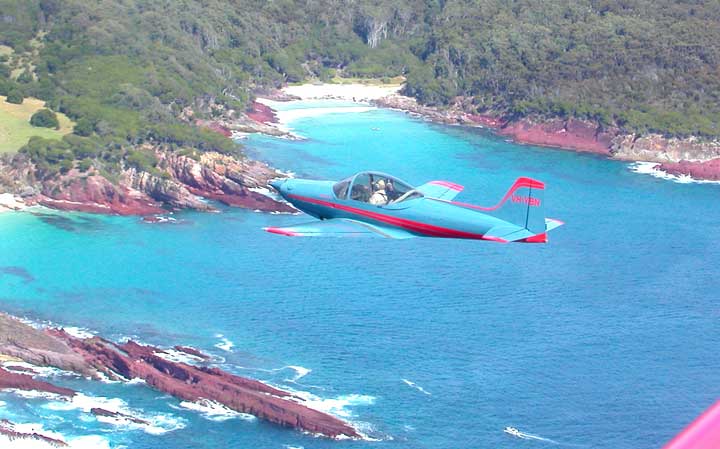 Ian on coastal patrol

Go back to Fly-Ins