| | | |
| --- | --- | --- |
| | Impressions of Oshkosh '95 | |
by Susann Flowers and Pierre Wildman
This appeared in the September 1995 issue of the Falco Builders Letter.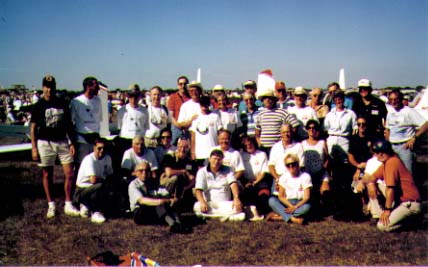 'Twas the first night of Oshkosh, we finally got in. All met for dinner at the Road Kill Inn.
So, where's this guy Alfred? What's he like? Does he dress real funny, or have hair in a spike?
Turns out he's normal, stands kind of tall, wears glasses and talks with a bit of a drawl.
We met lots of people; ate, talked and had fun. Each had a favorite: Falco's the one!
All owners agreed with a nod of their head, "It flies better'n it looks" like Karl Hansen said.
The next morning arrived, up came the sun. Once through the gate, we broke into a run.
There they all were, neat in a row: eighteen wood Falcos stealing the show.
"The sexiest forty year old on the planet" Except for my wife, it is, sure as dammit!
They're sexy all right and fast and sleek; the effort to build one is not for the meek.
The builders told stories, gave tips and clues about staples and hinges and plywood and glues,
and whether it's better to build it from scratch or buy it from Sequoia batch by batch.
The novices listened and wrote it all down. And then they took snapshots of how round is round.
They crawled under Falcos (relieved to find shade) and looked at the details to see how they're made.
From watching the judges, a word to the wise: Watch the Falcos-they'll win more than one prize!
At Martine's, a dinner emceed by Scoti to honor the maestro Engineer Frati.
Before us a legend throughout the land. An honor to meet him and shake his hand.
We offered our praise (via Carla Bielli); the most common thoughts, "Magnifico!" "Tuto Bene!"
Four strangers burst in. "Who are they, Honey?" "Marchetti drivers." "Oh, Harley guys with money!"
Alfred cracked a big smile. Could it be true? He asked them outright, "Own Harleys? Sure do!"
Like all good things Oshkosh must end. Off you all go, these wishes we send:
May your tanks stay full. May you fly with the wind. Have a great time; We'll see you again.
Now Rives, now Wilkinson, Burholm and Coleman. On Jones and Reichenbach, Bachnak and Benham.
Now Rench, now Dovydenas, DeAngelo and Bready. On Shipler, on Walker, on Hume and McMurray.
The longest trip home is for Marcelo Bellodi. and last but not least, Pawel Kwiecinski.
Point the nose skyward; raise the gear. Fly far and fast. We'll see you next year!
Many thanks to Susan who arranged all the parties. (And next year, forget those darn porta-potties!)
Thanks one and all for bringing your planes. Seeing still pictures just ain't the same!