International Frati Association
33rd Annual
World's Only Oyster Fly-In
and
Gathering of Stelio Frati Aircraft
Rosegill Farm Airstrip, November 8, 2014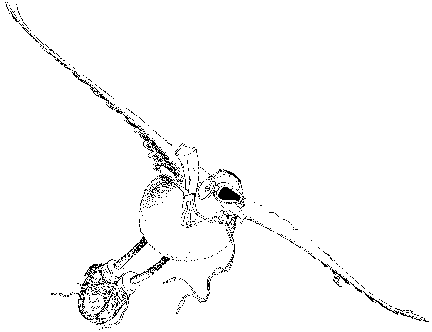 See the Great Bird of Falco soar like a chicken
The Event
An informal get-together of aviating oyster eaters and owners of Stelio Frati aircraft coinciding with the annual Urbanna Oyster Festival (www.UrbannaOysterFestival.com). The Oyster Festival parade is on Friday night and lasts for about 1-1/2 hours. Best to arrive by 10:00 AM. It includes fire engines, ambulances, "beauty" queens, dogs, motorcycles, funny cars, marching bands, bagpipes, arabian music, etc. Sometimes called the biggest small town event on the east coast, the Urbanna Oyster Festival is a unique slice of America. Especially welcome are unusual aircraft. Beech, Piper and Cessna products tolerated.
The Airshow
A dazzling display of never-before attempted aerobatic maneuvers, including:
Arriving direct from Australia
in his UNFINISHED F.8L FALCO kitplane
GARRY O'LEARY will do a LOOP,
with an OYSTER ROLL on top,
followed by a CLAM FRITTER,
and then CRASH HIS FALCO at the end of the runway
into a pile of sticks, light them
and begin the evening OYSTER ROAST
The Islamic State of Shrimp and Clams in Middlesex
that is, the CLAM CALIPHATE,
will BEHEAD APOSTATE OYSTERS
if they can figure out how to do it
DR. ING ALFREDO SCOTI
will give lessons in
CHAINSAW TECHNIQUES
for shortening your life and limbs
WALTER MARSH
will announce a program to
QUARANTINE OYSTERS WITH EBOLA
arriving from
Liberia and Sierra Leone
ED GILLESPIE WILL ACCUSE
Mark Warner and Tim Kaine of
SHRIMP GRAFT,
OYSTER CORRUPTION AND CLAM WASTE
RIELLY, ELLIE AND ANDREW SPITZER
will perform a KEY CEREMONY
for a HERMIT CRAB
who has just
MOVED TO A NEW SHELL
JONAS DOVYDENAS will arrive in his
SWING-WING FALCO with a contingent
of BOSTON BAY OYSTERS
who will protest the polution of their waters
by the TEA PARTY
The late DAN GILL will
come back as an OYSTER CRAB.
We always knew he was an eccentric,
but we never thought it would
COME TO THIS
EMMA, MAGGIE, JANIE & HARPER STANLEY
will advocate for oysters
FREEZING THEIR EGGS
DEAN HAWTHORNE will
LAND IN A CESSNA
and that will be the
END OF HIM
Accommodation
Thar ain't none. Freshly-cut grass awaits your tent. Bring your sleeping bag (or significant other) and enjoy the lawn. Motels are booked well in advance. In case of rain, tentless campers should be prepared to supplicate and grovel before Meredith Scott. RSVP Dr. Ing. Alfredo Scoti, 2000 Tomlynn St, Richmond, VA 23230. Phone: 804-353-1713, FAX: 804-359-2618 or alfred@seqair.com.
Rosegill Farm Airstrip
Located on the Rappahannock River across from the town of Urbanna. See the Washington Sectional. The airstrip is 2,500' grass. GPS drivers go to: N37° 37.93, W076° 33.28. Park aircraft to one side. If you get lost, our local phone number there is 804-758-4177. Caution: numerous aircraft are in the area during the Oyster Festival including a state police helicopter. Wind sock is on the hangar. Pilots are invited to use the private strip at their own risk as owners do not have liability insurance.
NO ELECTRIC OYSTER KNIVES PERMITTED