| | | |
| --- | --- | --- |
| | Sunriver Express | |
by Dave McMurray
This article appeared in the December 1994 issue of the Falco Builders Letter.

A grand time was had by all at the 5th annual West Coast Falco fly-in. Beautiful Sunriver, nestled on the east slope of the Cascade mountain range in central Oregon, was the location, and 33 Falco flyers and fans made for a pleasant and memorable gathering.
A total of 7 Falcos, including Karl Hansen, John Harns, Ray Purkiser, Jim Slaton, Per Burholm, Cecil Rives and Dave McMurray (and all their wives) made the trip, with Cecil and Karen coming all the way from Houston. Larry and Ann Black had the misfortune (or possibly fortune) of fueling their Falco with the contaminated Chevron avgas and had to drive.

Those with projects underway included the Martinellis, and daughter Janna, from Montrose, B.C, the Nasons from Kent, Washington, and Jim Kennedy from Daytona Beach, Florida. Jim caught a last minute flight to be there-leaving Doris to tend to prior commitments-adding his much-welcomed energy and enthusiasm to the group. Also, the Quinns from Dallas, and the Thompsons from Southern California wanted to experience the Falco before deciding to start construction.
It all began on Thursday with planes and people showing up through the day. A hospitality tent was set up on the airport close to the tie-downs with soft drinks and fruit for the arrivals.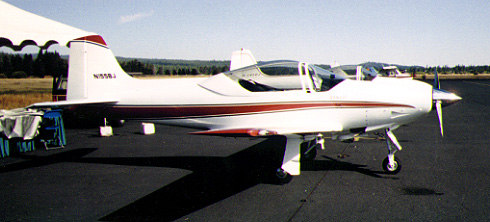 It was decided to add an extra day to take advantage of the activities available in the central Oregon area. These included a fly-out breakfast to the Sisters Airport, enjoying the bed and breakfast there; a Dechutes River white-water rafting experience, shopping at the quaint contry mall, a western barbecue at the Great Hall. But best of all, the flying, both in the Falcos and under the shade of the airport tent, sharing ideas, solving problems, and enjoying the camaradarie that comes from a group with common interests.
It was great to see Karl and Shirley Hansen, who drove up with their son Jeff on Friday. Son Steve and his wife Judy flew the famous Ferrari-red Falco in on Saturday morning.
So thanks to all for contributing to the success of this event. And remember, next year it's Coeur D'Alene, Idaho, with John and Pat Harns co-hosting with Larry and Ann Black. Let's all plan to be there!