| | | |
| --- | --- | --- |
| | Falcos Descend on the California Wine Country | |
by Dan Dorr
This article appeared in the September 2003 issue of the Falco Builders Letter.
Each year Falco builders and flyers in the western United States get together for an event known as the West Coast Falco Fly-In. This year's fly-in was held at the Sonoma County Airport in Santa Rosa, California Sept. 11-14. It may have been the 13th annual, but there's a little confusion about the sequence, because we had to cancel a few of them due to a terrorist attack and a very large hurricane. The regulars have gotten to know each other over the years, but at each fly-in there are a few new faces, and we always encourage as many Falcoholics to show up as we can. There were a total of 41 people who attended, most for the entire weekend, and a few just for a day. Northern California experienced a little heat wave during this time, so temperatures were in the high 90s. Because of the heat, most of the flying was done in the mornings, with social events in the afternoons and evenings.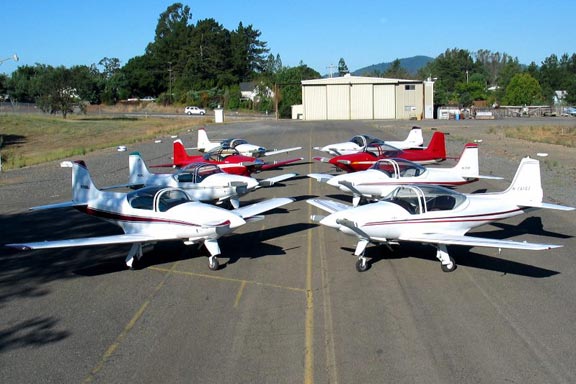 | | | |
| --- | --- | --- |
| | Falcos line up for group shot | |
An added bonus this year was the presence of the CEO of Sequoia Aircraft Corp. -- Alfred Scott and his lovely wife Meredith. It's well known among the regulars that Alfred has never made it to a West Coast Falco Fly-In until now. In fact prior to the event I got a few e-mails asking how I got Alfred to show up. Well, it just happened that the Scotts were planning a vacation to Hawaii at about the same time as the fly-in, and that provided the perfect opportunity to spend a little time with us left coasters. The Scotts were actually the first to arrive, and on Thursday morning I met with Alfred at my hangar to show off my Falco. It was quite a disappointment for me that my Falco was not complete for the festivities. The airplane is actually finished, except for a coat of red paint-and I'm still waiting for that paint, as I have been going on five months now. It's very frustrating, but that's an entirely different story.
[Hey! I was at McCall in 1991, Coeur d'Alene in 1992, and I was in Jackson Hole waiting for a ride to the Durango Fly-In but Jonas ran into weather. All of this was before Dan was born, of course, so how could he have known? And I'd like to point out that not one of you West Coast pukes has come to the Oyster Fly-In!-Dr. Ing. Alfredo Scoti]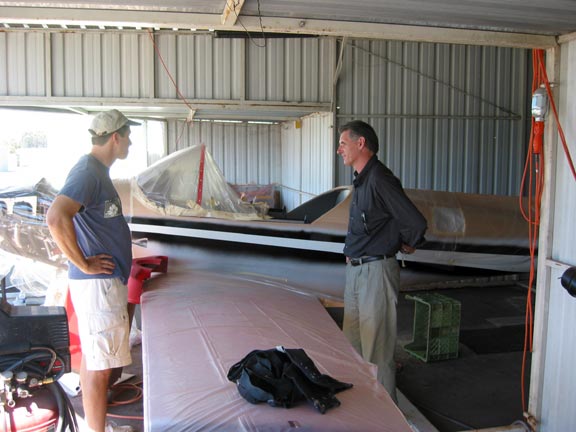 | | | |
| --- | --- | --- |
| | Let's get the disappointing stuff out quick. Dan Dorr hosted the Fly-In with the expectation that his Falco would be flying by then. A friend (former?!) promised to paint it in a month. Here is is, four months later. | |
On Thursday afternoon the visiting Falcos began to arrive. Larry & Ann Black and John & Pat Harns flying from Cottonwood, California were the first to land (John & Pat started the day before from Coeur d'Alene, Idaho). Larry was anxious to fly along side John, since he had made some recent speed mods to his aircraft in secret skunkworks fashion. Apparently they had an effect, since Larry was quite proud of how he can now easily outrun John (I'm sure Larry will contribute a few words in a future newsletter article to share his ideas). The next aircraft to arrive were both former Oshkosh Reserve Grand Champions: Dave McMurray & Kate Chipps arrived from Bend, Oregon, and Dave & Tamera Nason flew in from Seattle. Four more Falcos arrived in loose formation to round out the afternoon. Bill Russell and Cecil & Karen Rives started from Houston. They gathered up Jim & Jane Quinn in Dallas, and on the final leg met up with Per & Lena Burholm from San Diego. The local EAA chapter provided tie down spaces and a hangar for us to find some shade and refreshments. It was quite a sight to see all those beautiful Falcos parked together.
Several other Falco builders and enthusiasts arrived by auto during the afternoon, and that evening, everyone met at our house for a BBQ dinner. It's a big effort to have a party for a group this size when you do it yourself, and I have to give all the credit to Alyson (my wife) and both our parents for doing all the work. Alyson and I really enjoyed the evening-renewing old friendships and starting a few new ones. We had a great time!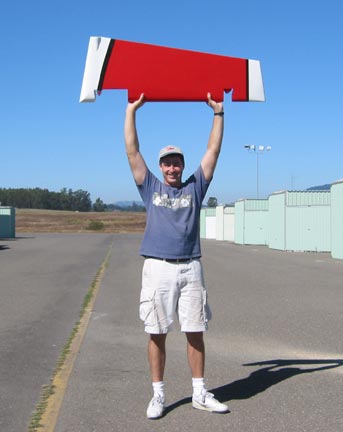 Friday morning we all rallied back at the airport to open cowlings, allow everyone to look closely at the Falcos, and take anyone who wanted to go for a flight. Sonoma County airport is tower-controlled, and we tested the controller's patience a few times with our swarm of little experimental aircraft. One pilot from Seattle, who shall remain nameless, managed to taxi out to the runway without contacting the tower, momentarily forgetting he was at a controlled airport. The ground controller asked Dave McMurray if that was his wingman, and Dave replied that it might be if he could ever contact him. By now the tower was quite impressed. Fortunately, tower contact was made prior to takeoff, and only a brief scolding ensued.
We were joined later that morning by Tristano Caracciolo, who arrived in his Falco from Carson City, Nevada just for the day. This brought the total number of Falcos up to nine. Kris Shipler Lott intended to fly her Falco up on Saturday, which would have made ten Falcos, but an oil leak changed her plans, and she drove with friend Chuck Dutting instead. Tristano, as you might guess, is from Italy. This was his first time to attend the west coast fly-in, and it was great to meet him. Somehow it seems very appropriate for an Italian to be flying a Falco.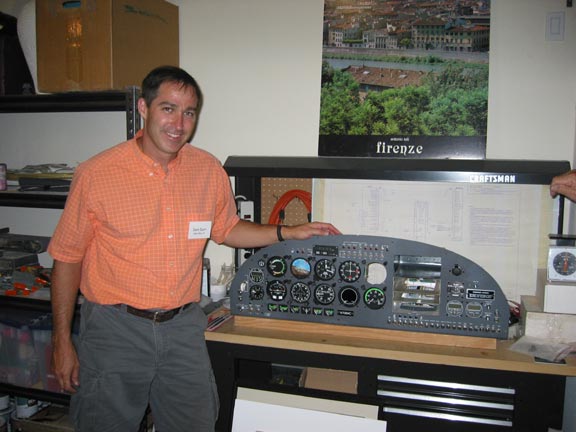 | | | |
| --- | --- | --- |
| | Dan and his instrument panel | |

Go back to: Fly-Ins