| | | |
| --- | --- | --- |
| | West Coast Falco Fly-In | |
by Karl Hansen
This article appeared in the September 1990 issue of the Falco Builders Letter.
The first Falco West Coast Fly-In happened on the 7, 8, 9th of September 1990. Our hosts were Ray and Sherry Purkiser assisted by Rex and Margaret Hume. Parked on the line were the Falcos of Ray Purkiser, Rex Hume, John Harns, Jim Slaton, Per Burholm and Karl Hansen. A beautiful sight to behold.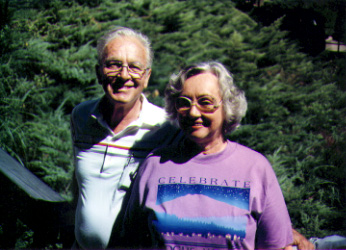 Ray and Sherry Purkiser
Shirley and I left Lincoln Field at 1:42 PM Friday and 1:24 and 11 gallons later buzzed Josephine County Field at Grant's Pass, Oregon. This airport is in a valley surrounded by pine-studded hills, a very pretty sight. Except for the hills, it is very remindful of the Farmerville, Louisiana, field the SF.260's work out. I had expected to beat John Harns there, as he was waiting for his #1 radio to be returned, but due to a threatening Sigmet, he left early without his spare and circumvented the weather, so there on the line were five Falcos waiting for me. So much for the chance to bounce John on the way in.
Our host had schedules waiting and a busy two days was in store for us. After hangar-flying for a couple of hours, we adjourned to "Our Haus", a restaurant overlooking the Rogue Rover. Twenty-six people attending for our builders and flyers dinner, eat your heart out Alfred. Attendees were: Ray and Sherry Purkiser, Rex and Margaret Hume, John and Pat Harns, Jim and Judy Slaton, Ben and Bernita Burgoyne, Karl and Shirley Hansen, Per and Lena Burholm, Craig, Phyllis and Ashley Bransfield, Dave and David McMurray, Frank and Eloise Spyksma, Robert and Janet Brantley and guest, John and Alice Tyler. You may notice that almost all of the wives were there.
Saturday morning we gathered for a breakfast flight to Cave Junction airport at Illinois Valley. We set up a formation flight of four airplanes, the rest flew at will, one twin and a Piper plus the extra Falcos. Ray Purkiser was #1 (some said it was so we could keep an eye on him), I was #2, Jim Slaton was #3 and John Harns brought up the rear (slot). He let us know about it constantly.
This little airport is kind of 'backwoods', but it has a very nice family restaurant just starting up. What a nice breakfast. Then formation takeoff, and back to home base, a couple of formation buzzes and trail landing. We got some good diamond-formation pictures, but don't have them ready for you yet. Ray put on a Falco Forum at 3 PM which was attended by about 26 people, about half of them visitors. Meanwhile the ladies had taken the credit cards and gone to a historic mountain mining town, Jacksonville, had a delicious lunch in an historical hotel and did some shopping. They got back just in time for the steak barbeque on Saturday evening.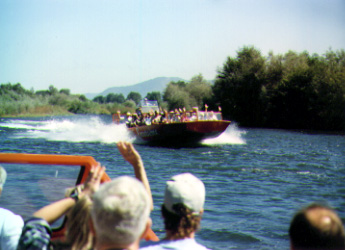 After another get-together Saturday evening, we met Sunday for the jet boat trip down the Rogue River-about a four-hour trip to Hell's Gate canyon and return, with an outstanding brunch before the return trip. Our boat was 14 feet wide, about 50 feet long, held about 50 people with 1,100 hp, three engines and a top speed of about 50 mph. We were running the rapids at 35 mph or so. Pretty hairy. The boat has amazing maneuverability, will turn in its own length at about 35 mph. I know because he showed us three times at places in the river not more than two boat-lengths wide.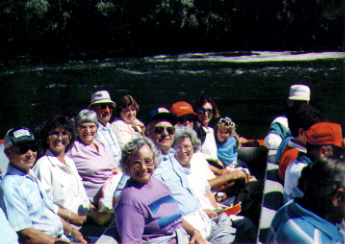 There were many good things about this Falco Fly-In. We had excellent and well-prepared hosts. We had the most beautiful aircraft on the field. The field was not crowded or commercialized. The Falco-people association was outstanding. Beautiful surroundings. And beautiful weather.
Next year, Jim and Judy Slaton have consented to be the hosts at McCall, Idaho-a beautiful place, 5,000 ft elevation, with lakes, pines, river and an excellent airport. I can vouch for the hospitality. The following year will be at the Harnses', wherever they are-somewhere in Northern Idaho, as they are contemplating a move. The only thing that was missing was you, Alfred.
But we talked about you.