10th Annual West Coast
Falco Fly-In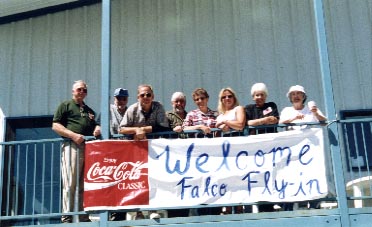 Reflections on the West Coast Fly-In
by Cecil Rives
September in Colorado is a wonderful experience. (Most anyplace would be wonderful compared to Houston in September!) Karen and I arrived in Durango Wednesday evening after experiencing weather delays in Lubbock, Texas, and one as we approached Durango. We diverted to Farmington, New Mexico, and waited about an hour before continuing on to our destination. A transponder problem added to the frustration but, all in all, not a bad trip.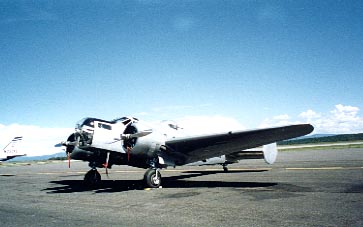 Bill Russell's SNB-1
These Falco fly-ins just keep getting better and better. Nine Falcos gathered along with Bill Russell's Beech SNB(Small Navy Bomber)-1, Pierre Wildman's Cessna 421 and Fred Doppelt's Bonanza. These aircraft were destined to participate in what will be entered into the annals of aviation as the "Great Farmington Falco Fracus."
On Saturday morning the pilots assembled in the lobby of the Quality Inn and were informed of their mission for the day-a flight to nearby Farmington (Four Corners Regional) for the purpose of traumatizing the tower controller and to overload the wait-staff and kitchen at the airport restaurant.

Dave Nason's Falco gets a thorough going-over
The aircraft scrambled at eleven hundred hours with the Falcos flying cover for "Hawk-eye" Russell's Bomber and "Golden Buzzard" Wildman's Cessna. Through a clever bit of navigation Hawkeye's co-pilot, Dan "What's-a-Whiskey-Compass?" Dorr, guided Hawkeye away from the Falcos and entered the airport area from a completely different direction. What a diversion!
As the Falcos in rapid succession called the tower it became quickly evident that this mission would be a piece-of-cake. First, Dave "Fogbound" McMurray was cleared to land and instead did his death-defying tailwalk down the runway. At this point the tower instructed the remaining aircraft to stay clear of the airport and circle. The controller's voice had increased three octaves and was beginning to become increasingly incoherent.
As the crescendo of this drama reached its peak a lone clear voice was heard over the radio. It was that of that of the Scandinavian ace Per "Thor" Burholm. A string of Swedish expletives (which his wife refuses to translate) proved to be too much for the controller. With his radio silenced our fearless commander, Fred "Braveheart" Doppelt, declared the area secure and all aircraft landed safely with no further interference from the tower.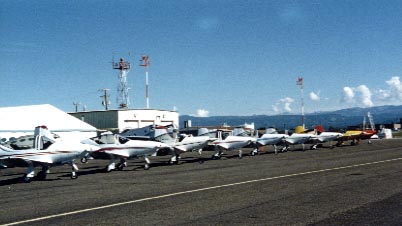 As we sat in the restaurant (one waitress for about 25 of us) a plea came down from the tower that we not all take off at once. We decided to grant this request and left in orderly fashion for our return to Durango.
That night the participants all assembled at Ken and Sue's restaurant to celebrate our successful mission. The Air Force's "Alzheimer Airmen" attempted to sing their "Off We Go" thing but it proved to be too much for their numbed neurons. Then, to close the festivities on more somber note "Hawk-eye" Russell and John "Iceman" Harns flawlessly sang an old Navy hymn entitled "Let Her Sleep Under the Bar'.
The trip back to Houston the following day left us with the feeling we always have-it was just too short. Good food, great fun and wonderful friends and airplanes! Thanks, again, Ruth and Fred. It was really a good one! Semper Falcos!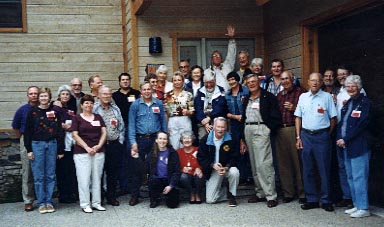 Okay, Cecil, we see you back there.
West Coast Falco Fly-In
by Fred and Ruth Doppelt
How about gorgeous weather, a beautiful place, 47 Falco-crazed people, nine gorgeous Falcos, a warbird, and a twin Cessna people mover, and you have the 10th annual West Coast Falco Fly-In. Was it successful? You bet! Unfortunately, the Kennedy's were unable to come due to the hurricane in Florida. Some came a day early and a few stayed a day or so after, all had a great time.
The place was Durango, Colorado, the time was 16-18 Sept 1999. The Durango Air Service opened up their large hangar for all the Falcos, free of charge! As you can see from the lineup of aircraft we had two brand new ones (the Nason's and the Mitchell's, all the way from Washington and Oklahoma). The yellow one (Richard Clements) was fresh from Oshkosh '99 with a Champion award in the best of plans-built category. The red one (Dave and Tamera Nason) had a beautiful Falcon painted on the belly. The warbird (Bill Russell) shot up the airport and nearly dropped bombs all over the place. You should see how the inside is appointed! Of course, the best time was looking, touching and flying as many Falcos as possible. As expected, John Harns was still wiping everyone out with his wonderful acrobatic maneuvers. Lots of first timers as well, some starting to build, some hoping to.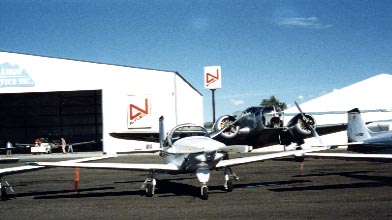 John Harns' Falco
We even had three eventful 70th birthdays, Cecil Rives, Per Burholm, and John Harns. Happy Birthday! Besides the obvious airport stuff, railroad buffs enjoyed day trips on one of the last coal burning railroad runs left, the Durango-Silverton RR. Some went to Mesa Verde and climbed through the remarkable ruins built into the sides of canyon walls. Others went on shopping trips around Durango and Silverton.
On the last day, besides lining up for the airplane, airplane and pilots, and airplane and all pictures, 12 airplanes (my Bonanza was included) took off and blasted into Farmington for a great lunch at Senior Pepper's (one of the last great small airport restaurants). You should have heard the tower when we all descended, almost at once and then took off in line!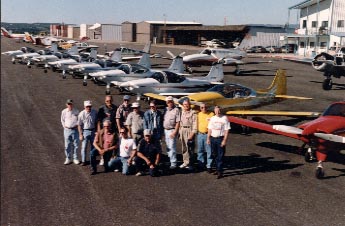 We had a super time at our house cutting the cake and looking over my building progress. As can be seen, I'm getting loads of advice from the pros. I was more nervous than at our wedding!!
The last evening we had a terrific meal at a very special place in Durango, topped off by a great pictorial travelogue by Howard and Marty Benham of their flying trip through Alaska. It was a thrill and great pleasure for Ruth and me to have hosted this fly-in. There's no better group anywhere, any place! Come join in next year, week after Labor Day hosted by Dave and Tamera Nason. Happy dreaming, happy flying, happy building!