West Coast Falco
Fly-In Eleven
by Dave and Tamera Nason
This article appeared in the December 2000 issue of the Falco Builders Letter.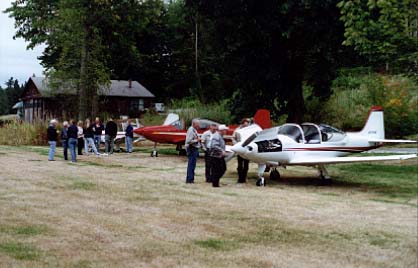 Falcos in front of the Nason's house.
September was the date, Seattle was the place. In typical NW fashion the weather was forecast for rain and wind. The Falcos started arriving about 10:00 Thursday morning. Per Burholm was first with a long-time friend, who had grown up in the local area. Larry and Ann Black were close behind. John and Pat Harns came in the early afternoon. Jack Lange and pilot friends/support crew arrived in a nice Bonanza A36. We shoehorned the three Falcos into our hangar, and our Falco went into the neighbor's. Our old Bonanza and the A36 had to sit out in the weather, but the wood airplanes were protected.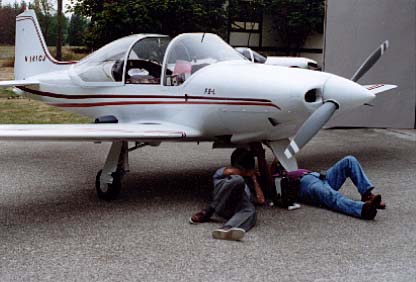 Some things never change.
We had planned to have an informal barbeque on our deck, but the rain arrived with the rest of the guests. We had about 40 people, including family and local fan club, stuffed into our house. Quinns from Texas, and Dorrs from California, flew commercially. Others drove, Martinellis and a new face from Canada, Gordon Cook. Jeff Morriss and his father-in-law (from the east coast) came from Oregon, and the Doppelts brought their motor home from Colorado. We even had a brave soul, Mark Wainright, from the bay area of California ride his motorcycle. He isn't even a builder! He spent the rest of the evening trying to thaw out.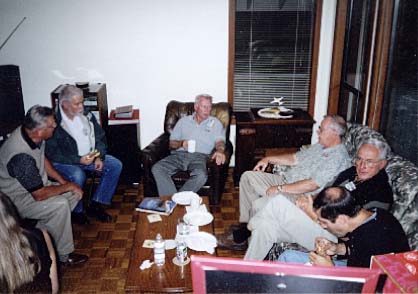 Barbeque dinner at the Nason's.
Friday morning was blustery but at least no rain. We gave a few rides to those interested but with the rough air and strong winds it wasn't much fun. We got to practice crosswind takeoffs and landings. So most of the time was spent comparing notes and ideas. Dave McMurray was forced to fly his Cessna 340 to get above the ice and weather between California and Seattle.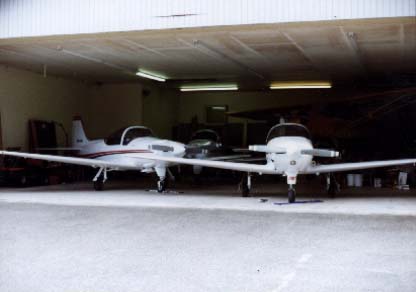 Three birds stuffed into the nest.
Saturday, the weather was better, more blue sky and less wind, so we elected to fly instead of go out to breakfast. John, Larry and I, made sure everybody got to have a ride! I even got to fly on John's wing (slightly extended). That turkey took me into the clouds! I could see where we were headed, and I wanted to be closer so I wouldn't lose sight of him. We were only in the clouds for a few seconds, but I'm not used to that. John then had me back off about 1,000 feet in trail behind him while he demonstrated an aileron roll to his passenger. He then did a barrel roll, and we left him to play individually. It was interesting to watch maneuvers from that viewpoint. At one point Larry joined us for a three ship over the field for those on the ground.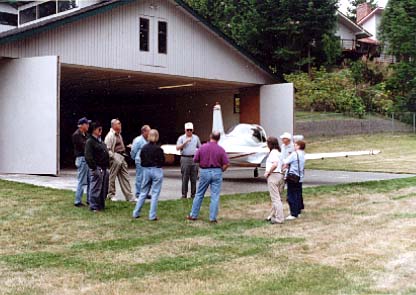 Gathered in front of the Nason's hangar.
The ladies went shopping, we took a scenic dinner train ride, some made it to the Boeing flight museum, so there were plenty of activities for everyone. Sunday morning dawned 'pea soup'. Pouring rain and 600' ceiling. The A36 took off IFR, and John and Pat Harns left later. They had to wait for the weather in Idaho to improve. Per, Don and Blacks spent the day around the kitchen table waiting for the weather to clear. They had to go back into crew rest and were finally able to leave for home Monday after lunch. Even though the weather caused us some challenges we had an enjoyable time sharing our passion with good friends.
See everyone next year in Texas with the Rives and Russells as hosts.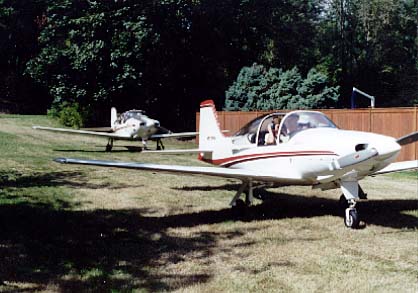 Blacks and Burholms leaving for home