| | | |
| --- | --- | --- |
| | West Coast Falco Fly-In | |
by Blake Jessen
This article appeared in the December 1997 issue of the Falco Builders Letter.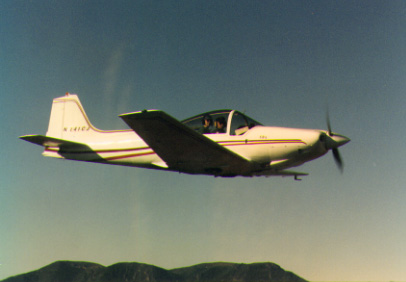 John Harns and friend.
The eighth annual Falco Fly-In Napa turned out very well. The following people flew their Falcos: Ann and Larry Black, Pat and John Harns, Lena and Per Burholm, Karen and Cecil Rives, and Dave and Barb McMurray. Pierre Wildman flew in his freshly painted Seneca, and Dave and Tamara Nason flew in their Bonanza.
Friday morning, those that wished were able to fly the C-5 simulator at Travis AFB. This was quite a hit with those who flew it. The newly refurbished simulator had wrap-around visual and full motion. Realistic enough to cause motion sickness in one of the ladies.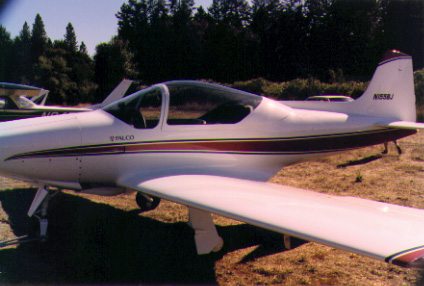 Look closely and you can see the crack in Dave McMurray's Falco!
For those who elected not to fly in the simulator, it was a spotless day to fly over to the Napa and Sonoma valleys. Friday was also the day to try and find some flaw with Dave McMurray's Falco. It was not until Saturday afternoon that a small crack about 2 inches long was found on the gunnel of the windshield support on the port side.
Saturday was used in the 'traditional' manner for a breakfast fly-out. The photos of John Harns' Falco are shown on our way out to breakfast. The air race/formation flight was back to Agwin. On the return however some 'queertrons managed to invade Per Burholm's Falco, and he was forced to shut down all electrical power as his alternator would not charge the battery. After landing, the queertrons were scared off, as the problem would not repeat itself, once the entire fly-in had gathered around his plane.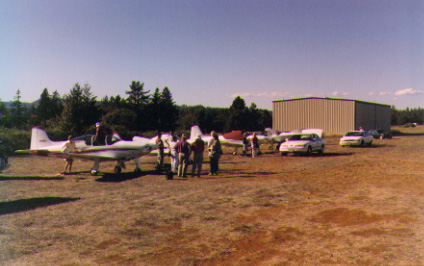 The rest of Saturday afternoon was spent at the Calistoga pub. The winds kicked up in the afternoon making the approach into Agwin a bit tricky. As it turned out, the track to beat this problem was to land long and avoid the turbulent air kicked up by the buildings on the up-wind side. The temperature was also a bit warm at this point, also conducive for pub activities.
Saturday dinner included speakers Don Green from the FAA, and Moye F. Stephens, who is the son of the operations officer and chief test pilot for Northrop aircraft. In a nutshell, Don Green's recommendation was to find an FAA inspector to sign off your aircraft that you know is not going to hassle you (requiring all doors, panels, and ports opened or removed, etc.) In short, shop around for an inspector to sign off your plane. But be warned, once you have 'your man' if he's a real stickler, you may not be able to get rid of him for another examiner. This will probably not be a problem with any Falco folks, but being forewarned.
The other discussion was by Moye on his father. He was one of the true pioneers in aviation, doing several firsts. One of the most interesting stories however was his flight from England to the jungles of Borneo. On the way, this included a slow roll over the Taj Mahal, which was photographed by the German aviatrix they rescued in Tehran. In Borneo, they removed a 'curse' from their airplane by returning the shrunken heads given to them by the local head hunters.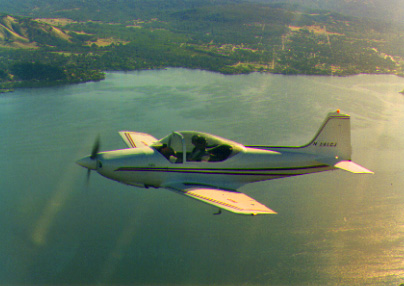 Jim and Jane Quinn of Dallas, Texas, have a home page for the Falco. I would like to get together with other builders and create a builders' notes page. This would be an area where you can download information on different construction ideas, things others have tried, wished they had or had not done, etc. I will be working with Jane and Jim to put this together in sections. The first one would be on the constrution of the tail. Such items would include: ways of making the tail light fairing, sanding techniques for a smoother finish, or it might be a good idea to put in triangular gussets in the trailing edge ribs of the elevator so the trailing edge strip doesn't keep breaking off (one of my ideas). If you can, please send in your comments via e-mail (or by fax as a last resort) to the Quinns or myself. Any and all input would be appreciated by your fellow and future builders.
The next fly-in will be hosted by Dave McMurray in Oregon. Thanks to all those who showed, and expecially those of you who came with aircraft.