9th Annual West Coast
Falco Fly-In
by Cecil Rives
This article appeared in the September 1998 issue of the Falco Builders Letter.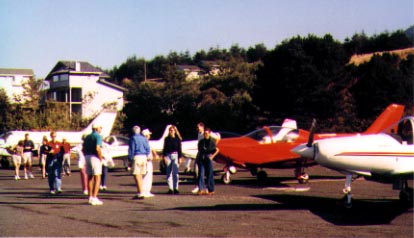 The West Coast Fly-In was held this year in Eureka, California, and was hosted by Barbara McMurray with occasional assistance from her husband, Dave.
Weather was perfect-no fog to speak of-and the mid-day temps were in the seventies. Only five Falcos were present (Burholm, Black, Harns, McMurray and Rives). Jim Kennedy was there in his F-22 which added(?) something to the gathering. (Jim, you're going to have to get a Falco. We can only carry you so far on your wit and good looks).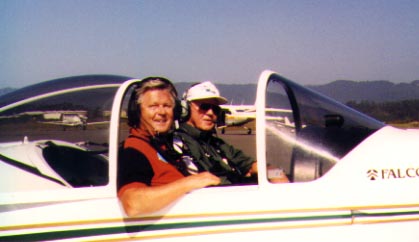 Perry Burholm and Cecil Rives
Thursday evening we were treated to a bar-be-que dinner at the McMurray's. Their lovely home is nestled in a grove of-SEQUOIAS! What else? In the last century the largest old growth trees were harvested and all that remains of these giants are the stumps which are as much as 20-30 feet in diameter!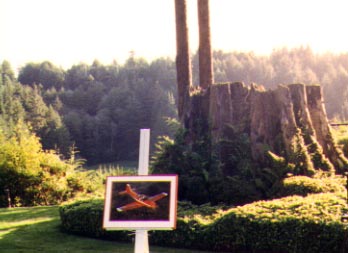 It is rumored that Dave McMurray is planning to build a very, very big Falco.
Friday morning the City of Eureka hosted a continental breakfast for us at the Eureka Inn. The local newspaper that morning was graced with a photo of Ann and Larry Black arriving in their Falco. The paper announced that a total of 42 Falcos were expected. 37 never made it.
The rest of the day was devoted to flying, lying, exaggeration and dissemination of questionable aeronautical knowledge.
Our dinner that evening was held in a magnificent old (circa 1880) Victorian mansion now occupied by the Ingomar Club. The interior of ornately carved wood was particularly impressive to this Falco builder.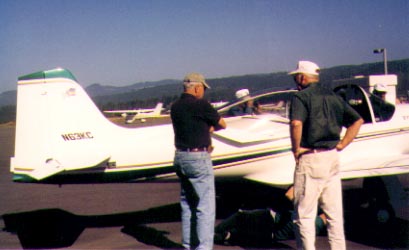 Cecil Rives and Fred Doppelt
A fly-out breakfast to Shelter Cove (about 45 nm south) on Saturday morning provided an opportunity to see something of the rugged northern California coast. Shelter Cove airport perches on a narrow spit of land at about sea level and is bounded on the east by rapidly rising terrain. The approach on both ends of the runway is over water and there is a warning of downdrafts. Bill Russell was my passenger and this enabled us to simulate a carrier landing. (Alfred, the oleo struts are leaking, again.)
Local fauna was in attendance represented by bees, seagulls, seals and sea lions. The bees joined us for breakfast devouring the "sacrificial" cinnamon rolls that were set out for them. The bulls in the sea lion colony held a competition to see who could sound most like Bill Clinton calling interns.
Upon our return to Eureka we were greeted by the local airshow in progress. The Falcos were put on display which, along with the nearby hamburger stand, drew a nice crowd.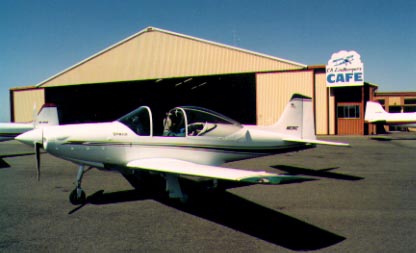 The Baywood Golf and Country Club was the site for the banquet Saturday evening and marked the close of the Fly-In. It should be noted for the record that several of the attendees, after over-grossing on adult beverages, failed miserably in their attempt to entertain the group as stand-up comics.
I have to say that this was one of the best fly-ins that I have attended. Barbara and Dave were most gracious hosts and spared no effort to make the event memorable.
One disappointment was the absence of Judy and Jim Slaton. Jim recently sold his Falco to Jim Quinn. I hope this does not mean their continued absence. Once a Falco builder, always a Falco builder!
It seems to me that all fly-ins end too soon. Certainly this was one. I can only echo Alfred's sentiment that one of the joys of building a Falco is meeting the folks involved. You really are great people!
Next year, the 10th Annual West Coast Fly-In will be held in Durango, Colorado, and will be hosted by Ruth and Fred Doppelt. Exact dates are yet to be announced but it will be in September. I urge all of you to put this on your calender and make every effort to attend-especially those of you on the East Coast. Durango is located in one of the most beautiful parts of Colorado and there is lots to do and see. Fishing, golfing, Indian ruins, narrow guage train rides, whitewater rafting and jeep rides in the mountains are just a few. You might want to come early or leave late-or both.