Eric Wierman &
Thomas Buettgenbach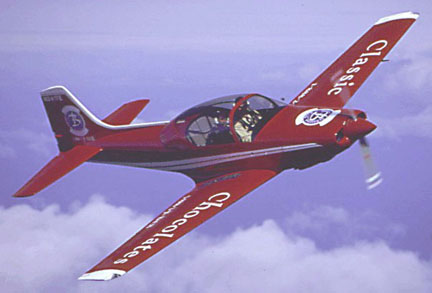 Built in 1990, N241TE has been flown extensively, including two North Atlantic crossings.
Eric Wierman & Thomas Buettgenbach are the co-founders of The Bach Corporation, makers of J.S. Bach Classic Chocolates. Their imported gourmet Belgian chocolates are proving a big hit with consumers, and a delicious treat for those 1st class passengers. Their goal is to become the "Starbucks" of the chocolate industry by offering an affordable luxury with which to treat yourself. These days, their business keeps them busy selling chocolate and raising pre-IPO investment capital. Call 1 (888) 2 JS BACH or visit the Bach Corporation's Internet site to find out more.
Eric Wierman, co-owner of the Falco, got his start washing planes at El Monte and flight instructing for the JPL/Caltech Flying Club. He was later hired by a U.S. National airline to fly the Canadair RJ, a state-of-the-art, all-glass jet. As a flight instructor, his students included a Space Shuttle astronaut and his future business partner and Falco co-owner, Thomas Buettgenbach.