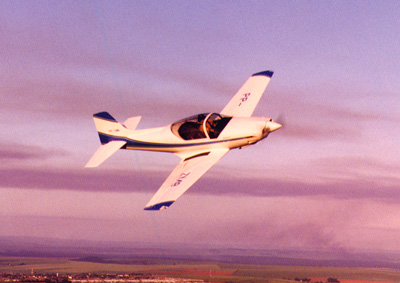 Marcelo Bellodi in the sky over Brazil.
It was that little magazine advertisement showing a red Falco with white stripes in a side view that drove me to a hypnotic state. Since I was a child, I used to dream about building an airplane, but until then no one had fulfilled my needs.
For people like me, with no previous experience in homebuilts, it would have been impossible to get to the end without the help of two friends that stayed with me from the beginning, as well as the help of Sequoia with its professional and high quality construction manual, drawings and assistance during construction.
The flying characteristics of the Falco exceeded my highest expectations and rewarded all the building efforts.
Maybe my Falco is still, up to now, the one that flew farther from base. In 1995, I flew together with a friend from São Paulo, Brazil to Oshkosh (5,250 NM) in an uneventful and very pleasant flight.
Today it is still hard to say which was more pleasant, the six years (8,500 hours) of building or the six years (350 hours) of flying.
Marcelo Bellodi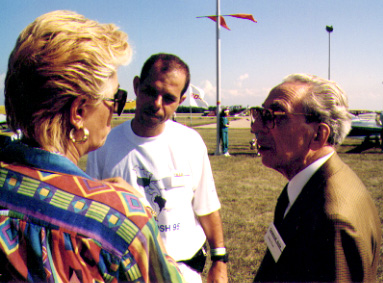 Carla Bielli, Marcelo Bellodi and Stelio Frati
Marcelo Bellodi works as industrial director at a sugar mill facility in the northwest of the state of São Paulo, Brazil. After graduation as a mechanical engineer at the Polytechnical School, University of São Paulo, he worked for two years as flight test engineer at Embraer. At this time, he is finishing the construction of his second homebuilt airplane, a Lancair IV-P. Marcelo Bellodi, Caixa Postal 54, CEP:14.870.970, Jaboticabal, S.P., Brazil. Telephone (Office) 55-16-3291216 or 55-16-3232333, (Home) 55-16-3224228 (Fax) 55-16-3232322 Office Email: mbellodi@usinasantaadelia.com.br Home EMail: marcelobellodi@uol.com.br
Articles
First Flight: Marcelo Bellodi Oshkosh via the Amazon
Construction Photos
Tail Wing Fuselage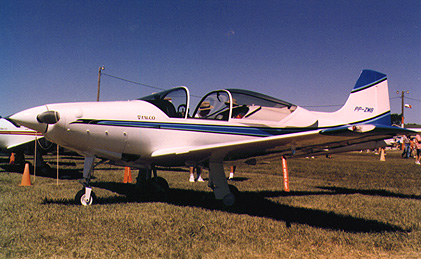 Marcelo's Falco at Oshkosh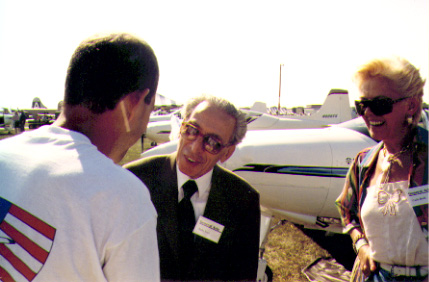 Stelio Frati and Carla Bielli greet Marcelo after he flew his Falco from Brazil to Oshkosh.