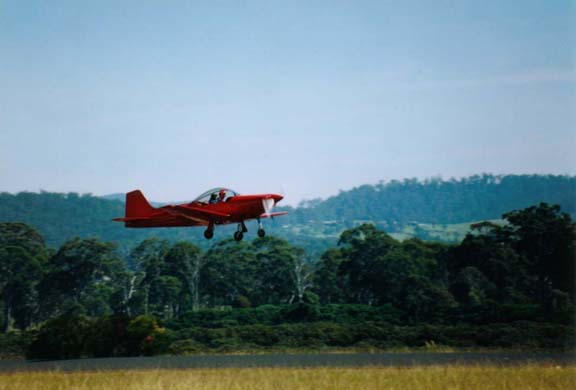 Drew Done's Falco lifts off with Stephen Friend at the stick.
I have been building the Falco for almost three years now and am enjoying the building process immensely. This is the second plane I have built; the first, an all metal Zenith Tri-Z, I started to build before learning to fly, and has been in the air now for four years. But the itch was on to build again, particularly when we found that the endurance of the Zenith caused problems in outback Australia where landing strips with fuel were often just beyond our reach. Building a Falco was the natural choice for me as I had always admired the sleek lines and felt ready to take on a new challenge. Fortunately my wife Judy has been most supportive, and even learnt to fly recently, so now I am having to make sure I align the seat rails far enough forward so she can reach the rudders (she has "ducks disease" you see).
The plans have been a joy to follow and I have mostly stuck to them. Each time I've hit a small snag, it has been great to be able to phone Stephen Friend to iron out the problem. His was the second Falco to fly in Australia and ours looks like being the fourth or fifth. Stephen has given me the challenge of keeping the final weight as close to the design as possible, which is keeping me on my toes. But I like a challenge -- I must, otherwise I wouldn't have started building the Falco in the first place.
Having built before, I realise that now the Falco looks like I'm on the home run, then I must be only about half-way through. Our plans are to have it finished and out of the tractor shed by the Year 2000, then at last the tractors can be put under cover.
Drew Done

Drew Done
Drew Done owns Bournda Plants, Merimbula, NSW, Australia. Telephone: 61 2 64959484 Fax: 61 2 64950047 Email: dj.done@bigpond.net.au
Articles
Is There Life After Falco?
Photos
Construction