| | | |
| --- | --- | --- |
| | Ian Ferguson | |
The Falco was sold to Airell Hodgkinson in 2014
Dear Alfred,
As you probably know I ceased flying the Falco around a year ago. I guess I'm getting a bit too old now at 87 years.

Both myself and Juliet have had a wonderful time with the aircraft and covered much ground in her, and sea also. In around 5000 hours flying, 1000 in the Falco I never found a nicer aircraft to fly.

I began construction about twenty years ago, rather late in my life, but fortunately not too late. I had much help from yourself and Susan for which I am very grateful still. Also Brenda in the early days. Give them my regards.

I have now sold the aircraft to Dr. Airell Hodgkinson who unfortunately lives rather far away in Western Australia more than 1000 miles distant. He is an experienced pilot with an instrument rating and will no doubt take care of it.

We hope you and your family are well and happy.

Kind regards,
Ian and Juliet Ferguson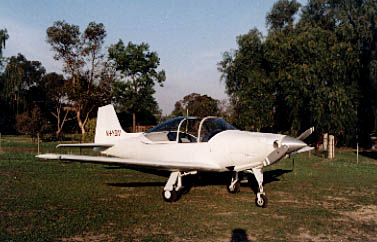 Ian's Falco has a 180 hp IO-360 engine and weighs 1,294 lbs in primer paint
The Falco is an exciting aircraft to fly. Being lighter than the SF.260 or the Chipmunk and more powerful than the latter, it has a spritely feel to it that the others don't.
Building the aircraft was an enjoyable but demanding task and took longer than anticipated, but it was very worth doing in the end. Someone asked what I would do differently if I did it again. I replied "I would try to do everything only once."
Ian Ferguson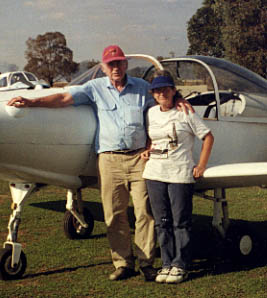 Ian and Juliet Ferguson
Ian Ferguson lives in Dookie, Australia. Telephone: 613-58-285-220 Fax: 613-58-285-212 Email: ijferg@activ8.net.au
Articles
Falco F.8L VH-YBN
My Husband Is Building an Aeroplane
Over a Town like Alice
To Esperence and Return by Falco
To Work in a Falco
Flight to Papua New Guinea
Across the Tasman Sea
Coast to Coast Australia in Four Falcos and a Lancair
To Northern Territory and Queensland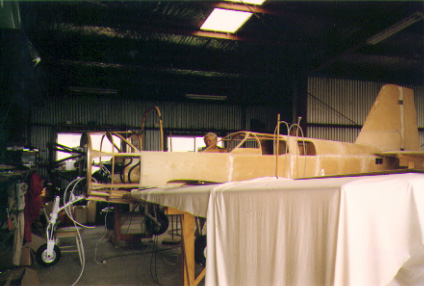 Ian Ferguson a-building.