by Robert Cumberford
As a teen-ager in the Fifties I actually started building a sort of cross between French grand routiers and a California hot rod, very French in appearance but using American components. Unfortunately for that project, but very good for me, I was hired by General Motors Styling to become one of its designers when I was just 18 years old. That led to a long career as an independent car designer, working in Mexico, England, Italy, and France, where I moved in 1972 pursuant to my long-time interest in the French motor industry. I worked with Renault in the Seventies, and with Peugeot-Citroen in the Nineties, and spent as much time as possible talking with whomever was a participant in the glory days of French coachbuilding.
At the end of the Seventies my younger brother James -- then a Fellow at the MIT Sloan School of Management -- wrote his thesis on the potential for an independent boutique car company. We mutually decided that whatever we undertook, our car could not be like the ill-fated Delorean, brilliantly designed by Giorgietto Giugiaro, but seriously outdated in style before it finally reached production. It was James, a junior high school student at the time I was working on my "French" car in the early Fifties, who suggested that we just execute that quarter-century-old concept using a combination of the latest technologies and old-fashioned hand work.
We built prototype cars under the name Cumberford Martinique. The canons of style were fixed as being no later than 1937, but adaptations were made as required for the car to be certified in the US with NO exemptions or waivers. At the time when we were active on the project -- 1978-82 -- there were no small-volume provisions in the federal automotive regulations. When our project was announced on the cover of Car and Driver magazine, we had an influx of orders with 10% deposits, but did not have the capital to enter production, and our principal investor insisted that he should retain 51% ownership.
With that restriction, we could not raise the five million dollars we needed to begin to fulfill existing, primarily because we had in effect been "run over" by the John Delorean cocaine scandal. Thompson-McKinnon, a small brokerage house on Wall street engaged to take the company public, said that it was totally impossible to interest investors in a start-up car company. So we stopped all activity, returned all down payments with interest since we had put deposits into escrow accounts to assure against defrauding any clients. We were not able to revive the project in a timely manner, and of course the constituent parts are no longer in regular production.
The car itself is a distillation of multiple French inputs. The chassis is cast aluminum, as in the Amilcar Compound, Hotchkiss-Gregoire, and of course the Bugatti Type 64, of which all extant examples are in the Mullin Museum in California. The hydro-pneumatic suspension is all by Citroen, specifically from the front of the CX, the tires are from Michelin in their special TRX metric dimensions, the body shapes were developed in the wind tunnel at St. Cyr-l'Ecole (equal to the Porsche 928 S4 in terms of drag coefficient). We like to think the complete project did honor to the people who inspired us.
Ours was the first-ever firm to be able to buy directly from BMW on an OEM basic, and the first to have access not only to Citroen components (Rolls-Royce bought a hydraulic pump) but also factory drawings. Those were supplied on a handshake basis by Raymond Ravenel, head of the firm in 1980, without a contract, because my reputation in the industry was known to the firm.
My brother and I are in the final years of our long and exceptionally exciting -- but definitely not particularly remunerative -- careers, and we would like to sell our project and its multiple components -- designs, drawings, parts, tools, spare chassis and driveline, etc.
CONTACT
Robert Cumberford
Tremouille
St. Genies 24590
France
iPhone: 336-87-502-737
rcumberford@gmail.com
James Cumberford
jcumberford123@gmail.com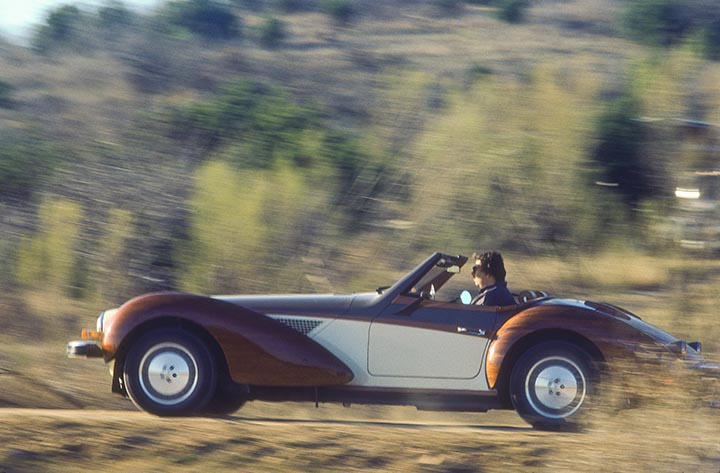 Cumberford Martinique
by Fred Hooper
The Cumberford Martinique came from the fertile minds of the Cumberford brothers; Robert was the designer and James handled the business side.
I became involved through the friend-of-a-friend-of-a-friend. My friend had worked in England when currency export was blocked, so he used his earnings to buy an old Bentley; I volunteered to change its water pump. This was while I was maintaining and developing the software that HBS used to teach financial modeling. "He likes cars and does financial modeling" traveled through the links, and I was asked to visit their company and perhaps do some work for them.
Of course I dressed up; wearing my best three-piece suit I knocked on the people door next to an overhead door. After a couple of minutes the overhead door rose and a bearded man in dirty jeans leaned under it and asked what he could do for me. I said "I'm looking for James Cumberford"; he said, "That's me". I ducked under and was shown around the facility and introduced to some of the people working there.
The People
James had been in sales most of his life. He had sold diesel motors for boats, and later owned a yacht delivery service. He had also been a Sloan Fellow at MIT, which is where the friend-of chain started.
Robert is James' older brother. He had been a car designer and journalist. His first design job was at General Motors, where he had been Principal Stylist for the 1960 Corvette. He had subsequently designed cars for many other companies, and was widely know and respected in the industry.
Marilyn was in charge of dealing with the government -- navigating the many regulations that affect all car companies.
Chappy helped Robert produce the drawings for the car. He was the oldest of the group and had started and run a drafting school in Detroit. He once questioned Robert's statement that the intersection of two surfaces was a straight line -- so he spent two days developing the intersection on a series of drawings. (I've never seen so many lines as on these drawings.) Eventually, he proved it to be a straight line.
Peter did everything requiring hands and thinking that didn't fall into a standard job. He was the one who figured out how to produce the wood-composite fenders that are so distinctive.
The Car
At this time old-looking cars were popular -- the Clenet is an example -- these were a modern version of coachwork on recently-purchased cars with the body removed. While visually striking, their additional weight hurt performance.
The Cumberford brothers had a better idea: They would make a car that looked like a French car of the late 1930s with the best-available technology. Here are some of the highlights of that technology:
Engine and transmission from the BMW 733
All-hydraulic suspension from the Citroen CX
Cast aluminum chassis to the same specs as the F15 by the same caster

The pieces were held together by bolts that broke off when they were at the right torque so they couldn't be over- or under-torqued, very trick!

Wheels by North American Rockwell
First use of TRX tires by Michelin
Only Robert Cumberford could have made this possible; no one else in the world would have been permitted to purchase and use these parts. Even he could only do so because the car was to be much more expensive than anything made by BMW or Citroen. The planned retail price was $125,000; this was a lot of money around 1980 when a new Ferrari 308 sold for $45,000.
The Plan
It was never intended that there be a lot of these cars; the overall logic came from a statement from someone with decades of experience advertising cars: "You can sell two hundred per year of anything; there are always enough people who want to be the only one at the country club." So we planned to sell the Martinique for a few years and then produce a car with more modern bodywork. This strategy was designed to not conflict with the suppliers while making fine cars.
Driveability
Most of the driving feel of the car came from the chassis and suspension. The chassis was very stiff because of the size of the chassis components and the rigidity of cast aluminum. This is important because it allows the suspension to work as designed. The Citroen hydraulic suspension was made to very close tolerances: the suspension components used needle roller bearings. This, combined with 2.5 turns lock to lock steering left no play at all. So Citroen had designed means of reducing the steering preciseness to the level that the driver preferred.
Even the springs were unique: They were spheres pressurized with nitrogen; it was that pressure that determined the suspension stiffness. But because they were spheres, they provide an additional adjustment that is very difficult with mechanical suspensions. Normal metal springs have their stiffness increased the same proportion for each spring movement. Translating: if the spring stiffness increases 50% with a displacement from 0 to 1 inch, then 4 to 5 inches will also increase stiffness by 50%. The Citroen suspension wasn't limited by this: The pressure determined the stiffness of the first inch's compression, but the diameter of the sphere determined the stiffness of the 4 to 5 inch compression. This allowed a very comfortable ride on smooth roads while stiffening over large bumps. Other cars try to achieve the same effect with rubber bump stops, but it's not the same.
Driving The Car
When I drove the car the first thing I tried out was the self-centering steering. Regardless of what the car was doing, if I let go of the steering wheel it returned to center with the wheels straight ahead -- but without tugging on my hands to do so. Then I tried some corners, both bumpy and smooth. It stayed flat and controllable, regardless of how hard I pushed it. The chassis felt like a race car with all body seams welded and a roll cage -- because of the stiffness. Just a great car to drive. I also received the first speeding ticket in a Martinique, 80 in a 65 -- although I was actually going faster -- the officer was kind, and probably intrigued by the car.
What Happened?
The company had orders (and deposits) for more than one hundred cars. But additional funds were needed to fill the orders. We wrote a prospectus and began the money-raising process. Then John DeLorean was arrested on drug-trafficking (he was later found innocent); all the prospectuses were returned to us within a week. We had thought that DeLorean would go under because, in their first prospectus they had a graph of how many cars that would sell at various prices to justify their forecast unit volume. Later versions of their prospectus kept that volume with much higher prices, and the graph was no longer included. So we were hoping that we could be funded before it happened.
The Cumberfords tried to continue for a few years, but were never funded. All deposits were returned and all bills that could be paid were paid. Both Robert and James went on to other things.