| | | |
| --- | --- | --- |
| | Graeme Lean | |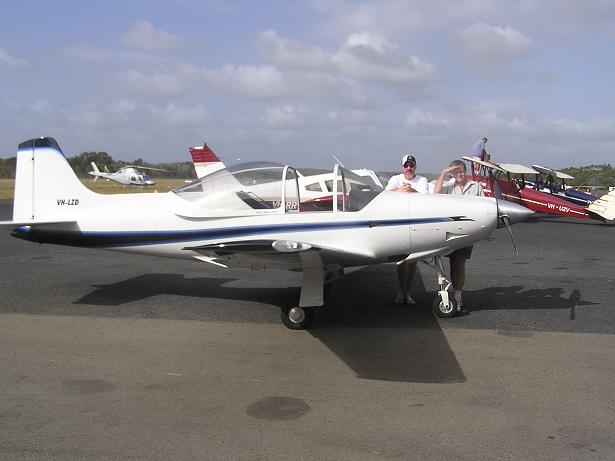 Graeme Lean and Tony Chamberlain after the first flight.
My Falco VH-LZD (aka the lizard) had its first flight this morning. I had organised a test pilot, but that didn't work out at the time so I had to 'grow a set' and do it myself.

Tony Chamberlain flew chase in a Cherokee Arrow with my wife as a passenger. (I think they preferred to be above the ground if it came down.)

The first flight was a short 20 minute hop with gear extended, on the climbout it proved too fast for the Arrow, and Tony had to beg me to throttle back a little. I kept it below 95 kts for the flight handling was docile except for an interesting flick to the left in stall. Approach and landing was extremely civilised.

I took it up for a second flight this afternoon with gear retracted. This time it exhibited a right-wing heaviness at speed -- a small matter of adjustment I expect. There seemed to be a lot of very warm air around my feet and the CO2 monitor was going wild so I will have to pay some attention to that before the next flight.

Despite the teething troubles it handles well in the air. I haven't worked out cruise speeds yet but stall is about as advertised.

I'll send a full report shortly.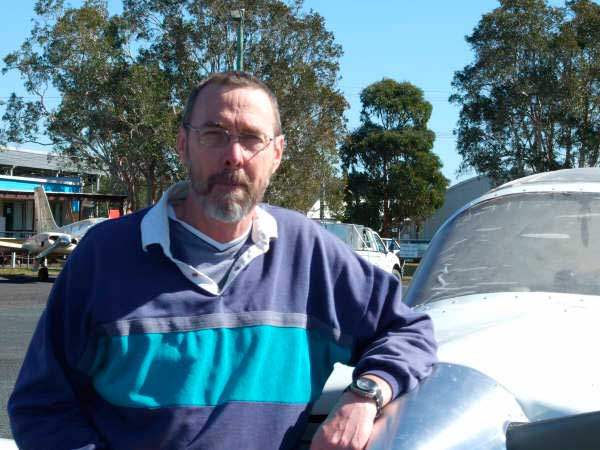 Graeme Lean is a veterinary surgeon in Landsboro, Qld, Australia. Telephone: 07 5494 1337, Fax 07 5494 8457, email: beankifi@yahoo.com.au
Photos and Articles
Building Flight of "The Lizard"