A Lifelong Dream
by Eduardo Letti
This article appeared in the June 2006 Falco Builders Letter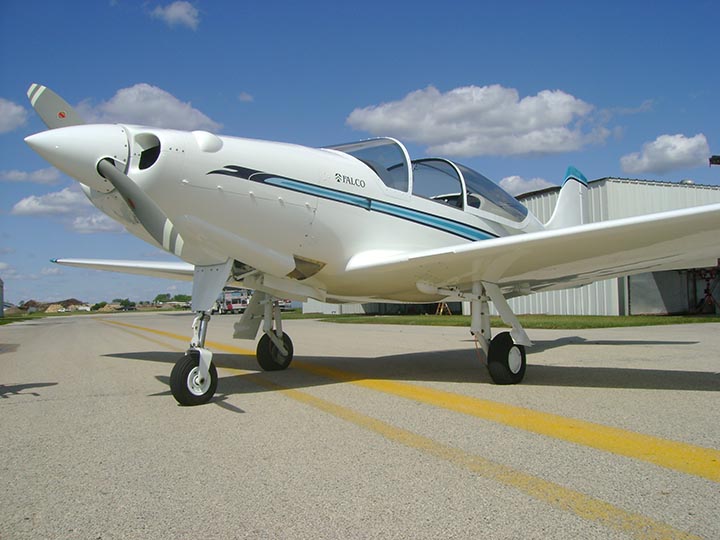 My love for the Falco started with a close friend of mine, Otavio Kovacs, the second son of the great aeronautical engineer, Joseph Kovacs. In 1986 Otavio and I joined Varig Brazilian Airlines as co-pilot for the B737-200. I was 20; Otavio was 27. It was during one of our ground school coffee breaks that we started talking, and he mentioned that he and his father were building a Skybolt. I found that coincidental as I was also building a Skybolt, a radio-controlled model. He politely added that theirs was full size, with a Lycoming IO-540 up front. Hmm, interesting I thought!
As our friendship grew, I visited the Kovacs shop in Sao Jose dos Campos several times. At that time Joseph was retiring from a long career at Embraer, the Brazilian airplane manufacturer which he helped start. They were building the wing ribs, and I watched the Skybolt take shape. Later on I had the pleasure to fly it and perform the first outside loop in PT-ZOK.
It turned out that the Kovacs were very close friends with the late Fernando Almeida. Fernando was an admirer of both Stelio Frati and Joseph Kovacs and their work as aeronautical engineers. He would frequently visit the shop and talk about the Falco. At that time, the homebuilt movement was in full force in the U.S. Fernando had flown Karl Hansen's Falco and written an article entitled "The Best Airplane in the World." He also pointed out that there was a company in the U.S., Sequoia Aircraft, offering the airplane in a complete series of kits. Joseph already knew the Falco, and he always said marvelous things about the design and what a good project it was. Being young I listened to all that exchange of information with great interest.
About this time, Marcelo Bellodi started building his Falco, influenced I suppose by Fernando's magazine article. I also followed that project taking shape.
Back then I was sure that one day I would have to own and fly a Falco. It just had to be done in my lifetime. I did not know exactly how it would happen, I just knew it had to happen.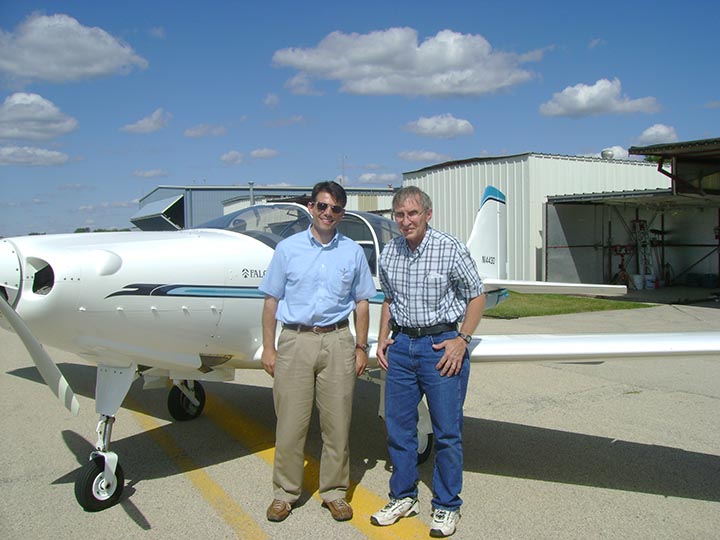 June 30, 2009. Today I have fulfilled a lifelong dream. I feel honored to have the opportunity to become the new owner of Falco N1443D built by Alvin Dubiak. Money has been transferred and signed papers have been sent to the FAA for the transfer of ownership.
I first looked at Al's airplane last year, on Sept 9, 2008. I boarded a Southwest 737 from Los Angeles to Chicago and drove to Lake in the Hills Airport (3CK), 35 miles northwest. In the parking lot of the airport I saw a couple standing by a car. It's got to be them, I thought. I started walking in their direction and said: "Al?" He came in my direction, and we shook hands. Debbie was standing right besides him. We introduced ourselves.
Al is a short guy, and I could immediately understand why he opted for the Nustrini canopy. It was also readily apparent after a few minutes that he was a quiet and reserved type of person. A firm hand shake with thick hands. My Italian grandmother always told us to look at the hands of a person, for thick skin was always indicative of a lot of work. Al sure had a lot of work done with his hands: he had built himself a Falco! He's clearly the kind of person that prefers to think instead of talk. I noticed that early during our correspondence when I would write long e-mails, and his answers were always very short.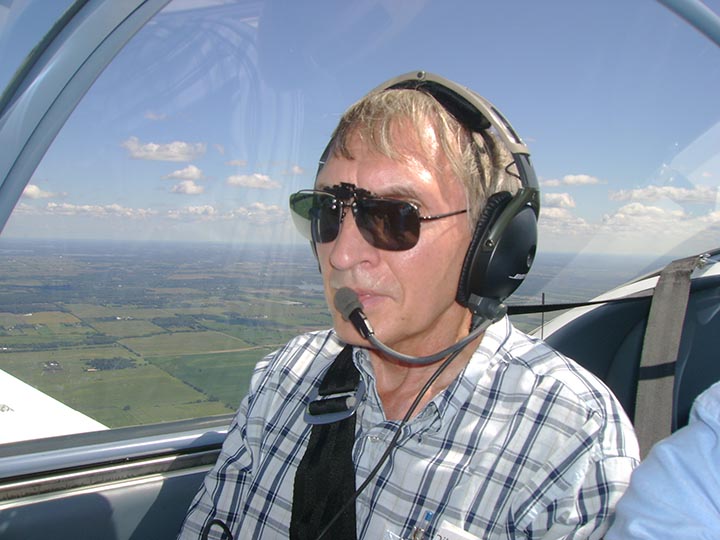 After a few complimentary words on both sides we started walking towards the hangar. I was anxious. The airplane sure looked good in the pictures posted on the website. As we walked I asked a few questions and for every one I asked, he would pause for a few seconds, look me straight in the eyes and provide a very simple short answer, always right to the point. Debbie would step in and complement with more information.
Now Debbie likes to talk. She was right there supporting Al in that process of selling an airplane that had taken him a good 12 years to build. It must have been a difficult decision for them, but an inevitable one. Two years earlier, Al had been diagnosed with Parkinson's disease, a condition when the electrical connection between the brain cells (called synapse) begins to fail. After visiting many doctors, the reports came out with the conclusion that there would be no more flying for Al.
Al opened the door, and there she was. What I saw inside the hangar was the best built Falco I had ever seen in the last seven years that I've spent looking for one. A flawless airplane constructed by an exceptional craftsman. With no one on board the Falco sits nose high, as if pointing to the sky, wanting to fly. I walked around it several times, went under the belly and the more I looked, the more impressed I became. The absolute straightness of the wing and tail trailing edges was beautiful to see; the exact alignment of ailerons and flaps.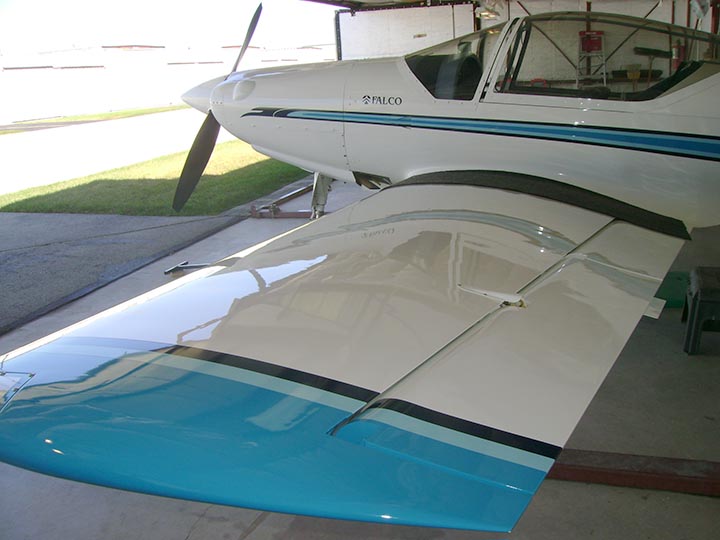 I gently touched the wings, carefully sliding the back of my fingers on it. Normally on a wooden wing there are minor imperfections and you can easily detect the position of the ribs under the plywood skin. Not on N1443D: the surface is so smooth and clear that it reflected the beautiful September autumn sky like a mirror.
The records are complete and neatly stored in tabbed binders registering every detail of the construction process. According to Al's annotation 6223 hours of work was what it had taken him to put together that beautiful machine.
And it suddenly became evident that the airplane not only reflected the sunlight but it also reflected a lot of Al's personality. That of a quiet man obsessed with perfectionism and details. He did not speak much but his work of art said a lot. It is true that you get to know a lot about an artist when you look at his work. N1443D is a true work of art, and Al is for sure an artist. I paused for a moment, and I could just see him working in his garage, in a relentless pursuit for perfection, sanding, measuring, measuring again, drilling a hole, aligning parts, making another batch of glue and slowly assembling the airplane that won a Bronze Lindy award at Oshkosh 2003. The airplane I was now trying to buy. What an honor it would be to own it, I thought. Needless to say, I immediately fell in love with it.
I asked Al if I could sit inside the cockpit for a moment. He nodded in approval. The canopy opens effortlessly with just one finger pushing it back. Due to the nose-high attitude on the ground, it slides back on the rails by its own until reaching the stops. I climbed on board and stood there, canopy closed, looking at the panel with my imagination dominating every single thought.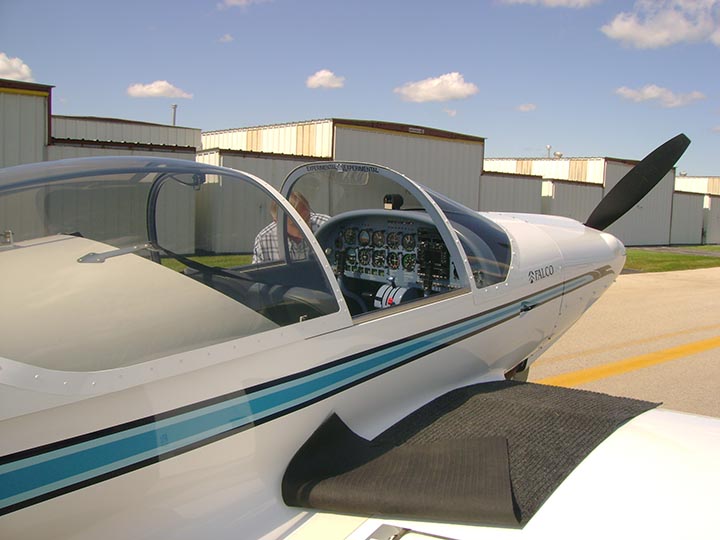 When my mind came back from the loops and rolls, I asked Al if he wanted to go for a short flight. Again he paused and looked at me: "Can you handle it?" he asked. "Sure," I said. I had flown Falcos, Pitts, Cap 10-B and Christen Eagles before, so I knew what I was doing by making the sudden invitation. He then looked at Debbie as if seeking her approval. The airplane had ground coverage insurance only, Al did not have a medical any more, and he had only known me for a little more than one hour. The airplane had last flown in February, and this was September. Debbie looked at him, and said: "I think you should go."
It was beautiful to see the connection between the two. Debbie was right there taking care of Al, and she knew that more than anything else, he wanted to go flying. That was all he had to hear. He broke a smile, the first one that day, and grabbed the blue folder that contained his detailed pre-flight procedure. For the next hour or so we went over every square inch of the airplane, with Al pointing to all of the important aspects as if already knowing that I would end up taking care of his beloved machine.
Born in 1943, Al was 66. At 43 years of age I could easily be his son, so like one, I listened carefully to what he had to say. This was a very touching moment because he was about to trust me the controls of his masterpiece without knowing me at all. Not only that, but he began teaching me all the little secrets of his airplane. I felt like a special connection had been established right there, and I was determined to use all of my skills in order not to fracture that trust bond. We pushed it outside, and I took more pictures with the Falco in the sunlight. We strapped in, and Al started reading the checklists for me.
After firing up the fuel-injected 180 hp Lycoming, I steered N1443D with micro movements of the rudder pedals towards runway 08. The run-up was straight-forward, and I lined up, making sure, as Alfred Scott pointed out in a previous phone conversation, that my left arm rested on my left leg, grasping the control stick with only three fingers.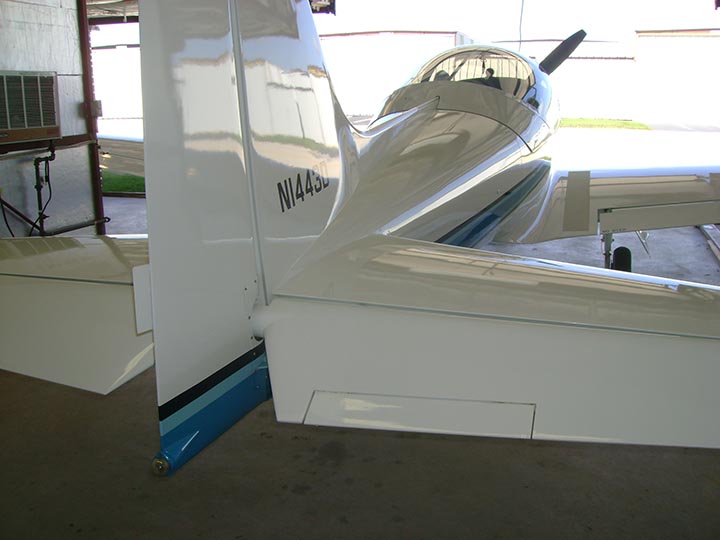 We climbed to 3500 feet staying underneath the busy Chicago area class B airspace. It was a beautiful sunny day, with only a few cumulus clouds in the sky. The Falco is a delight to fly. Very sensitive, with fast response, all it needs is small pressure on the controls.
After a few turns and slow flight with gear and flaps down, I handed the controls to Al and took some pictures in order to capture that special moment. He was doing a pretty good job of holding constant altitude and performing a few 180 degree turns. Later in the flight I said, "Al, I'm sure you are aware that the Falco is an aerobatic airplane."
"Yes, I've heard that."
"Here, let me show you something." I took the controls and slowly performed a barrel roll, with positive G only. "What do you think of that?" I asked. He paused again for a second or two before providing another of his short answers: "My head is still spinning." I'm sure he liked the experience, and according to his information it was the very first time that N1443D, with only 203 hours total time, had been upside down. We came back to the traffic, and I brought the Falco down to a smooth landing on runway 08.
After the flight we went to Nick's Place, a nearby pizza restaurant. It was time to talk business. Establishing the correct price for a Falco is a very hard thing to do, even more so in the case of N1443D. Yes, there's the price of the kits and materials that can be easily accessed and there are other Falcos for sale on the website as a market reference. But what about the time and effort spent building it? How to put a price on that? So I was moving with great care and with mixed feelings. At the same time that I was happy for the opportunity to own one of the best built Falcos, I was also aware that I was about to take away what was once Al's dream airplane. A Falco is a labor of love and should be treated accordingly.
I had to go back to the airport, so I handed Al a check for $1,000 as a down payment until I could get back home, get permission from my wife, and sort things out with my account manager. That Falco had to be mine. I had lost Mel Olson's N318WH to Howard Jones in 2006. As I said goodbye to them in the parking lot, I asked Al if he would promise me not to cry when I came back to take the airplane away. "That I can't promise" was his short answer.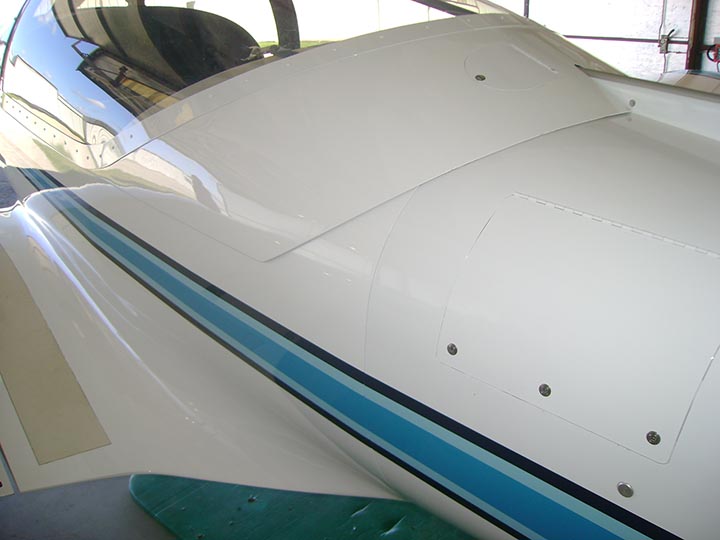 As I was driving to the airport, I called my wife Cintia in Brazil trying to describe to her the experience I had just lived and what a wonderful airplane I had found. She could feel the excitement in my voice but she was a little skeptical.
However, on the way home my excitement gave way to a different and strange feeling. All that I could hear were these terrifying stories of a new financial tsunami that was coming, some experts believing it would be greater in magnitude than the great depression of the 1930's. Oh no! Not on my turn to buy a Falco, I thought. So I called the bank to check on my portfolio and sure enough it was taking a big hit. Share value was coming down as most investors were trying to cash their deposits out.
I was able to place a sell order and retrieve 100% of my shares by December 2008 with a loss of approximately 45%. Some people still have their shares frozen today. Well, with such a financial damage I could not afford Al's asking price any more and had to put the plan on hold for a while. Talk about frustration! The only thing I could do was go back to work, try to save more money and hope that no one would take N1443D from me. I kept exchanging e-mails with Al. He got some phone calls but no serious offers. He held on to my check.
After almost 10 months of waiting and saving I was able to reach an agreement with Al and shake his hand. This waiting period was torturing to a sense. Every day I would log-in to the Sequoia website and check the "Falcos for Sale" tab. N1443D was still there. It would have been an emotional nightmare seeing it moved to the "sold" listing. Debbie later confessed that Al would not even consider other prospective buyers because he thought I was the right pilot to take care of his bird. I think it can be said that I did not buy the airplane from him, instead, he sold it to me. He held on for me, and I will be forever grateful for that. What a special man!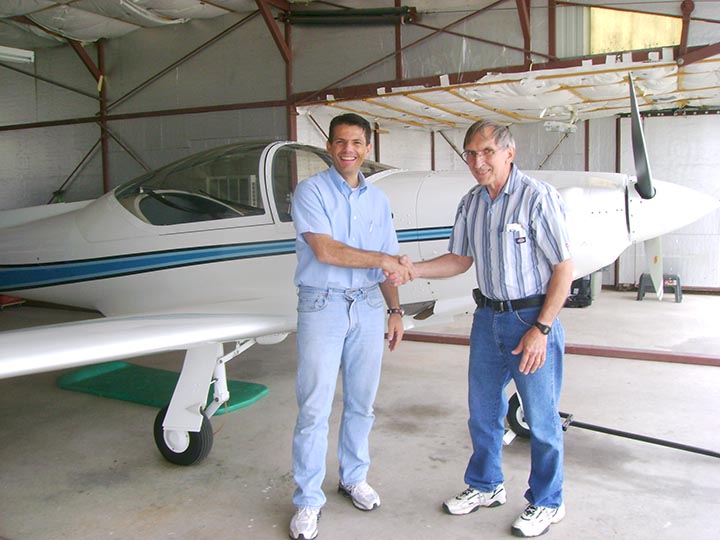 Today I saw N1443D in the "sold" listing for the first time -- with some relief, of course.
I plan to ferry it to my hometown of Porto Alegre (SBPA), Brazil in August 2009. Porto Alegre is located in the southern state of Rio Grande do Sul, way down close to Argentina. So I will have to navigate from Lake in the Hills airport to Florida, then via the Caribbean chain of islands to Venezuela, and then Brazil from north to south. I plan to provide the login and password information for the spot satellite messenger so people can track me down over the Internet during the ferry flight.
It is a very long trip and in an attempt to make less fuel stops I went looking for ways to increase the Falco's endurance. I wrote Simon Paul who had an engine malfunction during the ferry flight of N660RH from Oregon to Europe last year. With great skill, Simon ditched the powerless Falco in a lake in Canada. He had installed an auxiliary fuel tank, built by a local Oregon shop and I wanted to know more about it. It could hold 48 gallons and increase the endurance to almost 11 hours. It turned out the tank along with the wrecked airplane now belonged to Bob McCallum of Toronto, Canada. Bob orchestrated the complicated rescue efforts of Simon's Falco from the lake and has plans to build one using some parts from N660RH.
Bob wrote back saying he would be willing to negotiate after performing a thorough inspection and cleaning because the tank had been submerged in the lake for several months. The report came back that the tank was in good condition, so we agreed on a price, and Bob shipped it to Lake in the Hills airport. Alfred Scott also brought up the very important point of tank resistance to vibration and the necessary reinforcements it should have in order not to crack and leak fuel. He referred to the slosh-and-vibration test reports that are available on the Sequoia website. All of this interaction happened very fast and it is comforting to know that there are people out there willing and ready to help and support the Falco builder/owner.
The N1443D registration will disappear when the Falco is imported and registered in Brazil. I am aware that this is a special number as the 14 stands for 1914, the year that Steve Dubiak, Al's father was born, while the 43 is for 1943, the year that Al was born. The D is for Dubiak, of course. I plan to paint Al's name in the fuselage as a tribute to the man, whose dream of building a special airplane has allowed me the dream of owning and flying it. So Al's beautiful work and memory shall live on with the Falco he built.
I feel honored and humbled to be able to enter the Falco family.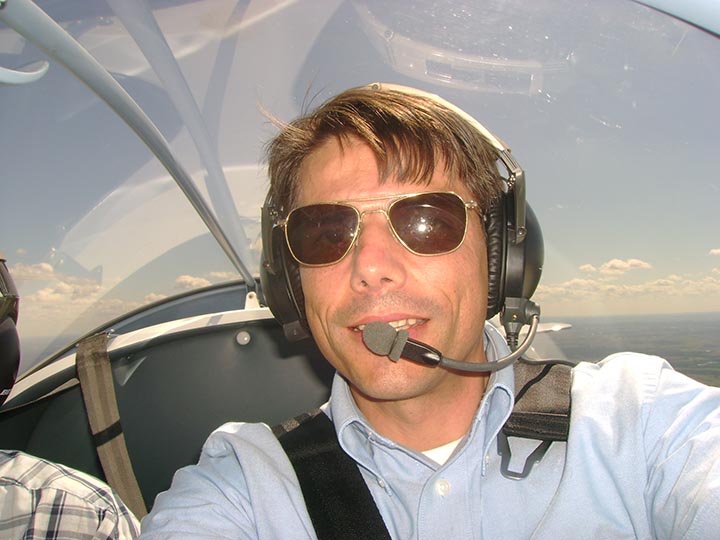 Eduardo Letti