| | | |
| --- | --- | --- |
| | Luciano Nustrini | |
Luciano and Guiliana Nustrini died on February 6, 1999 in their Falco, ZK-ERNA. Please see Accident for details.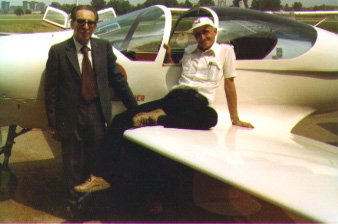 Stelio Frati and Luciano Nustrini
No mention of the Falco is ever complete without bringing up the name of Luciano Nustrini, by any measure a remarkable man and an engaging character.
By profession, Luciano Nustrini is an architect specializing in airport construction. For years, he lived in Florence, Italy, and he has an inventive and enquiring mind. Some years ago, he designed a molded plywood chair, for which he was awarded the 'Compasso d'Oro' (Golden Compass) by the Italian Society of Designers. This was before he met Stelio Frati, who later won the same award for the Falco.
Nustrini bought a Series I Falco, essentially one of the first two prototypes, and since Nustrini was mad about speed, he engaged in a series of modifications to the aircraft that have resulted in speeds that would be difficult to believe if he had not won so many races, frequently beating 260 hp SF.260's. Indeed, in the early days of the Sequoia Aircraft, Nustrini's Falco became the object of obsession for most Falco builders, but now there are many exceptional and fast Falcos flying.
Nustrini was an accomplished pilot and for a time was Stelio Frati's test pilot for his new designs and did certification test flying for many aircraft in Europe.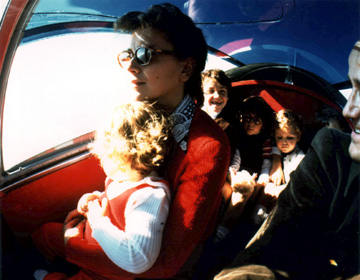 Seven in a Falco. October 15, 1972, over Florence, Italy
If any proof is needed that Luciano Nustrini is a wee bit crazy, we offer the photograph above! There are seven Nustrinis in that Falco, Giuliana and Luciano in the front with one in Giuliana's lap, and four Nustrini children in the back. At first, it appears that there are 'only six' in the plane, but look closely over Luciano's right shoulder, and you'll see another Nustrini head!
Luciano Nustrini has many interests. He was an accomplished skier and nearly qualified for the Italian Olympic team years ago. He enjoys photograph and had an enormous collection of about 300 cameras in the mid-70s.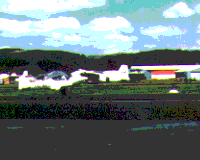 Only Luciano Nustrini photographs his own gear-up landings.
Luciano and Giuliana Nustrini now live in Titirangi, New Zealand, a suburb of Auckland. He's just retired from the university, and now is devoting more time to sailing and is back racing his Falco again.