| | | |
| --- | --- | --- |
| | Max Riner | |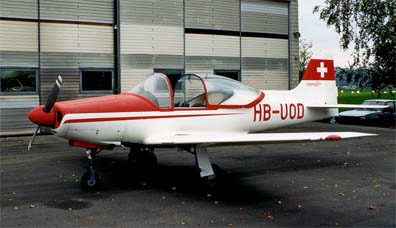 My Falco-dream started back in 1981 during an airshow in my home country. I remember two things of this event: The first was the astonishing show of the Italian Alpi Eagles in their Marchetti SF.260, demonstrating the perfectly harmonic and for me only real acrobatic flying (in which aerodynamic were not yet replaced by sheer power!). The second was the first Falco I saw, a grey and black specimen with German registration, which stood there in line together with other wonderfully glaring oldtimers.
That's why I'm the owner of No. 1104 of your plans and devouring your builders letter the day they arrive for already 13 years, and my preparations to realize the dream were made five years ago; tools and shop are still ready!
But till now, the people deciding about promotions and retirements didn't care about my dreams, they made me some more years to go and so I didn't dare to begin.
It seems now that the way it went was right. Mother fluke was unexpectedly benevolent to me by suddenly fullfilling my long wishful thinking. Last July the 76-year-old owner of the HB-UOD, giving up both flying and aircraft, sold his wonderful aircraft to me!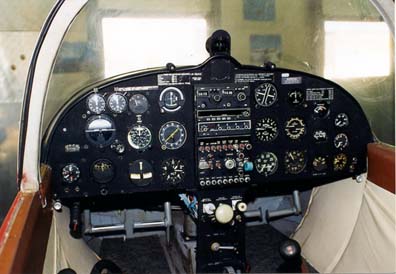 It's a Falco Series IV, No 402, built by Laverda in 1963. The O-320 has 90 hrs since new, the prop is new, cell, interior and paint need a compete renovation and some components (i.e. windshield, canopy, instruments) have to be repaired or replaced. There is a small amount of wood repair to do in spots where the water has caused some damage. The work has already started by taking apart the fuselage and the further dismantling is in progress.
I dreamed about and finally purchased my Falco exclusively to have a manual labour which sets a counterpoint to my daily business. After half a year of work and an investment of already 500 hours, I join all those who are talking about the big benefit of daily satisfaction. The steps of the progress are little, but I enjoy every one of them. For every step and every part I am consulting your great plans, and they do me a big favor. It impresses me all the time to see how accurate and valid they are even in respect to my 'old' airplane. Furthermore I'm lucky to have my wife Marianne stimulating and supporting me.
Max Riner
Max Riner lives in Schinznach-Dorf, Switzerland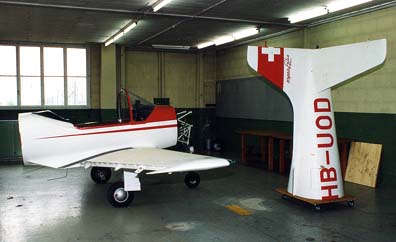 Max Riner is restoring a 1968 Falco with 90 hours on the engine.