| | | |
| --- | --- | --- |
| | Glyn Russell | |
| | | |
| --- | --- | --- |
| | Glyn Russell died Oct. 15, 2007 after a long struggle with lung cancer. | |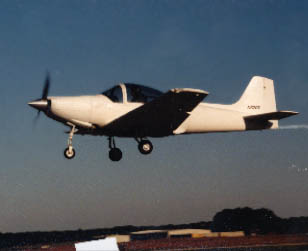 Glyn's Falco on the first flight takeoff.
Glyn describing the first flight... April 18. Same flight plan as before. Carlton did two high speed taxi tests. No leaking fuel this time. On the third run, he broke ground and turned my three-wheeler into an airplane. I cannot find the words to express my joy and elation on seeing N72GR break ground for the first time. It was wonderful! All I could do was stand there in awe with tears running down my checks and dripping off my chin.
When he had landed and taxied up to the hanger, he said "You've built a good flying airplane - No, let me rephrase that, you've built a GREAT-flying airplane." Nice comment. All I could do was grin.
Glyn Russell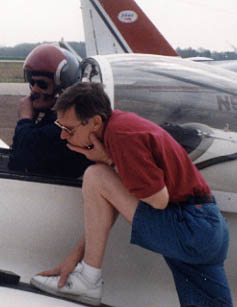 Glyn Russell checks out his test pilot, Carlton Bailey.
Glyn Russell, Hartselle, Alabama.
Articles
Construction Magnificent Obsession