This Falco is now owned by Horizon Aviation, Warwick, RI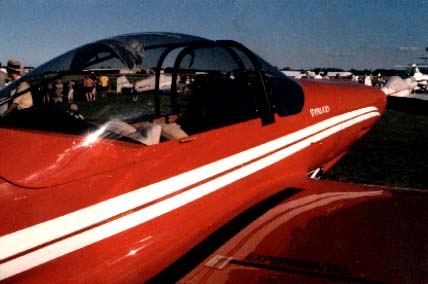 Our first look at Bill's Falco after he painted it.
I flew the bird this morning at 10:30 [Sept. 10, 2000] and other than not giving it enough right rudder, it flew off rather well. As might be expected, the left wing was heavy but since I weigh 275 one might expect it to be so! The only "difficulty" I experienced was the overly sensitive rudder and steering, but after the third landing I got much more dainty on the pedals. It stalled at 55-56 kts, and again wanted to fall off on the left wing. I feel that a small rudder tab would correct this better than one on the aileron. As everyone told me, I tended to flair too high on the first landing, but my speed was such that she dropped into ground effect and the landing was fairly good.
Bill Russell
Sept. 10, 2000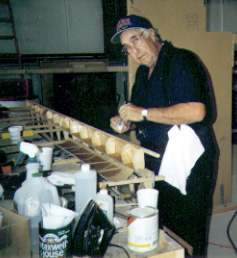 Bill Russell skins the aileron and flaps
Bill Russell lives in Houston, Texas. Telephone: (713) 952-7771, hangar: (281) 342-9881, Email: Falcowr@fastspot.net
Photographs
Construction Oshkosh 2001
Articles
Russell Up a Falco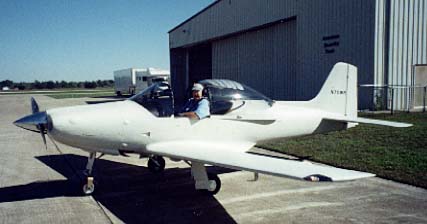 Bill Russell and the 66th Sequoia Falco to fly.