| | | |
| --- | --- | --- |
| | David Silchman | |

N9171Y flying over Illinois
"My name is David, I'm 50 years old, and I'm a Falcoholic. My last flight in my Falco was two days ago and I loved every second of it" This is the phrase I would use if I was at a "Falcoholics Anonymous" meeting.

Years ago, when I was still a normal person, I was casually going through an aviation magazine, when a little ad with the picture of a gorgeous red airplane caught my eye There was an invitation to a web site I had never seen anything as beautiful in my life Countless nights I would stay late reading everything I could and looking at the pictures. I was hooked.

Reading the articles written by Fernando Almeida and Stephan Wilkinson, among others, made me long for the opportunity to be near a real Falco. Two years ago I traveled to AirVenture 2002 in Oshkosh hoping that a few Falcos would be there. I arrived on a Saturday and learned that all the Falcos that had attended that year left earlier that morning.

A little over a year ago I drove 500 miles to Kenosha, Wisconsin, for the privilege of flying in N9171Y, which was for sale at the time. After a demonstration of the flight qualities by her owner and builder, Dr. Pawel Kwiecinski, there was no question in my mind that this beautiful bird was going to be mine and finally, in December of 2003, I flew my pride and joy to its new home in Omaha, Nebraska.

I could write about how nimbly it handles, how fast and responsive it is, or I could give you all those fabulous performance numbers, but I think the best way to describe what it means to be a Falco owner is through the words of Judy, my soulmate: "I can now understand your attachment to her", she said when helping me give my Falco a bath, "there is a totally sensual feeling when you pass your hands over her" She's right!

David Silchman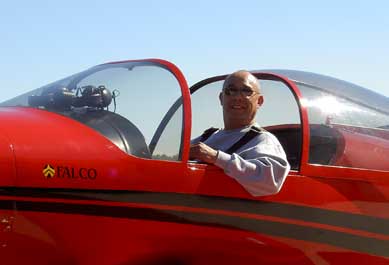 David Silchman
(formerly known as Sylvester Chavez, until he became a naturalized citizen in 2004)
David J. Silchman was born in 1954 in Mexico City, his fascination with airplanes and flight began at an early age. Typically, he went through school and college always dreaming about flying, but dedicated to more "serious" matters, like becoming a medical doctor. People sometimes have their priorities totally backwards.
Soon he was married and raising three wonderful daughters. Immigrated to the U.S. in the late 1980's and opened a computer store in southern Arizona, when personal computers had 64k of RAM and single density 5" single sided floppy drives. How times have changed
David's daughters have given him every reason to be proud of them: Laura, 24, is a professional student. She is currently finishing a master's in bilingual ed. at the University of Michigan (Ann Arbor), after graduating from Northern Arizona University (Flagstaff). Her husband, Hiram, is a mathematician seeking a fellowship at the University of Pennsylvania. He is also a competitive "salsa" dancer.
Dave's second daughter, Rachel, 21, is a junior at the University of Arizona (Tucson) majoring in education with a minor in Portuguese. She is multi-talented. Has been a cheerleader, band member, volunteer for a multitude of causes and currently an RA and counselor for the "New Start" summer courses at the U. of A. for new students. She's probably the smartest, since she's the only one still single.
Myrna, 19, recently got married and is going to make David a grandfather for the first time in October. She's a sophomore in Chemistry at New Mexico State University (Las Cruces), taking an extended maternity leave. Myrna's husband, Dwayne, is a very nice young military man stationed in Fort Bliss, Texas and serving his country as a radiology technician.
The aviation bug hit David hard in 1998. He enrolled at the Cochise College aviation program and earned his private pilot's license. Moved to Omaha, Nebraska almost three years ago and got his instrument rating. Currently working on his commercial and CFI tickets.
Several years ago, when he decided to get a Falco, he also decided he was too impatient and not so manually oriented as to build one. After many months of weighing his options, and seeing N9171Y being offered for sale for a long time, he finally called Pawel. They got together, went flying the beautiful summer skies over Wisconsin several times and the negotiations started.
This beautiful red Falco is now being flown regularly over the skies of the midwest.
David John Silchman, Nebraska Flight Center, P.O. Box 19259, Omaha, NE 68119-0259 dsilchman@cs.com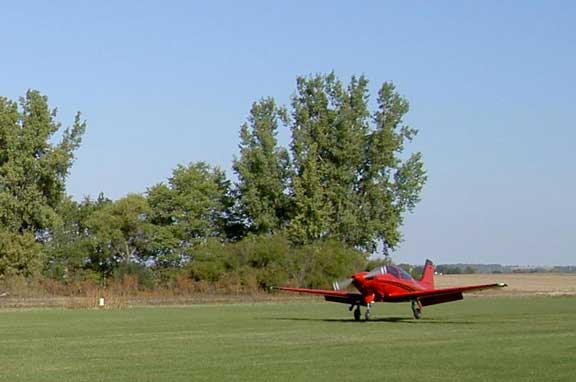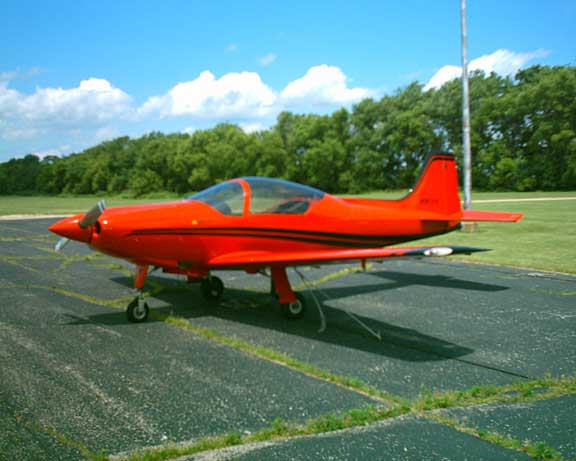 | | | |
| --- | --- | --- |
| | Sittin' pretty at Lake Lawn, Wisconsin | |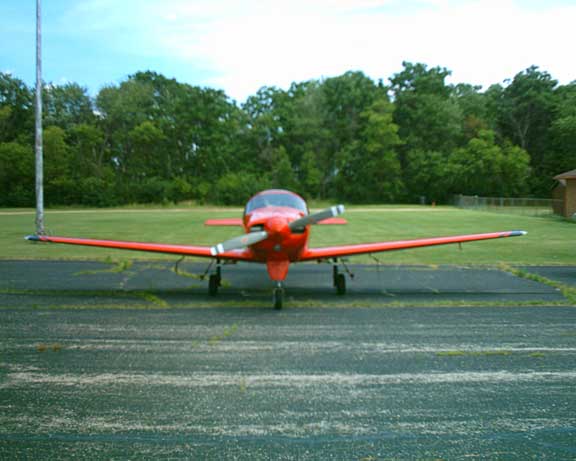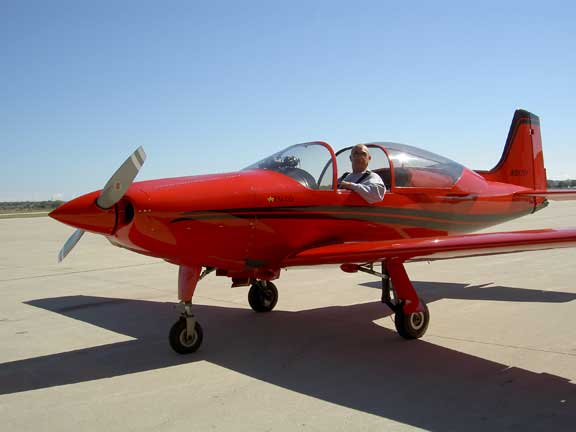 | | | |
| --- | --- | --- |
| | Proud owner of a beautiful Falco | |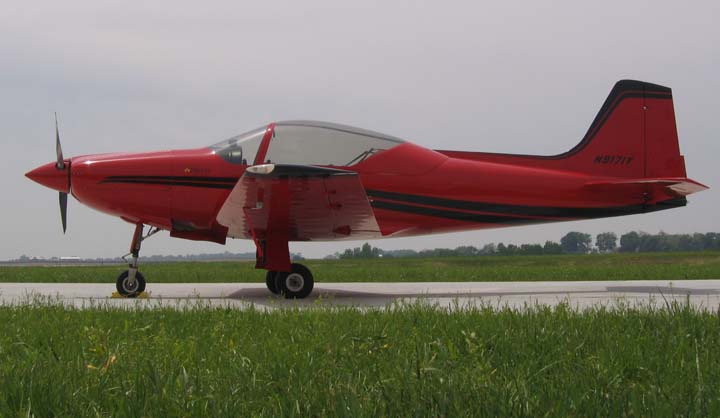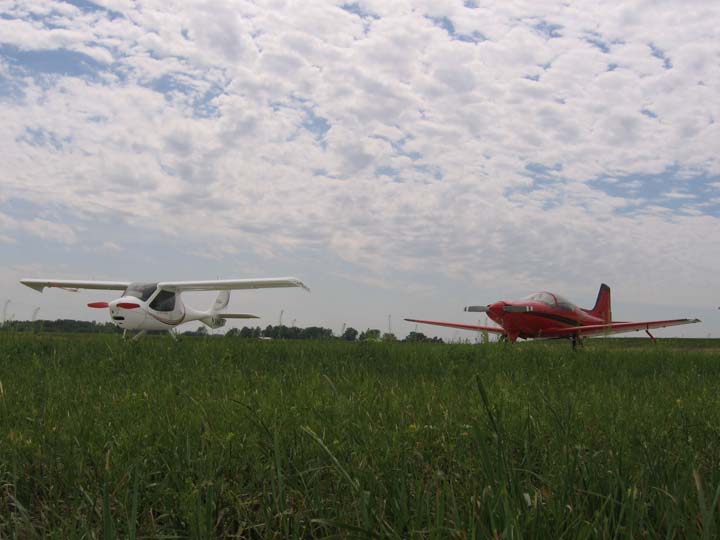 Hanging out with all types...