| | | |
| --- | --- | --- |
| | Tom Towle | |
| | | |
| --- | --- | --- |
| | Tom Towle sold his Falco to Arthur Dovey in late 2002. | |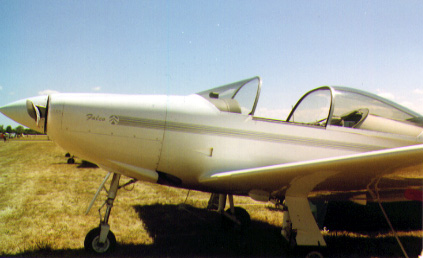 Tom Towle's Falco at Oshkosh '98
I spoke with you once before regarding buying Arthur Witske's aircraft. It was delivered to me here in Mineola, Texas (Mineola-Wisener Field 3N9) just five days ago. I got my first two hours dual with the delivery pilot. He thought I did fine after not having flown in the past 15 years. It's a trifle small for me headroom-wise, so I guess Arthur was shorter than I, who am about 5' 10" or so. I need a new canopy or a lower seat!
The aircraft is everything you say it is in your website, said site being thoroughly enjoyable and instructive, especially the 'trim band' info from the test pilot. I had anticipated that stick forces would be my clue to flying the Falco, but I see that's a dangerous supposition. I am really glad I read that article. It half-clarified for me how to land the aircraft. The other half missing is just what the touchdown attitude should be. The delivery pilot said to land like a carrier pilot. Unfortunately, I have never flown from carriers, being a former Army aviator, and the Falco doesn't have a tailhook. I do have, however, a tendency to round out in a somewhat taildown attitude because of my predominate taildragger experience. Too, I don't know how hard a landing I can make without bending something. Because of the forgoing, I would very much like to talk with a willing Falco pilot about these things. Is there someone who would share some insights with me?
I am certainly happy to join the Falco family, albeit not a builder, but a proud owner. This aircraft is an answer to a prayer, and after a year of searching for just the right aircraft, I found it in the Falco.
Tom Towle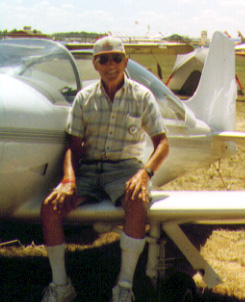 Tom Towle
Thomas J. Towle is a retired Army pilot who lives in Mineola, Texas. Telephone: (903) 569-3547. Email him at towlet@sprintmail.com