| | | |
| --- | --- | --- |
| | Lynette Zuccoli | |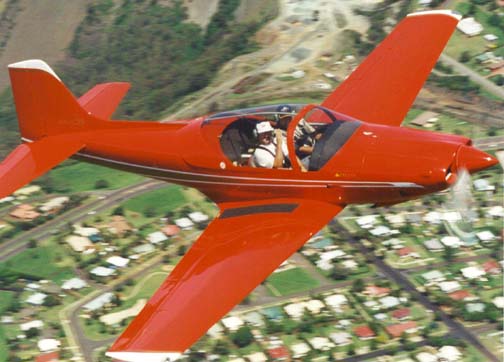 Thank you so much for your email. It was good to make contact with you again. I hope this finds you well. I have always kept in touch with Dean Hall, a really fine person. A couple weeks ago we had our very first Falco Fly-in. We talked about many things and reminisced about our Falco experiences.
I always think of how much you inspired us, esp Guido, when we first started building our Falco. Guido was always very proud of our Falco, its asthetic beauty, its Italian origin, and of course how we obtained it in a very short space of time (as I remember the story).
I wish you a happy Christmas and a marvellous New Year. The photos are my Falco over Toowoomba and Friend's and Ferguson's and mine in front of the hangar.
My best regards,
Lynette Zuccoli

Lynette Zuccoli
Lynette Zuccoli lives in Toowoomba, Queensland, Australia, where she continues to operation Aerotec Queensland following the death of her husband, Guido Zuccoli, who built the Falco for her. Email: aerotec@bigpond.com
Articles
First Flight Mangalore Dispatch
Guido Zuccoli First Australian Falco Fly-In
Legends in Our Own Lunch Times: The Stipa Caproni