Five Falcos Win Awards
at Falco 50th Birthday
Oshkosh, Wisconsin
July 31, 2005
Doug Henson wins Grand Champion Plans-Built at Oshkosh
Dan Dorr wins Reserve Grand Champion
Duane Root, Bob Brantley win Bronze Lindy awards
Marc Stamsta, Outstanding Limited Production
Doug Henson
Doug Henson, of Livermore, California won the Grand Champion, Plans-Built award at the Oshkosh AirVenture 2005 for his Sequoia F.8L Falco, N48EL.
Dan Dorr, of Santa Rosa, California won the Reserve Grand Champion, Plans-Built award for his Sequoia F.8L Falco, N708WC.
And Bronze Lindy Plans-Built awards were won by Duane Root of Boulder, Colorado for his Sequoia F.8L Falco N444PK and by Bob Brantley, of Pomona, Missouri for his Sequoia F.8L Falco, N988RP.
There's more. Marc Stamsta, of Hartland, WI won the Outstanding Limited Production award for his Aeromere F.8L Falco, N212SF
Doug Henson at AirVenture 2005
Doug Henson flew home from Oshkosh on Friday, and before he left a judge handed him an envelope saying that he had won something. Doug had no idea what he might have won, as there are a lot of awards given at Oshkosh, so he called on Sunday morning to find out, and when the EAA told him he had won the Grand Champion award, "My heart just burst when I heard that. I nearly peed in my pants."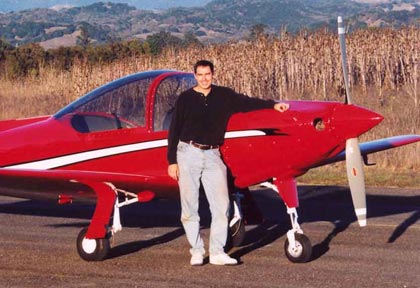 Dan Dorr
Dan Dorr had also flown home to help with his two twins. In May, Dan Dorr and Doug Henson planned to fly formation with their two Falcos for a photo-shoot. However, on the day before, Dan and Alyson Dorr met with their doctor, who scheduled the C-section on the following day. When he heard this, Dan asked "Does this mean I can't go do the formation photos?" On the following day, May 7 -- a date that will live in Enfamil -- Doug did the formation shoot by himself, while Alyson delivered Jackson (boy) and Cassidy (girl). All are fine.
Bob Brantley
Doug Henson is the second Falco builder to win the Grand Champion award at Oshkosh. Bjoern Eriksen won the award in 1993, after flying the Falco to Oshkosh from Norway. He just landed the plane and parked it. At the time, when asked why he hadn't used a cloth to clean bugs off the leading edge of the wing, he said "At 10,000 feet over the Atlantic, there are no bugs."
Duane Root
Marc Stamsta's Aeromere Falco
Marc Stamsta
The Falco first flew on June 15, 1955, and Falcoholics gathered at the Oshkosh airshow to celebrate the 50th birthday of the Falco. In all, 18 Falcos showed up at AirVenture 2005.
Dave Nason, Charles Gutzman and Dave McMurray won the Reserve Grand Champion award at previous Oshkosh AirVentures. Dave was in contention for the Grand Champion award, however he did have a small crack in his windshield which clearly disqualifies him. He promises to have that windshield replaced by AirVenture 2006.
A confession from the shameless
I wish I could take credit for the line "A date that will live in Enfamil" but credit belongs to Kas Thomas, who used it when his last child was born. Kas also said that after their baby was born, they had a new motto around their house: "Waste is a terrible thing to mind."