by Alfred Scott
This article was published in the September 1990 Falco Builders Letter.
We have recently updated this page to include more photos and some videos.

There are times in the development of machines when civilization might be better off if we halted progress. Just stopped everything and agreed among ourselves, "That's it!" and sent designers off to work on other problems. Think of how much better things would be if warplanes had been limited to piston engines -- we'd inflict far less damage on each other, and we would all have much more fun flying Bearcats, Spitfires, P-51s and Sea Furies.
I'd stop the development of competition aerobatic planes with the Bücker Jungmeister. Why not? Aerobatic competition is supposed to be a measure of pilot skill, and the Jungmeister is a wonderful, funky-looking machine with a radial engine and the loveliest handling imaginable.
At Oshkosh, I had another attack of this concept when I looked at the Stealth fighter next to the F-16 -- lordy, that thing is ugly. I mean, if we're going to kill each other with jet planes, then let's stick with aircraft that look like something, not like a silly plywood mockup that someone painted flat black out of embarrassment.
You can carry this type of flawed, reactionary thinking to all sorts of machines -- Pierce-Arrows, Bugattis, the Morris Minor, J-boats, Offenhauser and Merlin engines -- and when you see fiberglass muscleboats screaming across a tranquil lake, you wonder where race boats should have been frozen in time. The answer, for me at least, is with Baby Bootlegger.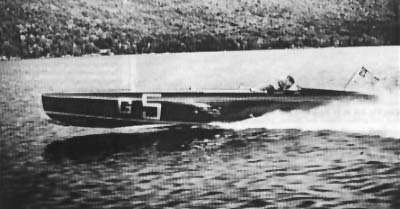 About five years ago, I saw an article on Baby Bootlegger in WoodenBoat magazine, and it was such an unusual and beautiful boat that sometime later I mentioned to Steve Wilkinson that it might be a good subject for an article. He was interested, but then I was unable to find the magazine. This spring, I came across the article and sent it to Steve. In June, Steve made a trip to Laconia, New Hampshire, to do an article for Connoisseur magazine, and I tagged along.
Baby Bootlegger is perhaps the most beautiful wooden boat ever built, and it's worth noting that we did not arrive in style. Wilkinson, who has been the editor of Car and Driver and executive editor at Flying, can pour out unending paragraphs on the merits and weaknesses of a design. The feel of a car on a mountain road. The style and execution of the upholstery. The surge of acceleration of a Ferrari on an autostrada streaking past all of the lesser vehicles. Yet Wilkinson drives a wreck.
It's an old Saab with close to 200,000 miles that he professes he is unable to kill. The headliner is long gone, and the oil pressure goes to zero at idle. The beauty of the car is that when you drive it to New York City, you don't have to worry about anyone stealing it. Steve parked it and fought with an automatic teller machine while I waited in the car. The parking lot was not quite level, and the compression was so low that the car eased forward every 15 seconds or so.
Then we got into the Corporate Disgrace, popped up through a small hole in the low overcast and settled down to a comfortable ride to New Hampshire over a solid blanket of clouds while Steve attempted to navigate with my radios. The display on my second radio flickers when you first cut it on, and then it goes completely off (I've later learned that if you leave it on for 20 minutes, it works fine all day long). The display on my first radio had been slowly deteriorating; selected segments of the digits had stopped working altogether. This is no problem because you can easily tell from a process of elimination what the frequency is by turning the knob -- "See, this is a 4 because (twist left) that has to be a 3, that (twist right two clicks) must be a 5, and (twist right) that can only be a 6."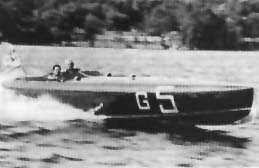 But we arrived in Laconia safely, rented a car and drove to an industrial section of Laconia, where we met Mark Mason, who owns Baby Bootlegger and New England Boat and Motor Company, which restores old wooden boats for a variety of passionate clients.
Mark Mason is what you get when a hyperactive kid grows up. He's always in motion, and if you leave him for a minute at a restaurant, you'll find him on the telephone when you come back. Old racing boats have been a passion for him since childhood, and while others traded baseball cards, Mark spent his time in the library researching old racing boats of the twenties.
He is persistent beyond measure and thinks nothing of answering -- as he recently did -- a 1938 classified ad for a pair of V-16 Packard Sweepstakes marine engines advertised by "J. Styne, Hollywood, California" and managed to end up on the phone with someone at Universal Studios who remembered selling the engines to Guy Lombardo. Styne, it turns out, was a doctor whose passion was music. He started a little sideline business (as agent for Lombardo and others) called Music Corporation of America which had subsequently purchased Universal Studios. Mr. Styne is chairman, and Mason had located him through the Jules Styne Eye Institute at UCLA, which he had endowed.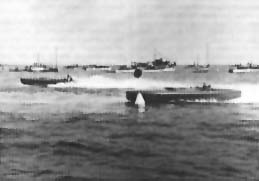 Baby Bootlegger hugs a turn in the 1924 Gold Challenge Cup race in Detroit.
Mark Mason had bought, restored and sold many of the old racing boats of the twenties, but the one that he had always wanted to own was Baby Bootlegger, which had won the '24 and '25 Gold Cup race. Today, the Gold Cup race is an unlimited class with Miss Budweiser and other powerful boats. The race began as a free-for-all in the early part of the century, but the boats developed into grotesquely overpowered creatures with three and four V-12 Liberty engines. The race was changed in the twenties into a class with a requirement for four seats, one engine and a limit on engine size. It was to be a 'gentleman's run-about', and Baby Bootlegger was the pinnacle boat of this group.
Baby Bootlegger was designed by George Crouch -- a man whose bespeckled American Gothic countenance more resembled that of a dry-goods clerk than the pre-eminent speedboat designer of his day -- for a wealthy Wall Street bachelor named Caleb Bragg who, among other things, put money into Broadway musicals. (His secretary, Ethel Zimmerman, had the job of typing resumés for Bragg's many ladyfriends who wanted to try out for parts -- until she begged Bragg to let her try out for a part, became an overnight success and dropped the Zim from her last name.)
Mark gave us a tour of his restoration shop. There was a mahogany speedster in the paint booth for varnishing. Another was in the shop to have her hull corrected for a twist that a previous restorer had introduced -- "It doesn't want to turn. Doesn't want to go straight, either. It hops and porpoises." In the back of the shop was Imp, another Gold Cup winner being restored for a wealthy owner, and Mark is just starting work on Impshi, a replica of another Gold Cup racer but with an old supercharged 730 cu. in. Miller V-16 engine. The Miller company went bankrupt, but the assets and designs were bought and successfully marketed by the shop foreman, named Offenhauser, so this engine is essentially four Offenhausers on a common crank and produces about 1,075 hp with 15 lbs boost at 5,000 rpm.
But we'd come to see Baby Bootlegger, so we headed across the lake to see her in another old mahogany speedboat, a 30-foot 1929 Hacker Craft that had been kept in spotless condition from the day it was built. The original 1,000-cubic-inch V-12 Lycoming engine had been replaced by a modern engine, and the seats had just been recovered in green leather. At last we were riding in style.
One of the difficulties of owning a boat like Baby Bootlegger is simply finding a private boathouse that can accommodate her 30-foot length. It's a half-hour ride across the lake. We docked the Hacker Craft, walked over the Baby Bootlegger's boathouse, and Mark unlocked the door.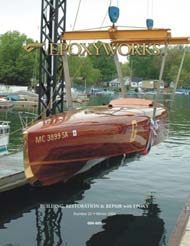 I was struck by an eerie sense of déjà vu when I first saw Baby Bootlegger, and I later realized I was in real life revisiting one of those dreams where you imagine an impossibly over-simplified and totally beautiful machine. She's a thirty-foot pontoon of varnished mahogany glistening with the reflections of 60,000 brass screws and copper rivets that have been filed absolutely flush with the surface and varnished. Except for the open cockpit way in the back, it is an unbroken stretch of mahogany.
Baby Bootlegger had three technological innovations. First, the classic boat design has a 'hard sheer', which means that there's a sharp angle between the deck and the sides of the hull where they meet. Baby Bootlegger was the first boat to have a 'rolled sheer', with the deck smoothly rolling over to meet the hull.

Second, until Baby Bootlegger, the ass-end of the boat was either a straight or wide-vee transome. At the waterline, Baby Bootlegger has a standard transome, but immediately above the water there is a long overhang. This is essentially a large fairing that takes the hull shape back to a sharp point. This combined with the rolled sheer makes the boat look exactly like an upside-down canoe. There are good aerodynamic reasons for this design, but it was seen by many as a matter of styling, and soon after a number of cars were built with varnished mahogany and tulipwood aft-decks: the Stutz Blackhawk, various Hispano-Suizas and Isotta-Fraschinis, Duesenbergs and the Auburn Boattail Speedster -- all emulating Baby Bootlegger.
And third, the rudder was a 4° wedge, like the X-15's controls, instead of the usual airfoil shape, which would wallow in a neutral band of marginal control before it took effect. Not only was this the first application of a wedge rudder on a boat, but it wasn't until 20 years later that it was tried again.
As with an airplane, weight was critical, and a racing boat was considered a success if it won the race and yet sank on the way back to the dock. Inside there's a predictable airplane-like structure of bulkheads and stringers, an engine, a bench seat, and nothing more.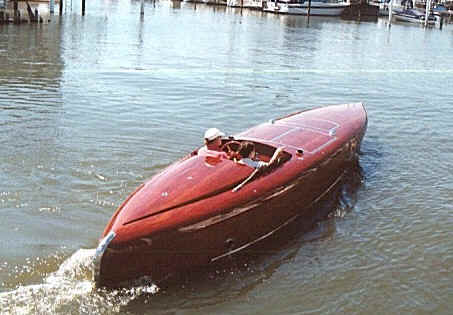 The engine is a water-cooled Hispano-Suizo V-8 marine engine, which except for the water-jackets is essentially the same engine that powered Eddie Richenbacher's Spad. The aircraft engine produced 220 hp at 2000 rpm, but Baby Bootlegger's engine has the compression ratio boosted from 5.1 to 7.5 and probably produces 300 hp at 3000 rpm. Unlike V-8's of today, the Hisso has an even firing order, and Mark Mason fires the engine up. It's horribly loud, and the little boathouse begins to fill with a white vapor of exhaust while Steve and I pace about pretending to look at the boat from a new angle when we're each actually maneuvering for fresh air and an escape route when the others start to drop from asphixiation.
Although the boat officially seats four, it's really designed to be perfectly balanced with two, so Mark takes us out one at a time for a ride in the boat. The engine is just in front of your feet -- and in full view -- and it seethes, stumbles and sputters as Mark piddles with the fuel pump switch until he gets it up and running with a throaty roar as we rumble across the lake at about 50 mph. Fully race-tuned, Baby Bootlegger will do 70 mph flat-out and won the races in the twenties at 50-something around pylons.
The trees on the shore slide by as you peer over the long stretch of varnished mahogany, your eyes tear up from the blast of air, the waves sparkle in the sun and blur in your peripheral vision, and then mad Mark Mason -- or is he Toad? -- clad in 1920's race goggles slams Baby Bootlegger into a tight turn. An ordinary boat would skitter across the water, but not Baby Bootlegger which carves around a turn as eagerly as a starving bobcat after a rabbit. Most of the old race boats were terribly unstable, and Mark was astonished to find that, in addition to being a stunningly beautiful boat, Baby Bootlegger has the best handling he's seen in any boat.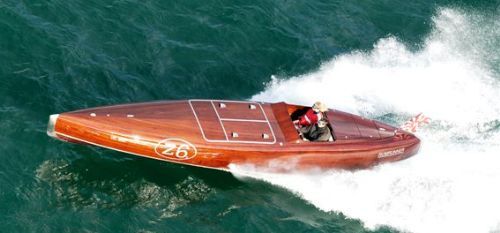 Mark had already owned all of the other great boats of the twenties, and Baby Bootlegger was the boat he couldn't get out of his mind. It was the Stewball of speedboats, and after it won the Gold Cup races, it passed through a number of owners who continued to race her. The last mention Mark could find of the boat was in the forties, but he found a few leads and became obsessed with pursuing the legendary boat. By running up an enormous telephone bill, he was able to locate the family of the last owner in Montreal, but the man had run off with his secretary and his children didn't even know where he lived. Mark would not be deterred and finally, through the man's stockbroker, located the last owner in Florida.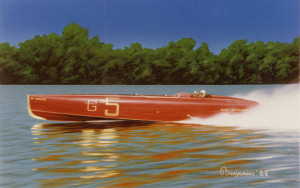 He had kept the boat in a warehouse for years after he had stopped racing her, and then when he sold the warehouse, he tried to sell her but no one was interested, so he called in a scrap metal dealer to take her away and burn her. "You're too late," the man said. "She burned."
But Mark is persistent to a fault, and called back to ask, "Did you see it burn?" and "Did the scrappie actually tell you he burned it?" Well, no, he couldn't say that he knew it for a fact, and then Mark kept at it until he was able to locate the scrappie.
Baby Bootlegger had not been burned. Instead the scrappie and a friend had studied the boat and were struck by its appearance. The friend offered, "I don't know anything about boats, and I particularly don't know anything about wooden boats, but you should not burn this boat." So they put the boat in a corner of the warehouse, covered it with canvas and left it there for 25 years. When Mark Mason finally arrived to pick it up, the old scrappie said with a twinkle in his eye, "I knew that one day you would come for this boat, but I didn't think you would take so long."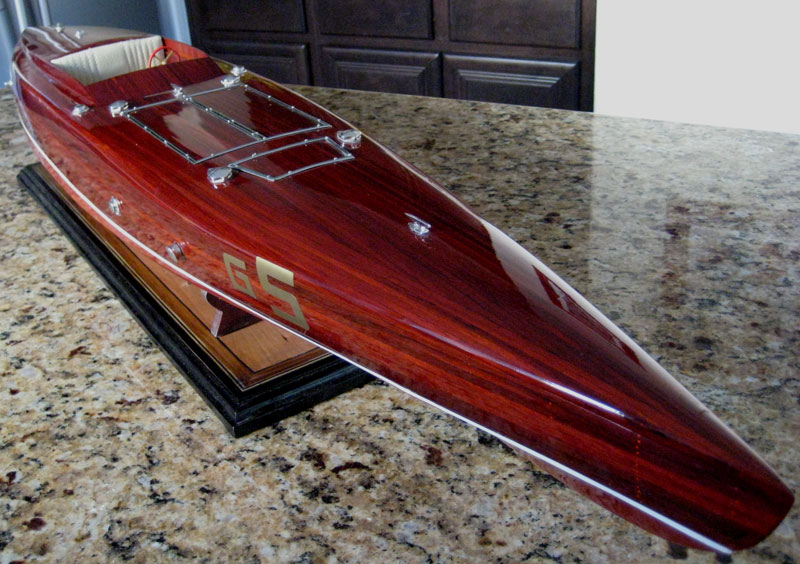 That was ten years ago, and Mark walked away from his three-generation family business of estate planning (read: life insurance), restored Baby Bootlegger and has since operated New England Boat and Motor Company as one of a handful of this country's best restorers of old wooden boats. He's yet to laugh his way to the bank, but he loves what he is doing and keeps the doors open with a constant demand for his services. There's one financial problem that he doesn't even like to think about, but it has to do with Baby Bootlegger. He paid $2500 for the basket-case boat and then put around $100,000 into restoring the boat ten years ago. Today with greater interest in old racing boats, he's watching clients spend $600,000 and more to restore lesser boats in his shop, and it's obvious to everyone that Baby Bootlegger, the Bugatti Royale of raceboats, is more valuable.
Such are the problems that come with owning jewelry so fabulous that you can't afford the insurance to wear it for a single evening -- but to hell with such thoughts, and we trundle into the old Hacker Craft, pop a few brews and regally hum across the lake. It's a great day to be alive, and a good time to remind yourself that sometimes it's best to judge people by their madnesses and obsessions than for all the sensible, mundane things they have done.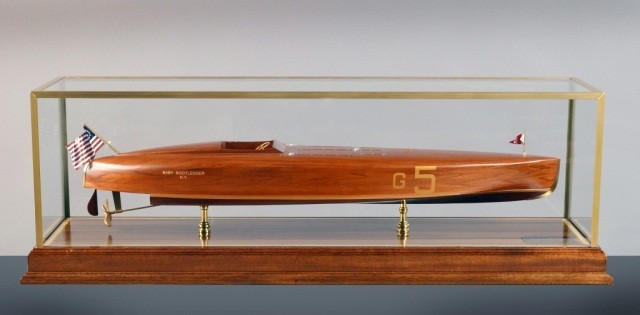 For more of Baby Bootlegger and Mark Mason's
other boats, visit Sequoia Falco on Facebook