by Alfred Scott
This article was published in the September 1988 Falco Builders Letter.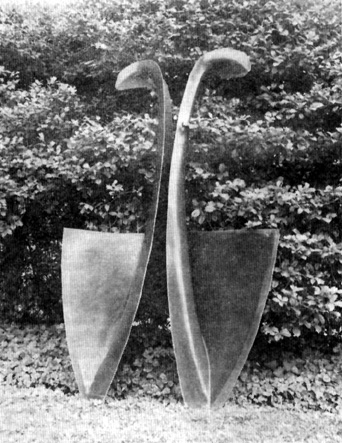 You may not be familiar with the free-form sculpture of Ferrucio Guaducci. Neither was I, until Meredith went on a shopping spree in Provincetown and dropped a small chunk of change for the piece you see here. It was called "Flight of Fancy," and she thought it would look great in the back yard.
This past Saturday the truck arrived. We unpacked the thing and then set about the business of trying to decide where to put it. There are two mirror-image pieces, and we tried leaning them against a tree and then finally put them back-to-back in the flower garden against a hedge of holly. Sara and Kakee struck artistic poses with the flowing shapes.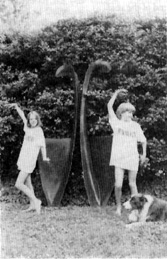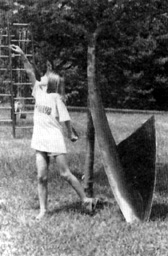 Someone said they looked like dolphins, another thought they looked like shower heads, and I thought they looked like a logo for a diving camp. Interesting shapes.
When you get something like this, you never know how your friends will react. As it happened, we had a dinner party that night for the board of TheatreVirginia, which regards itself as the cultural center of theatre in these parts. We decided to say very little and see what people said.
Most of them kept their silence, but they all later said they had noticed the sculpture, "liked it" or "wondered what it was." The museum director, who would probably have felt called upon to say something serious about it, did not come, fortunately. But the set designer, a totally uninhibited artistic type, flew into the back yard with his arms high with "Oh, yeah! I love it!"
And a public relations man was equally as enthusiastic, yelling "Neat!" and he immediately told Meredith it was in the wrong place. It belonged in the middle of the yard, and he ran down toward the thing for a better view. When he got about twenty feet away, he stopped, paused and came back up the hill, saying with a smile "I'm not going to get too close to that thing."
He smelled a rat, and rightly so, for these are in fact the Falco wing fillet molds made by Joel Shankle and stuck in our back yard in a bit of devilment proposed by Meredith. As the evening was breaking up, I brought one up to the porch and explained what they were. No one got their feelings hurt, and everyone liked them just as much when told what they really are.