The following appeared in the September 1994 Falco Builders Letter.
Col. Mu'ammar Qadhafi
Chairman of the Revolutionary
Command Council
Socialist People's Libyan Arab Jamahiriya
Tripoli
Libya
September 7, 1994
Dear Col. Qadhafi:
Since you are the world's leading Frati enthusiast, we'd like to invite you to attend, as our guest of honor, the 14th Annual Frati Enthusiast's Fly-In, held in conjunction with the Urbanna Oyster Festival -- said to be the biggest small-town event in the United States -- on the weekend of November 5-6 at our private airstrip on the Rappahannock River, Rosegill Farm, Virginia. (For your GPS, crank in the coordinates N37° 37.93, W076° 33.28.)
As you of all people know, Stelio Frati is the designer of the SIAI-Marchetti SF-260, of which you are easily the world's leading owner, operator, collector and enthusiast. There isn't an American Frati lover who owns more than two, or perhaps three, of his designs-the Nibbio, the Picchio, the SF.260, our beloved little Falco and others -- yet you alone own a staggering one hundred and ninety examples of the revered marque! What a guy!
And well-armed examples they are, we must say. There are those among us who pack a survival rifle now and again, and perhaps even a few who quietly but routinely fly with Smith & Wesson insurance policies in their pockets, but we all marvel at your superb collection of Frati-designed, rocket-equipped sportplanes that quite literally can be called an air force. The Libyan Air Force, in fact.
So be our guest, bring one of your splendid SF.260s, if you wish, and join us for a weekend of oysters, airplane talk, music, beer and Southern hospitality. Hey, if Sinn Fein is throwing in the towel, the Hutus and the Tutsis are making up, the Palestinians and the Israelis are going to the mall together, it's about time we let bygones be bygones, right?
Alfred P. Scott
PS. Oh, by the way, bring your tent. The motels in the area are full for the weekend, and we all camp by the side of the grass runway.
And from the MailBox section of the December Falco Builders Letter...
This year's annual Oyster Festival Fly-In was without a doubt the best ever, and every bit of credit goes to you for the inspired idea of inviting Colonel Qadhafi and his flying corps.
People can say what they will about a backward nation of goat herders whose crowning scientific achievement is a space heater that runs on camel dung. Qadhafi's aeronautical engineers have taken stealth technology to a level that staggers the imagination and baffles the senses. What an amazing afternoon!
There they were... an entire squadron of totally silent, absolutely invisible SF.260s, engaged in mock combat and amazing feats of aerobatic derring-do right over our heads. It was something we had to not see or hear to believe. When they buzzed the field in an inverted high-speed pass, the only clue to their presence was a slight increase in wind velocity, undoubtedly from their slipstream, and the faint aroma of aviation gas. Simply amazing!
It's too bad that the Colonel and his airmen were unable to hear Meredith and the other ladies ululating a traditional Libyan welcome at the edge of the runway. Perhaps they would've landed if they had. As it was, we experienced a stunning half-hour display of showmanship, aerobatic skill and precision... totally silent, totally invisible. What a thrill to not see aviation history in the making!
Finally, with their traditional wing-wagging salute, Col. Qadhafi and the entire squadron of Libyan Stealth SF.260s formed up over the Rappahannock and presumably headed eastward toward their North African homeland.
Thanks so much for allowing me to be present for this incredible event. It was the most amazing display I've never seen.
Mark James
Richmond, Virginia
Very funny, you cynical airhead, but the laugh's on you, who left too early to see what actually happened! -- Scoti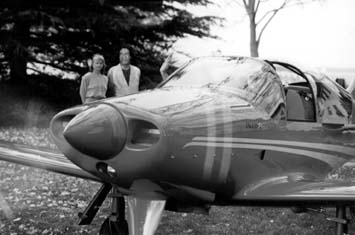 Everyone laughed when we invited Col. Qadhafi to the Great Oyster Fly-In and, of course, it was a bit of a publicity stunt cooked up by Steve Wilkinson. But the thing about mercurial people is that they do the unexpected, and sometimes the most demonized person turns out to have a warm side. He's far more subdued in a social setting than you might think, and as long as you stay off politics -- which, believe me, we did! -- he's not a bad sort at all and stopped by for a short visit after taking in the Urbanna Oyster Festival on his way to Washington after attending some function in Williamsburg. Above, Mu'ammar and Sue Mullins watch as Joel and Carolyn Shankle fire up their Falco.