First Flight:
Steve Bachnak
Steve Backnak sold his Falco to Steve Crisp, Chewelah, WA in October 2004.
by Alfred Scott
This article appeared in the March 1989 issue of the Falco Builders Letter.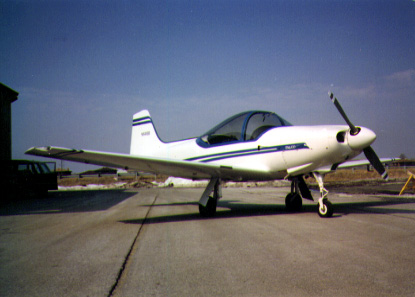 Steve Bachnak is the latest Falco builder to break ground. He flew his Falco on March 14th, becoming the 19th homebuilt Falco to fly. The Falco, N64SB, weighed 1,174 lbs empty with its 160 hp O-320-B3B engine and steel-hub prop from a Piper Apache.
On the first flight, everything went well except that he has a very heavy right wing. It wasn't a particularly good day for a first flight and there was a short runway with a crosswind and lots of haze, but Steve was tired of waiting so he took it up for 20-25 minutes with the gear down.
"It is touchy-or should I say, tender-on the controls." Yeah, well what about it Steve? Do you like it? "Yeah, I want to keep it." It's hard to get Steve excited.
Steve Bachnak lives in Munster, Indiana, where he has been a general contractor until he retired recently. He took on the Falco because he wanted a project. He has always had a shop going and while he had never built an airplane before, he has built eight sailboats, from 20 to 45 feet.
The project took Steve seven years of work on a very irregular schedule. There were large blocks of time in which he would not even touch the project. Steve made all of his wood parts and since he had a bandsaw and a small lathe, he made all of the simpler metal parts but purchased the engine mount, cowling, canopy, landing gear, retraction system, etc.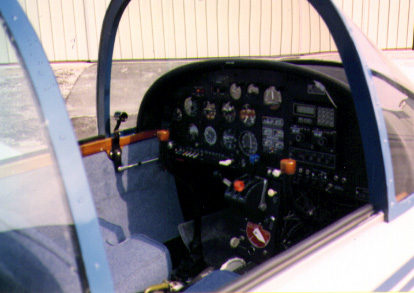 The Falco is painted white with blue stripes and blue trim around the canopy. The Apache propeller can only use one spinner, and that spinner does not quite blend with the lines of the cowling, but it looks better than you might imagine. The carburetor is on the bottom, and Steve has done a good job of making an unobstrusive carburetor air intake. (The gear doors are too long and will go bye-bye on the first hard landing with a low strut.) There is an attractive blue interior and a full panel of radios, including a loran, and a left hand throttle.
Many Falco builders approach the contruction of a Falco like the making of a great art form. Everything must be perfect, and I can't tell you how many have assured me that their Falco is the best one ever built. Steve Bachnak has always remained aloof from this this sort of perfectionism. He's spent a lifetime making things and doesn't strive for trophy standards. He succeeded in his goal and has built an attractive, well-built airplane that should keep Steve flying while he works on his next project-who knows, another boat?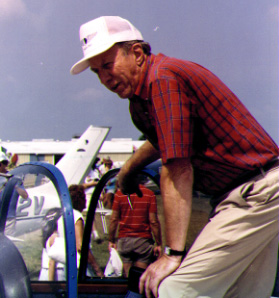 Steve Bachnak
---
More photos...