| | | |
| --- | --- | --- |
| | Bad Day at the Races | |
by Derek Simpson
This article appeared in the September 1986 issue of the Falco Builders Letter.
Derek Simpson's Falco emerged from a winter's-long refurbishing with new windshield, canopy and seats from Sequoia Aircraft and a mirror-smooth finish of ebony black with gold and red trim. Even Peter Hunter-whose Ferrari-red Falco has been the most-coveted European Falco-was envious. So lovely, in fact, that it appeared on the front page of the Sunday Times as part of the coverage of the Schneider Trophy Race. Alas, on the day before the race, Derek's Falco took a bird up the snoot. There are only six Frati aircraft in England; nevertheless, on the following day an SF.260 sucked a bird up the carb at precisely the same spot but was able to stumble back to the field. Here's Derek's account: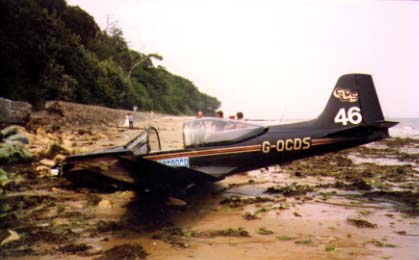 Bored with beachballs and badminton? When you are at the seashore,
do you miss your Falco and wish you could have it with you all of the time?
One of the highlights of the British Handicap Air Race Season is Digital Equipment's Schneider Trophy Air Race. Held in June of each year, it's 150 miles of low level racing around a course on the south coast of England. The race attracts up to 80 entrants of which a maximum of 60 are allowed to compete. Last year I raced a Cessna 170 and came in 33rd. This year I entered my Series II Falco G-OCDS and hoped to do considerably better.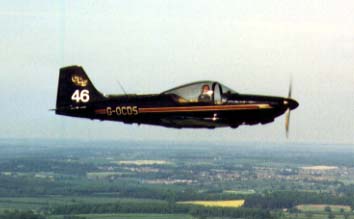 Under the rules of the race, each competitor must complete at least one practice lap. After flying a number of photographic flights-the Falco always generates interest-I took off to fulfill this requirement with my wife Christine in the right seat. Most of the course is over water following the north coast of the Isle of Wight and then the south coast of England. But the longest leg is out over the sea to an abandoned fort, similar to an oil drilling rig, in the Solent.
We had just started this leg and were about a half-mile off shore at 500 feet and 150 knots, when there was a solid thump from the front. I realised immediately that we had suffered a birdstrike and put out a "pan" call intending to return to the airstrip to inspect for damage. I had already turned towards the shoreline when I realised that, although the propeller was turning, engine power was conspicuous by its absence! I then transmitted my first-and I hope only-"mayday" radio call.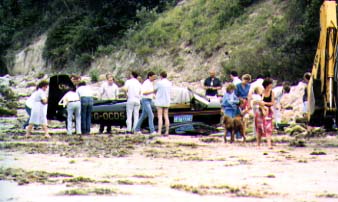 None of my efforts to re-start were successful, so a forced landing was inevitable, but... where? Although I had sufficient height and speed to reach the shore, I did not have enough to clear the cliffs. All the beaches in view were rocky, and I was almost resigned to a ditching when a 500-yard sandy stretch appeared from behind a headland, within gliding distance, but only just. Chris was obviously aware of what was going on but just sat there letting me fly the plane. I am not sure I would have been as composed if the situation were reversed.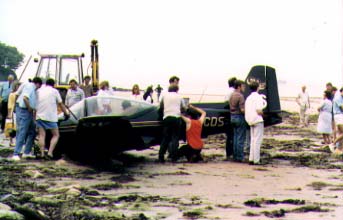 We made a final check that our seat belts were secure, and I set up the Falco for a wheels-up landing, working on the basis that it is better to land wheels-up and slide rather than wheels-down and flip on your back in wet sand. To Murphy's famous law, I can now add "If you have to make a forced landing on a beach, somebody will be taking a stroll along it with their back to you." I glided past a young couple and then jinked over to the sandy area-by this time at a height of 5 feet. As there was only 250 yards of beach left terminated by some very hard and unfriendly looking rocks, I decided to start the undercarriage cycling in the hope that the extra drag on the sand would help in the deceleration. It must have worked: we stopped with two feet to spare.
I was amazed to discover that I could still raise the tower at Bembridge on the radio, so I told them we were down without injuries, cancelled the "mayday" and asked them to inform the appropriate authorities. And there I sat for an hour keeping curious holiday-makers and incontinent dogs at bay. Never have I been so photographed, which I didn't particularly mind except when asked to smile.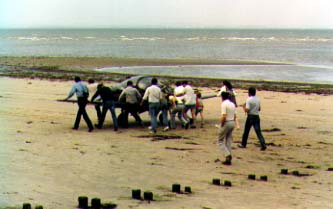 I had no idea where we were until one of the spectators recognized me from the hotel bar the previous evening and told us we were on the private beach of our own hotel. As the only access to this beach was by a narrow, steep path, recovering the plane could be a problem. I then realised that I had landed below the high water mark and when the tide came back in I would have a very expensive dinghy instead of a Falco. Chris departed up the path to use the hotel's telephone while I stayed to guard the plane. Half an hour later, everybody arrived at once: the police ("excuse me, sir, you can't park here") the hotel staff and-thank God-Andrew Brinkley and his crew.
Andrew is the boss of Brinkley Light Aircraft Services and is the man responsible for the immaculate condition of my plane, having carried out a complete rebuild and respray during the winter. He also maintains it and every other British Falco, as if they were his own. His skill, patience and ingenuity are impossible to praise too highly.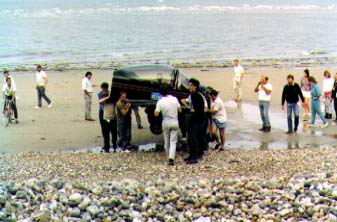 Andrew proceeded to demonstrate his skill by telling Chris and me to go get drunk while he and his crew removed the engine, split the fuselage and, with the help of volunteers, carried the now-dismantled Falco up the narrow path to the hotel lawn-all in the space of 3 hours, on a Saturday and while on holiday. He subsequently arranged the recovery back to home base and has completed the rebuild in record time.
The engine failure was caused by a Belgian racing pigeon penetrating the carburetor grille and hot box, and lodging in the carburetor throat. The carcass was still there when we stripped the engine, and feathers were found in the number-one cylinder. Damage sustained was a shock-loaded engine, ruined propeller blades, and buckled undercarriage screwjacks, gear doors and cowlings; but airframe damage was minimal, mainly scratched paintwork.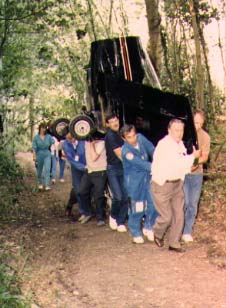 Many people have helped in rebuilding the Falco, particularly Neville Langrick, a Falco builder who loaned us his plans, Alfred Scott of Sequoia for his advice and encouragement, and Andrew Brinkley, not only for his work but also, unbelieveably, loaning me his plane, a Falconair, to continue racing.
Finally I would like to thank my wife, Christine, who did not bat an eyelid during, or after, what must have been from her point of view, a very frightening experience but who still navigates for me during air races. To her must go the final word. After we had come to rest on the beach, I asked "Are you okay?". "Yes, fine" she replied, then after a few seconds, "You can get your twin rating now if you want."