First Flight:
Tim Baker
by Alfred Scott
This article appeared in the June 1989 issue of the Falco Builders Letter.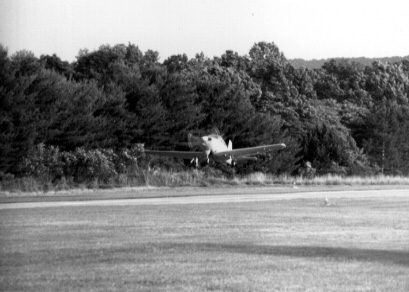 Every now and then a Falco builder will call me and say that he is thinking about hiring someone to help finish the airplane. The first thing that comes to the builder's mind is to attend the local EAA meeting and find an experienced homebuilder. I always caution against that, and instead suggest that they look for a machinist. A machinist really is the ideal Falco builder-well versed in reading drawings and making parts, and experienced at turning out work on a steady basis.
By the standards of the machine shop, most homebuilders have poor work habits. They work slowly and carefully, and once they have made something, they spend an equal amount of time admiring their handiwork and sometimes engage in the practice of polishing parts. Nothing wrong with this if you are building a plane for your own enjoyment, but such work habits would get you fired in the first hour at any machine shop.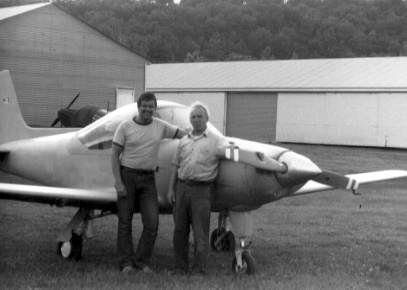 Tim and Bud Baker.
So when Bud Baker retired after a lifetime of working as a machinist, there was no possibility of finding his time taken up with honey-do's and yard work. His son, Tim, had other things in mind. Bud had owned and worked on airplanes all his life, and Tim says Bud has owned "every type that had a tailwheel." Bud would buy them, fix them up, fly them for a while and then sell them.
Tim grew up handing his father wrenches and then started buying insurance wrecks, rebuilding them, flying them for a while and then selling them. This way he built up his hours and then started flying for a commuter liner and later switched to Federal Express where he has flown DC-10s and 727s. Tim has an A&P rating with inspection authority, and he spends his spare time fiddling with airplanes. Over the years he has built, rebuilt and repaired innumerable airplanes, sometimes for himself and sometimes for others.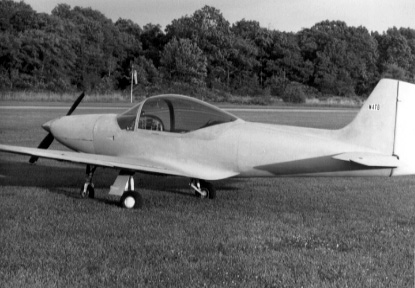 Tim bought the Falco plans while he was finishing up a couple of Pazmany PL-2s, and he started buying kits on a steady schedule. By the time Tim and Bud started construction on March 10, 1988, Tim had all of the kits in stock. Bud had just retired, and Tim put him to work on the Falco full time. Tim worked on the Falco whenever he was home. They put in a lot of hours and the airplane went together rather quickly-at one time Tim talked about bringing the plane to Oshkosh '88, but there were numerous interruptions and changes in his work schedule. November and December were idle months, with little work accomplished, and they spent the month of March waiting for the FAA to inspect the plane.
Over the years Tim had developed a close working relationship with the Allentown, Pennsylvania, GADO office and had always been able to get an inspection on very short notice. And the inspections had been cursory, to say the least-on his last airplane, the inspector had dragged his finger across the wing and said, "Looks okay to me." Thata was itta.
Unfortunately for Tim, the days of easy inspections from his buddies at Allentown were over. It seems that a commuter crash was blamed in part on poor inspections by the office. On the day in early March when Tim called for his inspection, everyone except the receptionist in the GADO office was fired. "Call Teterboro," was the only thing he could get out of her.
So Tim had to climb Paperwork Mountain like everyone else. Finally, the inspector arrived on April 27th. Tim reported that "the inspector was awed by the panel and had nothing but good things to say about the plane." Tim flew the plane immediately after the inspection and says "I had no major problems so I sucked the gear up on the first circuit. The first flight lasted approximately 45 minutes. I accomplished several gear cycles on low fly-bys at Slatington Airport. The first few retractions resulted in popped circuit breakers until the system 'greased itself'. No problems whatsoever with the gear now."
Bud took the second flight and later that day Tim and Bud-both 200-pounders-loaded the plane down with full fuel. "I was pretty well maxed out, but we saw 170 knots true at 2500', 60° and backed up by KNS80 display."
The Falco, N4BT, came in at 1,204 lbs painted only in primer and with a 160 hp IO-320-B1A engine. It has all of the gear doors except for the nose gear bay doors which Tim plans to add soon. The Falco has a standard canopy, inverted header tank and a Christen inverted oil system. "The Falco is equipped with a KNS-80 with GS, KX165 with GS, KY197 and hopefully soon a KT97 if I can ever find one reasonably priced. The encoder is installed and run out to the panel. A Century 1 autopilot and 4-cylinder CHT/EGT round out the goodies."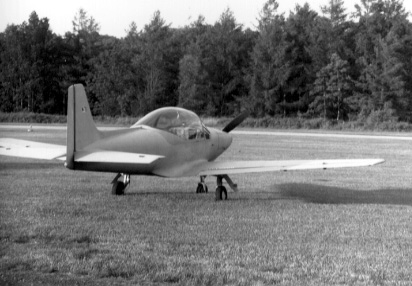 The airplane is built entirely from kits and is a to-the-plans airplane, except that they eliminated the battery box door. Instead, the battery was relocated under the baggage floor which provides more than adequate access. Tim reports "no CG problems at all. We used West System epoxy through all building. No finish fabric was used, instead we used two coats of pigmented West System. The color was added for sanding, so as to control thickness. Total time to finish the plane (primed, but no paint or interior) was documented at 3,162 hours."
"Bud and I cannot praise you enough for the incredible package that you have turned out. We have built several homebuilts and have rebuilt many certificated aircraft in the past, but none will even come close to the Falco in terms of performance, ease of construction, looks and design thoroughness. Please realize that the above statement comes from a G--air builder."
(In a moment of weakness Tim agreed to finish a Glasair for a friend who had already finished the wings. They got a lot of work done but were not pleased-to paraphrase, Tim was less tactful-with the fit, finish and workmanship of the parts they received. The partially completed airplane is now hanging from the ceiling, waiting for the owner to "come and get the thing out of here.")
Tim reported that the left wing was heavy. He talked about trimming this out by rigging the flaps. That seems like a logical thing to do, but Dave Aronson tried this to no avail. Dave reported that it does absolutely no good at all. I told Tim about his experience, but Tim just had to try it. One day they rigged the flaps for a little differential trim. Tim took the airplane up for a spin, then he would land and leave the engine running while Bud cranked in a little more trim. It didn't do anything and after the first couple of adjustments, Bud would say, "You ready to believe Alfred yet?" every time Tim landed. In the end, they had the flaps one-half inch out of rig, and it did nothing. They finally resorted to the standard piece of aluminum sheet on the aileron.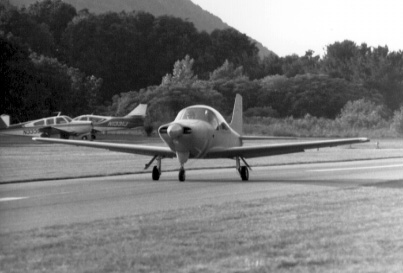 Tim is still working on positioning the stall strips. The Falco stalls straight ahead clean, but drops off quickly on the left wing with the gear/full flaps down.
With his experience in numerous homebuilts, I was curious how Tim would like the handling of the Falco. He said "as soon as you broke ground you knew you're going to love it-that sucker's smooth! It couldn't be nicer. I can't wait to start on the next one."
At this time, Tim and Bud have about 22 hours on the Falco and are just flying off the restrictions. Tim says it is easy to get 200 mph true, that 24/2400 nets 150 knots indicated and that if you push it you can get 160-165 knots indicated. That's with the 160 hp engine and full main gear doors. They plan to install nose gear bay doors soon. Next to come is upholstery and the final paint scheme. Tim is going to use the same scheme that Dave Aronson had on his plane. Other planes are now in their shop. They've just finished working on a Champ, have an Acrosport to finish for a customer and have an L-5 coming in soon. Tim is putting a lot of hours on the Falco and says the "PL-2 sure is getting dusty!"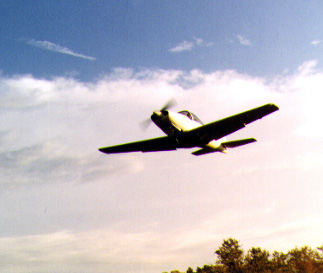 This Falco is the 21st Sequoia Falco to fly, and it is a bizarre coincidence that Tim Baker lives in Slatington, Pennsylvania-only 30 miles from Terry Smith, who flew just two weeks before. It is even more surprising, in the normally cozy Falco group, that Tim and Terry have never met. Since Terry's home base is within Tim's restricted zone, Tim flew over to see him one day. He landed in the Falco, taxied up to the ramp and was met by several of the local airport bums. Tim slid back the canopy and asked if they knew Terry Smith.
"Yeah, we know Terry. He's just finished building a Falco. Nice airplane-you know anything about it?"
"Matter of fact!" said a very stunned Tim Baker, "I'm sitting in one right now!" Never underestimate the obtuseness of the male of the species.
After years of machining metal, this was Bud Baker's first experience with building with wood, and he is very taken with it. Knowing that he has a habit of selling planes, Tim already has building-rights and many parts for a second Falco ready to go. "We are hoping to run across someone who would like to have a Falco built for them since the pleasure of doing so and the learning curve will rise considerably. We already have parts of Falco No. 1013 in the attic!"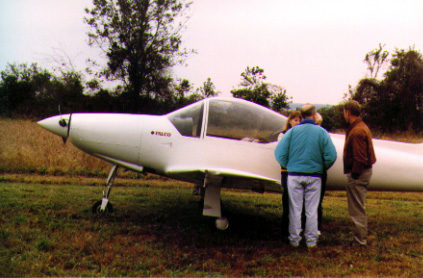 Subsequently painted, here's the Falco at the Oyster Fly-In.