First Flight:
Tony Bingelis
by Alfred Scott
This article appeared in the September 1985 issue of the Falco Builders Letter.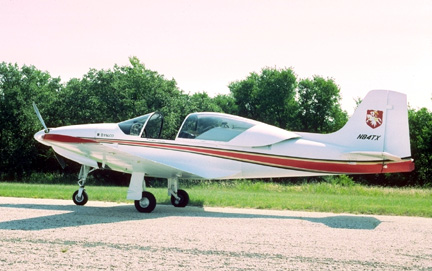 Tony flew his "Flea Market Falco" on Saturday, August 31. His Falco, N84TX, weighed in at 1,176 lbs. Tony has the Nustrini canopy, and his first priority is to lower the seats. Tony used some modified Cessna seats, and he needs more headroom than he presently has.
The performance of Tony's Falco is right in line with the rest of the 160 hp IO-320-B1A engined Falcos. At 3,500' and 85°F he indicates 179 mph at 25"/2500. So far, Tony has about 3 hours on the Falco and is seeing 160, 170 and 180 mph indicated. He says "In the air, it's a joy...a nice little miniature fighter". The engine temperatures are right where they should be.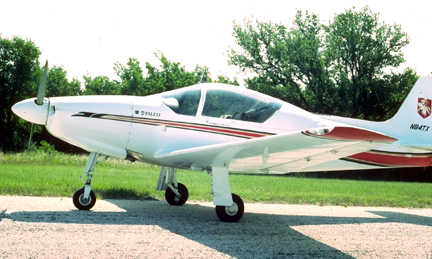 Tony's Falco is painted white with a red, black and gold stripe down the side in a slight variation of the Modena paint scheme. The Falco is painted with acrylic lacquer, which Tony said he didn't want to use, but it was the only paint that he was able to use with his available painting room (his driveway). Tony made his own cowling and confesses that his Falco is "the nicest Falco I have seen".
Tony has been flying homebuilts for a long time, having built two Emeraudes. The Emeraude has nice handling, so Tony said he felt right at home with the Falco, except that he is not used to seeing the high speeds on his airspeed indicator. Tony has found the Falco a mild airplane for approach to landing and that it lands a lot like his Emeraude. One wing has been "heavy", but Tony found that the problem was actually that he needed some right rudder trim. While he likes the Falco in the air, Tony has a few gripes about the airplane "in the hangar", since he still has a few little details to fix. The right shock absorber is not holding pressure, and we both suspect a poor seal at the base of the Schrader valve. Tony taped two stall strips in place on the wing, and one of them has already departed the airplane. He plans to fine-tune the location of the stall strips before installing them permanently. For some reason, Tony reports that his feet are hot in his Falco. This is not a complaint I have heard from others, and Tony plans to move the exhaust pipe out about an inch, since the left exhaust pipe is making a noticeably darkened area on the bottom of the fuselage. He is also having some trouble with his governor, and he is planning to replace the one he has now.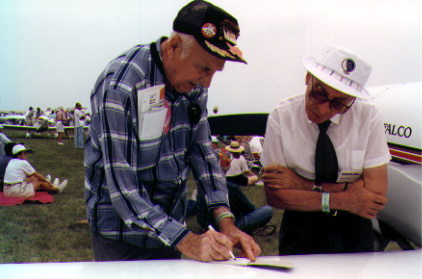 Oshkosh '95, Tony Bingelis sketches out an idea for Stelio Frati.
Tony Bingelis is well-known to most Falco builders, if only for his monthly column in Sport Aviation. The Falco is Tony's sixth homebuilt aircraft. Tony was one of our earliest Falco builders having purchased the sixth set of plans sold for the Falco way back in May of 1979. As such, Tony is a veteran of the early plans woes and is one of those builders who learned all of the hard lessons most of you take for granted now. Tony and Morine Bingelis live in Austin, Texas, and I suspect that Tony will be flying his Falco to a number of local air shows. A few years ago, a skeptical friend doubted that Tony was building a 200 mph airplane and as a consequence of the argument Tony signed a piece of paper saying he would burn his Falco if it would not go 200 mph. But Tony is also quick to point out that he never said when he would burn the Falco! On a cool day, I suspect Tony could take care of that bet now, and especially if he does some little cleanup work and installs doors on all of the gear.
Congratulations, Tony... it's been a long hard road for you, but I hope the Falco makes it all worth while.