First Flight:
Richard Brown
by Alfred Scott
This article appeared in the December 1986 Falco Builders Letter.
Another Falco has flown the nest. Richard Brown's Falco flew for the first time on Saturday, November 29, 1986, in Portsmouth, Ohio.
The story begins many years ago. When he was born, Richard Brown must have hit the ground running, since you're not likely to find a more active man of his age of 67. As a boy of seven, Richard Brown started helping his father build houses, and he has been in construction ever since. He built his first house when he was 17, and by 20 was into heavy construction. He learned to fly on the GI bill forty-two years ago, but didn't stay with it since flying was too expensive. He built houses for a while and then thirty years ago switched to commercial and industrial construction. In addition to his construction company, now run by his son, Richard Brown owns East End Building Supply-"Your Leader in Kitchen Cabinets, Tools and Hardware."
Mr. Brown's son bought a Piper Archer, and Mr. Brown started taking lessons again. One day Mrs. Brown gave him a copy of Flying, and it was there that he saw one of our advertisements. From the first time he saw it, Mr. Brown admits to being caught up by the Falco. "Boy, it took my eye," he says. Although the thought of building an airplane had never crossed his mind, he sent for our brochure and soon purchased a set of drawings. His son did his best to talk him out of it, even suggested that he buy a local Glasair that was for sale, but Mr. Brown would have none of it.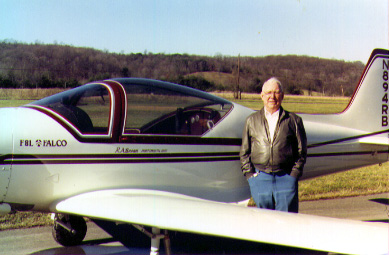 Richard Brown
Just as he was preparing to start construction, Mr. Brown read about Bret Miley's Falco project being for sale in Wyoming. (As you may recall, Bret and his brother were killed in a plane crash at the end of a tragic 13-month period in which Mrs. Miley lost three sons and a husband.) Within a week, Mr. Brown built a trailer, and then spent five days bringing the Falco back to Ohio. The Falco was moved to a loft over East End Building Supply, and for the next year order clerks climbing the ladder to get something from the top shelf could see Mr. Brown at work on the plane.
From the beginning, it was clear that Richard Brown was a fast worker who lost no time getting a job done, and he admits to it, "I've always been fast, even at slow work." Bret had the fuselage in the jig and the tail feathers were skinned. In the next 12 months, Mr. Brown finished the airplane and delivered it to the paint shop, but he lost three months to a broken thumb. The upholstery was farmed out, and John Jewett took care of all of the electrical and instrumentation and stayed on to help with the engine hookup. John is an electronics technician who normally works on large computers, but he has also wired airplanes.
The Falco was painted in a local auto paint shop, and everyone pitched in to get a perfect finish. When they first sprayed the beige-tinted white Imron, Mr. Brown said it looks "just like a refigerator." Then after the burgundy stripes went on, he called to say that it was "slicker than a minnow's tail." The interior is burgundy and gray, with gray carpeting.
While he was building the Falco, Richard Brown continued with his flying lessons in the Warrior, but as he had not yet soloed, it was clear that he was going to need someone else to fly the plane at first. I think Mr. Brown had some secret thoughts about possibly doing the first flight, but I kept after him to get an expert, and he gradually came to see the wisdom of that plan.
I had already begun work on a flight test guide, and this grew in importance as Mr. Brown's Falco neared completion. I had planned to get my friend Parke Smith to do the first flight, but then Al Aitken came on the scene. Al is a Marine Corps F-18 pilot and a graduate of the Patuxent River Test Pilot School. Al was among those F-18 pilots who paid a late night visit to Libya last spring delivering some Reagan Easter Eggs to Colonel Khadafy. Now assigned to Marine Corps Headquarters, Nancy and Al Aitken moved to Manassas, Virginia, and Al was finally in a position to build a Falco-something he had planned to do for several years. For his birthday Nancy gave him a set of Falco plans, which Al calls "The nicest birthday present I ever got."
Al offered to do the first test flights of Mr. Brown's Falco, and he helped me with the flight test guide. We carefully planned the entire test procedure. As the date for the first flight drew closer, there were numerous delays. On the Monday before Thanksgiving, the FAA completed the inspection, and N894RB was signed off to fly. It weighed 1,299 lbs empty with engine oil, so let's call it 1,284 empty. The airplane has a Christen inverted oil system, inverted header tank, a complete IFR panel, including an Apollo II 612B "Fly-brary" loran and Shadin fuel totalizer. With all of the avionics, the instrument panel weighed 51-3/4 lbs.
The day after Thanksgiving was to be the big day. I rose early, picked up Al Aitken in Manassas, and we flew to Ohio. The weather was perfect-except for Portsmouth, Ohio. There was ground fog and a 2,000 foot overcast that showed no sign of moving. Al and I hung around a nearby airport for a while, ate lunch and then took off to take another look at Portsmouth. It was clear that there was no way to land there that day, and even if we could sneak in, it was no weather for a test flight. So we went back to Virginia.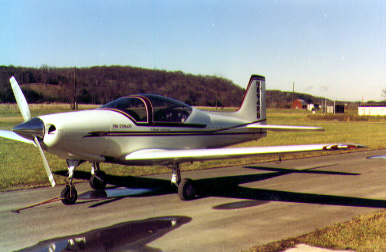 The weather in Virginia deterioriated the next day, and Mr. Brown could not stand it any longer. As a backup to Al Aitken, he had his eye on a local pilot, Connie Scott. An engineer with a local stone company, Connie doubles as the corporate pilot for the company plane. He built a Citabria from two wrecked ones, and flies air shows in the airplane.
So on Saturday, Connie Scott flew the Falco for the first time. He made four flights that day for a total of 1-1/2 hours. The first flight was made stiff legged, and then he retracted the gear on the second flight. Connie spent quite a bit of time checking the plane out and came to the conclusion that it was a wonderful airplane and that everything worked nicely. At the end of the day, he took Mr. Brown for a short ride. From the beginning, the airplane flew well, with the right wing just a little heavy, and it needed just a touch of rudder trim.
The next day Connie flew the Falco again, and by the time the day had ended, he had done most acrobatic maneuvers. He brought the Falco down the runway at about 175 mph and looped it on the deck. "I thought my heart was going to bust open!" says Mr. Brown. By the end of its second day, the Falco had five hours on it, and Mr. Brown got his second ride.
If you haven't figured it out by now, Richard Brown is in seventh heaven. He had visited with Tony Bingelis and saw his Falco. Tony admits that his "Flea Market Falco" is the best one he's seen. To which Richard Brown says "If he's got the best one, I've got him beat!" His Falco also has a name, "Tenacity", which was suggested by friends who watched Mr. Brown build the Falco.
And Connie Scott seems to be having as much fun as Mr. Brown. "Man, he's got one critical little airplane," he told some friends, and now they are talking about Connie doing air shows in the Falco. It sounds like there's going to be one lonesome Citabria in Portsmouth, Ohio. After the hours are flown off, Mr. Brown plans to continue his instruction in the Falco and start putting some hours on the plane.
Meanwhile back at Manassas, Al Aitken is going through withdrawals from the idea of flying a Falco for the first time, and he says if anyone needs a test pilot to call "Easy Al!"