First Flight:
George Neuman
by Alfred Scott
This article appeared in the March 1987 issue of the Falco Builders Letter.
I never quite understood why you should "beware of the Ides of March," and apparently George Neuman doesn't either since March 15 was the date of the first flight of his Falco at Langley, British Columbia. The first flight was done by "Gogi" Goguillot, a name many of you may know. For many years Gogi was the head of the EAA of Canada. Gogi owned Sport Aviation, a homebuilder supply house, but he sold it last year and is now semi-retired.
The first flight lasted about one half hour. George reports that the taxi test and first flight "went like a dream," and the airplane did not have any wing-heaviness. After the oil temperature came up, Gogi noticed that the oil pressure indication dropped to the yellow, so he brought it in for a landing. The suspicion is that it's a faulty gauge. Once that is fixed, they will be back in the air to continue the test flight.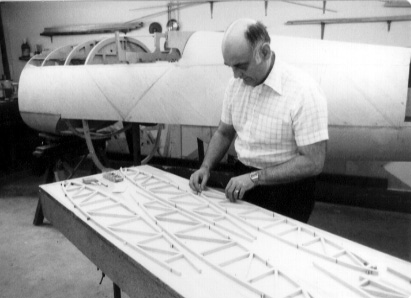 George Neuman working on the wing ribs.
Gogi landed to report that George's Falco is "the nicest airplane he has ever flown." After seven years of construction, George was prepared to listen to more such talk. "What you're telling me is that it flies like a 172." To which Gogi said, "You're comparing a Maserati to a pickup truck." Gogi says he can't figure why Mr. Frati bothered to put a trim system on the Falco, but of course you do need one for changing fuel loads.
George's Falco has a 150 hp carbureted Lycoming, which swings a 69"/69" wood prop. It's too early to say how well the prop is matched to the airplane, but it's probably very good since it is so similar to the Hoffman prop on the production Falcos. The engine cools very nicely-the 4 cylinder CHT/EGT indicates that all of the cylinders are at very even temperatures.
George Neuman started construction on his Falco in November 1979. Woodworking had been a hobby for years, and George started by making all of his wood parts. At that time, none of the wood kits were available, and we were just starting on our kits. George kept a very accurate count of his time, and after "1700 hours and change" all of the woodwork was done. Thinking that he was nearly finished with the Falco, George stopped counting!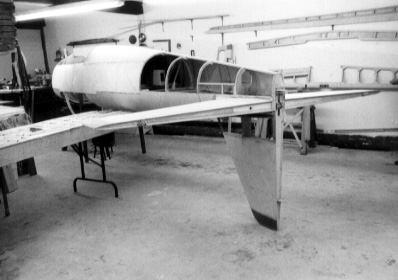 Although he had never worked on aircraft before, George found the Falco a good project, and he never had any problem with the woodwork. It was George Neuman who designed the box beam fuselage jig that everyone now uses. But if you ever have any doubt about the importance of installing the metal fittings early, you should talk to George. Imagine building the entire wood structure and then installing the fittings!
George's progress with the wood structure gained him a measure of fame among fellow homebuilders, and he soon found himself building the wings for a replica of a Sopwith Camel. That took six months, and since we did not have all of our kits done, George just put the Falco project aside for a while. In all, he took about a two year hiatus on the Falco.
As we got the kits going, George started back to work on the airplane, until one day he cheerfully told me he had "run out of money!" This roughly coincided with his retirement, so he went to work making the remainder of the things necessary. He made the cowling-"pecking away at it"-over a period of a year and a half. It was the engine installation that gave him the most trouble.
With a carbureted engine, George had to make his own carburetor air box. He says he nearly fell down when he was quoted the price to make the box, but then it would have been a full week's work, so he did it himself. The air inlet is just below the landing light, and a 5-inch length of 3-inch Aeroduct tubing carries the induction air back to the air box.
The Falco came in at 1,197 lbs empty, which includes about 50 lbs of extra paint. George ended up painting the plane three times. It was too hot the first time he sprayed, and the paint ended up with a terrible case of "orange peel". George sanded it down and shot it again. This time it was pin holes-diagnosed to be caused by incorrect sanding, so George got to practice sanding again. The third coat is still not as nice as George would like it to be. The paint is Endura, a Canadian brand of polyurethane, and it has plenty of gloss.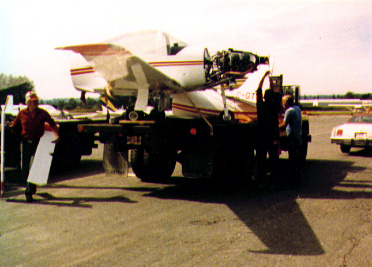 Moving day.
George used the Monza paint scheme, and the Falco looks very similar to John Harns's Falco. The top stripe is "Indian Red" and the lower one is "Flame Orange." C-GTUH has main wheel well doors. The instrument panel is right out of a Musketeer with all of its gauges. There is a single nav-com radio.
Before he retired a couple of years ago, George Neuman was the employee relations manager of Empress Foods, which is Safeway's manufacturing company. George says he is one of those guys who always wanted to fly and then realizing he wasn't getting any younger, he took some lessons in 1975. He now has about 120 hours, but while he was building the Falco, he stopped flying and plans to get checked out in the Falco.
Start to finish it took seven years and three months, but that's counting the hiatus. George calls it about 5 years and thinks the construction time was about 3,500 hours. And putting up with it all is Lillian Neuman... who wasn't completely sure that the plane would fly. But when Gogi took off for the first time, George said she got so excited "she just about flew without wings!"