First Flight:
Ray Purkiser
by Alfred Scott
This article appeared in the December 1985 Falco Builders Letter.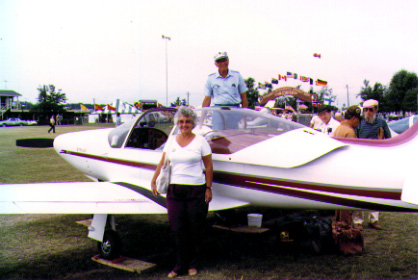 Sherry and Ray Purkiser
Ray Purkiser went home to Rogue River, Oregon, from Oshkosh with a short list of things to do to his Falco before he flew the bird. These were soon done and a big rollout party was scheduled for September 21 at the Grants Pass airport. Ray planned to do the first flight a few days before. As luck would have it, the FAA inspector was unable to make it until a month later. Finally, the inspection was done, and on the afternoon of October 29, Ray Purkiser became the ninth homebuilder to fly his Falco.
Ray had been worried about how he would find flying the Falco. He has a Swift and is used to landing that tail-dragger, but Ray didn't know how he would do with a nose-dragger like the Falco. So, while he was waiting for the inspection, Ray whiled away his time trying to simulate what he thought a Falco would feel like with his Swift. It was a lot of nothing, since the Falco flew beautifully, and Ray found it the easiest landing airplane he has flown.
Ray had a chase plane on the first flight and received word that there was smoke coming out of the cowling. After a quick precautionary landing, Ray found that he had forgotten to tighten one line to the oil cooler. A little oil had gotten on the exhaust pipe. The problem was quickly fixed. Other minor problems had to do with the cowling. Ray made his own, and found minor interference problems with the alternator fan and the exhaust pipe.
When I talked to Ray, he had flown it for about 2 hours, and all of that time was with the landing gear extended, so I don't have any performance figures for you. Ray's Falco, N25RP, has the Nustrini canopy and is painted in the Modena paint scheme, white overall with silver and three shades of plum on the sides using Dupont Dulux enamel. The interior is medium gray with plum trim and silver carpet. The airplane weighed in at 1,273 lbs empty and has a 160 hp IO-320-B1A engine. I don't have the CG location yet, but Ray said it was fine.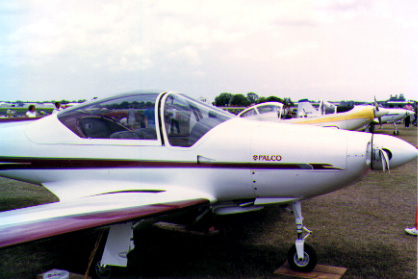 Ray Purkiser's Falco has an unusual beginning. The Falco was actually begun by Bob Esau, one of our earliest Falco builders. Bob bought the Falco plans in August 1979, receiving plans No. 536. This was back in the Dark Ages of the Falco, when I was just starting to work on the kits. Bob intended to be the first to finish a homebuilt Falco, and he began construction right away, making all of his own wood parts. At the same time, Bob Esau became the lead Falco builder in the eyes of most of us-although the truth of the matter was that Larry Wohlers was ahead of everyone else from the beginning, but Larry was very quiet about it.
Bob Esau was an exceptionally colorful character, with a string of off-color jokes as long as his list of ex-wives. The construction began in the basement of his condominium in Heyward, California. The next thing I knew, Bob was up at Lower Lake, California, living in a hangar and working on his Falco-and his latest wife had just become another "ex"! Bob worked on the Falco full-time along with a helper. He had a cot next to the Falco, and he would set the alarm clock to wake him at any hour so he could get something glued and in the clamps.
Bob's Falco was to have been the first of many. He intended to build Falcos for sale to others and even printed a brochure. Bob made good progress and was in the process of installing the last few skins when he died in an automobile accident on November 13, 1980. The Falco then languished in Bob Esau's estate until Ray Purkiser bought it.
Ray had purchased plans No. 541 just after Bob in August 1979. Ray began construction on his Falco and worked with Aero Cabinet to make the wing spar jigs for their kits. Partially because he enjoyed building the Falco more than his job as sales manager for a pharmaceutical company, Ray took early retirement and moved to Rogue River, Oregon, from Glendale, California. Then in January 1982, Ray purchased Bob Esau's Falco project.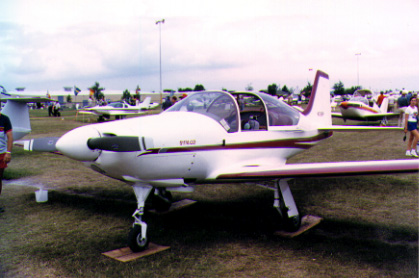 It turned out there was a considerable amount of remedial work that had to be done. Ray removed some of the wing skins and had to re-work the fuselage since Bob had made fuselage and tail cone as a single assembly. The rest of the work on the Falco took longer than Ray expected, in fact most of the past year was taken up with painting and little details. Ray had hoped to fly the Falco by Oshkosh, but it just didn't work out like that.
There are a couple of things about Ray's Falco that are unique. Bob Esau discovered the 12mm error in the fuselage drawings, but he elected to complete the airplane without tearing things apart. As a result, the wing is installed 12mm aft. Ray has adjusted his CG calculation to compensate and finds that things still come out nicely. Also, Bob Esau had started work on the instrument panel, and it has the radios in the center. Bob had purchased a large sheet of Carpathian Elm burl veneer. Since it came with the airplane, Ray decided to use it. Ray doesn't care for wood panels in aircraft, but he said this one looks good. In addition to putting the veneer on the panel, Ray ran it along the inside of the cockpit. Ray says that no one believes the Falco is made of wood. Congratulations, Ray, and also to Sherry Purkiser for putting up with it all!
If you go to Lower Lake and look for Prosser's Hangar where Bob Esau once worked on the Falco, you won't find it-it's long since been torn down. And the memories have been blown away with the dust. Nothing remains of the colorful man who started that Falco except his work and his dream-a small, special airplane now winging the skies over Grants Pass. Ray, when you fly over Lower Lake, do one roll for our old friend.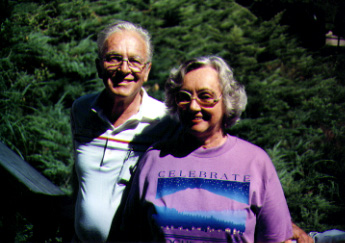 Ray and Sherry