First Flight:
Dick Reichenbach
by Alfred Scott
This article appeared in the September 1993 issue of the Falco Builders Letter.
One thing that seems to be a constant about Falco builders with newly hatched birds is that they always express their Falco-hours in tenths of an hour. Old salts round it off to the nearest hundred, but when they're first getting to know the plane, it's always in tenths.
"20.4 hours" is how Dick Reichenbach answered my question about how much time he had on the Falco. Here's a guy who soloed at 17 when I was one year old, got his private ticket in 1944 and has flown about 30 different types since then, and he's talking in tenths of an hour. Hmmm. How do you say 'spring chicken' in Italian; we need a new classification for this type of Falcoviator that talks in tenths.
Sequoia Falco number 37 took flight on July 31 at the hands of pilot/builder Dick Reichenbach of Bay City, Michigan. He had hoped to fly two days earlier so the flight would be on the 50th anniversary of his solo in a Taylorcraft in 1943, but bad weather prevented that. Nevertheless, the first flight was a thrill.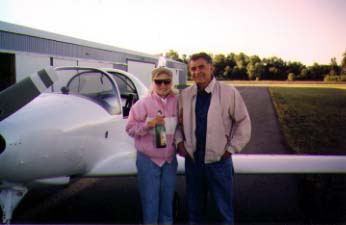 Lil and Dick Reichenbach celebrate the first flight
"I just opened the throttle, and she jumped off the ground. I over-controlled a little bit, but then I settled down. The controls are well-balanced, and it flies really great. It's a beautiful airplane. I can't believe I built it."
But let's go back a little. Dick Reichenbach bought the Falco plans in 1981 at a time when he was working as an industrial gas consultant with Consumers Power. He began working on the airplane slowly but didn't really get going hard on it until 1986, when he retired. He made all of the wood parts and bought the rest of the kits from Sequoia.
Dick is hardly lost in a workshop or around tools. During WWII, he worked on radar systems on the B-29, and both of his sons are heavily involved in SCCA amateur racing. They drive a Fiat X-19 and won the National Championship in 1991. Dick and Lil Reichenbach work as part of the crew and even bought a few tires so they could be listed at a sponsor. In return, the sons painted "Mom and Pop Falco Shop" on the car.
I asked Dick about building the Falco. "It was exacting work. It was time-consuming, and you have to be accurate, but I think it was a lot of fun to build." He makes no claim on being a fast builder, and said "I like to take more time that some people. I'm happy I built it, but now that I'm flying it, I wish I had finished it sooner."
Falco N1593R has a 160 hp IO-320-B1A and came in at 1268 lbs empty with an empty-weight CG of 65.44". The airplane is painted white and has no interior or paint stripes at this time because Dick wanted to work out all the bugs before getting to the final finishing stage. The instrument panel is fitted out with two Terra nav/coms, ADF, marker beacon, transponder with encoder and an Apollo 604 loran. Dick reports the loran works great and that he has an internal wire-up-the-tail antenna. Ditzler paints were used, with the DU35 grey primer under the pure white polyurethane enamel.
The initial problems have been minor and have been confined to instrumentation and wiring glitches. He had about four or five over-crimped connections that were open circuits. One of the digits on the clock-timer doesn't light. The alternator loadmeter doesn't show amps and the original manifold/fuel pressure gauge read backwards and was replaced by IFR. There was a problem with the oil pressure gauge that turned out to be an over-crimped ring terminal.
That's the extent of the mechanical problems. FAA inspector John Beeby arrived for the final inspection, spent about an hour going over the Falco and pronounced that "It looks more like a production airplane than anything I've seen."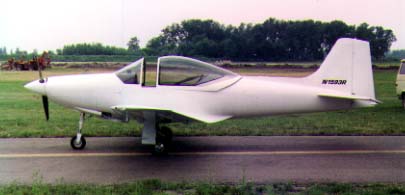 Dick reports the Falco flies well and has no handling problems. The initial few flights were done with the gear down and revealed that the airplane was well trimmed out, but that he had to hold a little rudder above 100 knots. The Falco has stall strips, and Dick says he gets a definite buffet as a stall warning. At this point, he's only done approach to stalls, but it reveals no nasty tendencies so far and no wing drop.
When he raised the gear, the Falco developed a slightly heavy right wing, so he used Tony Chamberlin's trick of using a dowel for a trim tab. He used a 3/8" dowel, flattened on one side to 1/4" thick, and reports that it works well. Dick initially put it on with tape, then screws and will finally glue it on.
At this time, Dick is adding the gear doors and now has all doors on the plane except for the nose gear clamshell doors. All of the doors are working well, and he reports that the wheel well doors gave him about 10 knots or more. Dick has not yet attempted to get any accurate speed numbers, however this Falco seems to be quite clean since he reports seeing 160 knots indicated at 24"/2400.
I asked Dick about the noise level, and he said that it is about the same as his 172. He uses David Clark headsets and finds the airplane noise level to be comfortable. "I expected it to be noisier than it is."
The only problem Dick has with the Falco out with the local gentry out at the airport. "They keep knocking on it. They believe it's plastic, and people react with surprise when you tell them it's made of wood. They don't believe you can do that with wood and make it look good."