| | | |
| --- | --- | --- |
| | From Perugia to Oshkosh | |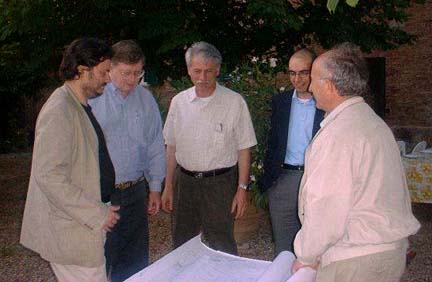 Konrad Lozinski, Alfred Scott, Ernesto Valtorta, Davide Aldine and Enzo Marucci.
Years ago, I gave Enzo Marucci a ride in the Corporate Disgrace, and at the end of the flight, he stood for a moment looking at the airplane and then said "Your Falco is the most ugly Falco I've ever seen."

Alfred Scott
A few days later, back in Siena, Frati's compatriate engineer/designer Ernesto Valtorta, Konrad Lozinski, and I confer on the state of Andrea's ferry tanks. We are all in agreement that the problem is one of vibration in the flat panels of the tanks. Andrea confirmed that the tanks were producing musical sounds as he flew, a sure sign of sympathetic vibrations and impending failure. We all agreed that he needed to stiffen the flat panels of the tank, and further advised Andrea that he should consider putting the tanks through a slosh-and-vibration test.
Andrea agreed and in the next month, he stiffened the tanks and put them through the torture test, if only for 35 minutes, but it was enough to confirm that the tanks had lost their musical talents. And on June 26, Andrea flew to Seville, Spain, in 6 hours and 15 minutes. The next day, Andrea discovered a hole in the bottom of his horizontal stabilizer, but it was in a semi-structural area, and Andrea repaired it in a day.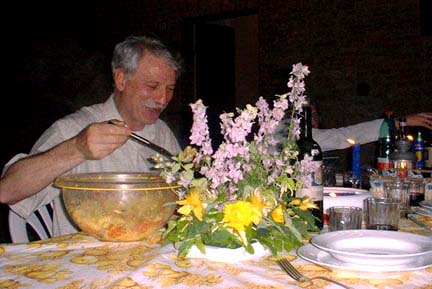 Ernesto Valtorta
Throughout the flight, there was tremendous coverage in the press. The Italian newspapers all covered Andrea's flight, as did the radio and television stations in Seville and Recife, Brazil. On Friday, June 30, Andrea flew to Sal Island, Capo Verde, off the cost of Senegal in West Africa. This was the only flight that Andrea flew with full fuel, and he swore he would never do it again. The airplane was very difficult to fly for the first two hours, but flight conditions were good and he landed after 12 hours and 5 minutes of flight. We kept the world apprised of his progress on our website, and during this flight, I got an email from Andrea's office that he was over the Canaries and had just called from the satellite phone he was carrying.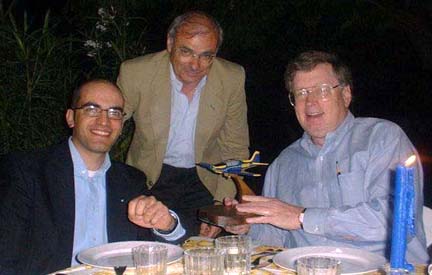 Davide and Luigi Aldini present a model of the Corporate Disgrace to Alfred Scott.
Then on Monday, July 3, Andrea crossed the Atlantic for a flight of 13 hours, 43 minutes and 1,982 miles. It was, he said, the worst flight of his life and he endured violent turbulence and embedded thunderstorms for six hours, at times flying down low over the water, which he could not see, to escape the turbulence.
On landing at Recife, Brazil, he had his first encounter with a Brazilian customs official. It took three hours to get through customs after landing. Andrea's plan was to continue up through the Bahamas, to Florida and then Oshkosh, but it didn't work out that way, and he suspended the flight for 'personal reasons.' Let's just say that Andrea and the customs official did not interact well with each other, and they're not likely to be exchanging Christmas cards either.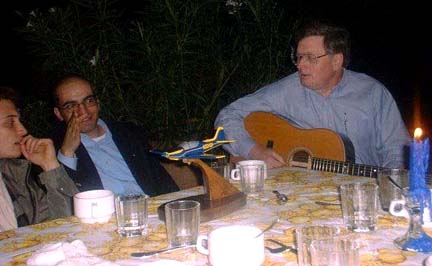 Paulo Marucci and Davide Aldini listen as Alfred Scott plays a tune.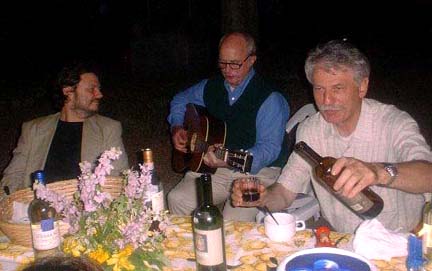 Peter Stanley entertains Konrad Lozinski and Ernesto Valtorta.
| | | |
| --- | --- | --- |
| | Peter Stanley is one of the best folksingers to come out of the 60's. He's Alfred Scott's brother-in-law and if you're interested in hearing their music and possibly ordering some CDs, visit the Talkeetna Records website. | |
Meanwhile, in France, Xavier Beck was making preparations for flying his Falco to Oshkosh by the North Atlantic route, but he was having some minor problems with his engine, and when he read about Andrea's experience over the South Atlantic ("Don't Fly With Me, Donatella", on our website), he cancelled his plans at once.
So our two European stars didn't show up for our birthday party at Oshkosh, but nine other Falcos did and we all had a great time. Bob Hendry showed up in Steve Wilkinson's old Falco. Bob Bready came with Tony Petrulio. Karen and Cecil Rives. Per and Lena Burholm. Jonas and Jon Dovydenas in his bullet-riddled Swing Wing Falco. Richard Clements, with his son, who had just soloed in the Falco. Glyn and Chris Russell. Jim and Jane Quinn. And Dave and Tamera Nason in their spectacular red Falco.
The Nasons had just come from the Arlington airshow where they were the Grand Champion Plans-Built, and immediately on arrival, their Falco was the you-gotta-see-this airplane of the show. It is an immaculately built airplane, and television crews and EAA judges were all over the airplane. Indeed, it seems like we did little else but speculate about whether the Nasons would win the Oshkosh Grand Champion award, but the competition is fierce at Oshkosh and they won the Reserve Grand Champion Plans-Built. That's second place and the Nasons were delighted to get it and they went home to Kent, Washington, with smiles on their faces. They were a bit overwhelmed by all the press coverage and attention, as Tamera says "Dave is just a quiet guy who sits in the last pew in church." Maybe that's so, but Dave and Tamera Nason got their 'fifteen minutes of fame' at Oshkosh.
But the most surprised Falco builder was Cecil Rives, who won a Bronze Lindy award, a third-place award that's given to a number of airplanes. Cecil was just beside himself at the news. He didn't even think he was in the running.
There was a lot of attention by television crews on Dave and Cecil's Falcos, so watch the Discovery Channel this year for their coverage of the Oshkosh show as it appears later this year.
(The Swing Wing Falco, by the way, still lives on in the minds of the true believers. One spectator asked a Falco pilot if they were going to install the mod. Even when you tell them it was an April fool's joke, they still believe that the Swing Wing Falco exists. They saw it in KITPLANES.)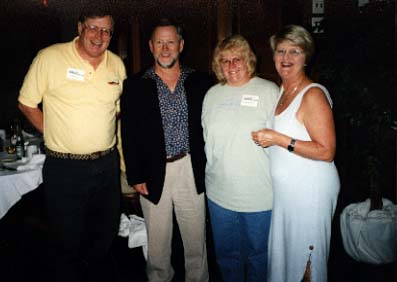 Alfred Scott, Neil Aitkenhead, Susan Stinnett and Gwyn Aitkenhead
We were also delighted to have Ian and Juliet Ferguson, and Neil and Gwyn Aitkenhead from Australia. The Falco builder dinners were a great success and we had about 80 people at the big dinner on Friday night. Susan Stinnett, Jack Amos and I arrived complete with Falco birthday T-shirts, mugs and pens. We still have some left and we want all active Falco builders to have a couple of the 'Falco at 45' tee-shirts, so if you didn't get any, let us know your size. And they're also available in the Falco Store on our website.
The next big gathering will be at Oshkosh 2005, for the 50th birthday of the Falco. We may resort to kidnapping to get Stelio Frati there.