Dimension Point Tool
This tool allows you to place a dimension point object in the drawing. These objects can be for the X, Y or both X and Y location of the object.

Dimension Point objects indicate the current location for the object in the drawing, so if you move them, the dimension will change.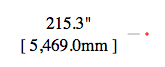 Dual dimensioning is available.