WildTools 10.6


Warning!
These tools and features that will appear in the next version of WildTools and are being provided
for you to use at this time, however if anyone creates a problem for Engineered Software by
bothering them with questions or technical support, then this capability will disappear in future versions.
Read the Release Notes here or in the Help menu.
Download WildTools Development Version
Compatible with current shipping PowerCADD 9.1.11
These are the same high-quality tools as the rest of WildTools but with some new tools and features. This is a development version, and you might see an occasional rough edge, but there's nothing risky about this. Typically, we post our current build of WildTools here in advance of including it with the current shipping version you download from www.engsw.com and often they are the same.
To Install
Follow the instructions in the disk image.
Note that you are replacing the entire WildTools folder in the PowerCADD PlugIns folder.
When you are finished, the PlugIns folder should look like this: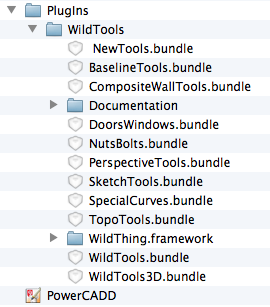 You only want one copy of each of these items, as shown, especially WildThing.
You WILL have problems if you have two copies of WildThing!
OpenClip Bridge
Shapefiles, PowerCADD to and from SketchUp and FormZ