Tail Ribs
Notes
I have recieved the tail group rib kit from yourselves and when I trial fit the ribs to the spars (fabricated by yours truly) there is a missmatch, as far as I can determine the spar dims are OK.
The ribs as supplied appear to be over size by approx 2 mm (gross) in relation to the drawings.I have also measured the rib capstrips as 1 mm oversize.It is therefore my assumption this is just Eng. Scoti allowing for "attrition" of ribs resulting from rib float sanding. Please confirm or refute the above assumption.
I applaud your iniative on the skunkworks and hope to provide something in due course. I am currently in the process of completing the last of the main wood components and while it may seem too early I always like to be reading ahead,with this in mind I understand that there are a number of chapters extra to the existing construction manual "Advanced builders memo etc" which address Engine installation, speed mods, etc. I would be grateful if you could forward same or post them on the internet.
Michael McLoughlin
Michael.McLoughlin@Jacobs.com
Right you are. We originally intended to make the ribs 1mm overside and then use the router to clean things up to the final dimensions, but the router just tore the shit out of the parts. So we leave it to you to sand down instead...
Alfred Scott
---
David Sheidler notes that the elevator and rudder trailing edge ribs supplied in our kits are solid spruce as compared to the built-up spruce-and-plywood ribs shown in the drawings. Correct, we made this change some years ago because they're easier to manufacture and are just as strong. We have not made any changes to the drawings yet, but we'll get to that in time.
From "Construction Notes" Falco Builders Letter, September 1993
Note from the latest revision list that the elevator and rudder trailing edge ribs may now be made of 6mm solid spruce as an option. With our inverted pin router, it's much easier to make them this way. This means that these ribs will be the same thickness as the elevator and rudder leading edge ribs and follow the same method of construction used in the flaps and ailerons. Mr. Frati, of course, has approved this change, and I have weighed a stack of completed ribs of each type and the two methods of construction are essentially identical in terms of weight. I suspect that the solid ribs will use less varnish and may end up being lighter by a tiny amount.
From "Construction Notes" Falco Builders Letter, March 1986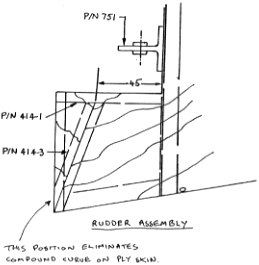 Jim Dowe suggests a small change in the position of the diagonal rudder rib (P/N 414-3) to aid skinning-see the sketch above. He says "this gives the extra gluing surface as originally intended and also does away with the plywood going round a compound curve." I'm afraid I can't quite visualize what happens to the skin in this case, but you might want to try it. We could use some builder feed-back on this.