Kit No. 807
Canopy Equipment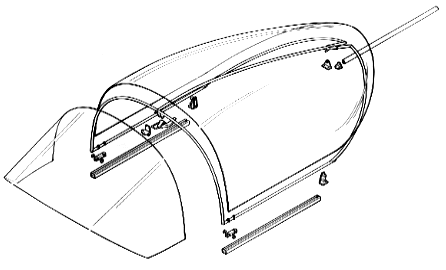 All components for the installation of the windshield and canopy.
This kit includes the windshield, canopy, canopy tracks, canopy rollers and roller mounts, canopy frame, closing handle, hook and spring, canopy slide tube, canopy seals and all required hardware.
The windshield and canopy are made from formed acrylic sheet, specifically 'solar gray' No. 2515. The canopy tracks are stainless steel. The canopy roller mounts and closing handles are 356-T6 aluminum castings. The canopy slide tube is 6061-T6 aluminum tubing, which is hard-coat anodized for maximum corrosion protection. Canopy rollers are machined black delrin, cadmium plated bronze and steel ball bearings. The canopy frame is welded from 4130 normalized steel components.
Two kits are available. Kit No. 807-1 for the standard windshield and canopy, and Kit No. 807-2 for the Nustrini canopy modification.
Go back to Falco Kits