| | | |
| --- | --- | --- |
| | From Another Perspective | |
by Annie Friend
This article appeared in the June 1995 Falco Builders Letter.
Probably along with other non-flying wives, I was intrigued that Stephen should even contemplate building his own aircraft. The initial six months or so of poring over plans and specifications didn't mean he was actually going to build. However, when wood started arriving I finally realized he meant what he said, and we have a new member of the family.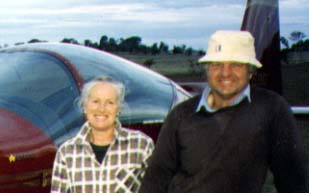 Annie and Stephen Friend
The Falco spent the first few years of its construction actually in the house, which meant the removal of a couple of walls and a large hole knocked in a bedroom-rooms, I hasten to add we weren't using anyway, but even so it caused much amusement to friends and family, all of whom wanted to know if we were going to have to demolish the house to get the plane out. I must admit it was very convenient as Stephen was always within call, and I could watch the large piles of wood become smaller and those interesting shapes start appearing. By this time I was beginning to learn the 'constructors' language and pick up useful bits of information, also to stop worrying about whether the plane would fall apart because resorcinol is obviously a very good glue since it sticks permanently to an amazing variety of household surfaces and fabrics.
During this period our home insurance was canceled, It seems we were now operating a carpentry shop on the premises and this was deemed to be a great fire hazard, heaven only knows why! It was, however, reinstated after about four years when we threw a big party for our largest and strongest friends and amongst much joy and hilarity removed the Falco, broken into two pieces, the 50 yards to the hangar.
I must admit I rather missed it, and Stephen, being in the house, but with the purchase of an intercom I could now listen to the weeks of sanding and still have the odd conversation. Thus the Falco progressed through a long, cold winter into its final stages and finally emerged into the sunshine primed, painted and ready to go. For me, it didn't even have to fly at this stage. It was a thing of beauty just as it was. It didn't have to do anything else.
Those last few weeks were quite emotional, getting through final inspections, approvals, paperwork and waiting by the telephone for the call, it had flown! Then it was Easter and the all-important trip to Mangalore was upon Stephen, and in perfect weather he was off. What an amazing weekend it was too, awarded the top accolade, the Concours d'Elegance, and that fly-past, in formation with Guido and Wayne. Not bad for a country boy and to think it was probably great fun. As a culmination of all that time and effort, I don't think anything else could have bettered it.
On the mundane side, I also got a bonus. I now have at least one part of my house that is refurbished, redecorated and looking as good as the plane. The 'Falco Wing' is now duly opened and ready for business, international Falco builders receiving a huge discount, of course!