by Simon Paul
This article appeared in the June 2008 Falco Builders Letter.
Beauty similar to Sophia Loren's, workmanship that equals Stradivari work, aerodynamics that resemble Lamborghini's smooth lines and a Ferrari-like performance to top it all off. Those must have been my first impressions when I opened "All the World's Aircraft" on the page that depicted a Laverda Falco IV. Italian style and beauty. I must have been a young boy, not more than twelve years old when my father gave me this book for a birthday or some other festivity.
Without knowing it, the aviation virus must have passed on from my father to me. He was born in 1919 as the eldest son of a farmer and in his childhood he spent a lot of time in the countryside, working on the fields and taking care of the cows. Numerous hours were wasted looking up into the quiet skies, scanning for a Fokker F.7 or a Koolhoven trainer. He knew in an early age that he wanted to be a part of aviation and after spending several years at sea, he joined the Dutch Civil Aviation Authority as an air traffic controller. With a little envy I must admit that he grew up in aviation's most glorious years.
The developments went swiftly. He saw the DC-2s and DC-3s come and go, quickly making room for Lockheed Electras, DC-8s and Boeing 707s. No shortage of fuel and no environmental concerns could slow down the rapid pace of the aviation industry back then. Without knowing it, he passed this enthusiasm on to me, and I knew that I wanted to play my role in aviation, too.
After finishing high school I went to the technical university in Delft to study aviation technology. Much to the disappointment of my parents I quit within a year. My father really wanted me to become an aeronautical engineer and follow the footsteps of Anthony Fokker, a famous Dutch airplane manufacturer.
I joined the Royal Netherlands Air Force for the draft-service, a system that was still in place back in the eighties. Leaving the Air Force, I went straight to the CAA to become an air traffic controller. My parents' disappointment had disappeared, and it was smooth sailing from then on.
Aviation always played a very important role in my life, and I was thrilled to the bone when I was given the opportunity to fly aeroplanes. I gained my private pilot's license in 1992 and an instrument rating and commercial pilot's license a few years later. Life was good. I met my wonderful wife Birgit. And God gave us the ultimate gift of two beautiful and healthy children, a boy and a girl, Joris and Simone, now 15 and 13 years of age.
I was more than happy piloting Cessna 172s and Piper 28s through the skies of Europe. With friends I made a lot of trips to the United States, the world's aviation paradise, to rent high-performance aircraft and have fun at very reasonable prices. Owning an aeroplane never crossed my mind until I found the book in an old box again. There it was, the Falco, still amazingly and stunningly beautiful. What a gracious aircraft, designed and built in the fifties when Piper was still pulling cloth over tubular frames. Frati was visionary. His way would be an example for the whole world to admire. This would be the aircraft we would one day own.
Having access to the database of all European registered aircraft, I wrote a letter to each and every Falco owner back in 1999. I bluntly asked them if they would consider selling their aircraft to me. A significant number of owners responded, most of them unwilling to part with their proud possession.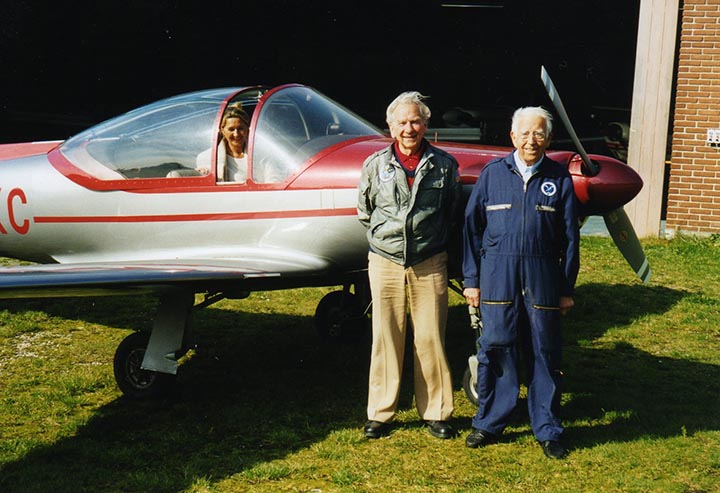 Birgit with Bent Michelson and Per Bruel and OY-BKC
One exception was Per Bruel who was just about to offer his Falco IV for sale. September 15, 2000 marked the day on which Birgit and I flew to Copenhagen to meet Per Bruel, Bent Michelson and their lovely Falco, registered OY-BKC. The next day, Per took us to Grunholt aerodrome in his other Italian passion, a Lancia, and we inspected the Falco, an original Italian factory-built example in a very good condition and well kept. It was clear that their separation from the aircraft was involuntary and forced by medical considerations. Very emotional and difficult indeed. We talked about transferring ownership and much to our disappointment, we could not agree on the price. Our return to the Netherlands was without the Falco but our love for the aircraft was reconfirmed. And we knew for sure that our search for a suitable Falco would one day end in ownership.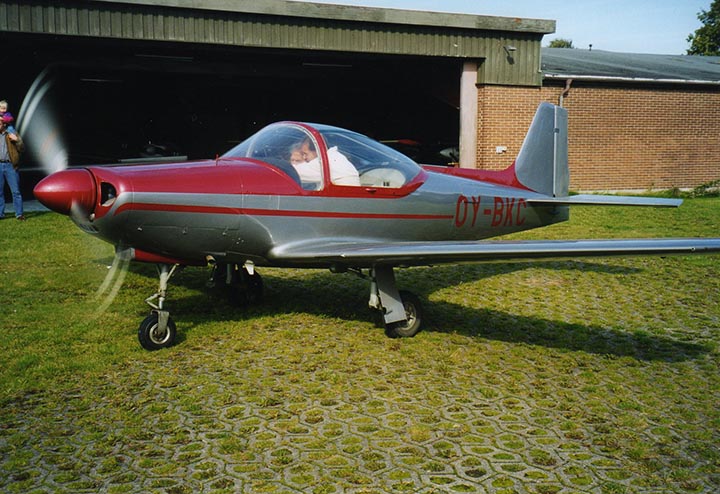 I looked at building my own Falco from plans and kits available from Sequoia Aircraft. Having no experience with building aeroplanes, apart from looking and reading drawings during my short stay at the aeronautical university and gluing model aircraft together, I decided that building a Falco would be one step too much for me. The love, nay passion, for the Falco never went away however. I had to admit to myself that being honest with myself means pursuing the dream of owning a Falco.
During the first quarter of 2007, the dollar-to-euro exchange rate started to drop significantly in favor of the euro. This meant that the time had come to blow fresh air into our search for a good Falco. After talking to a local A&P Mechanic, we decided that our airplane should be equipped with a Lycoming O-360 engine, a constant-speed propeller and the standard canopy. How I would love to own a low-drag Nustrini-like Falco, but my body length simply wouldn't allow it, so a standard canopy it would be. I started searching the Internet for a suitable aircraft. Our main source of information was the Sequoia website which has a dedicated page with aircraft for sale.
Our first venture was a truly magnificent Falco that was offered for sale in Montana. It did however have the low-drag canopy, but maybe I could make adjustments for my 6 foot 3 inch body to fit in this Italian beauty. It didn't take much time for somebody else to snap up this aircraft. It was sold to a gentleman in Florida a few weeks later.
Next in line was a Falco offered for sale in Titusville, Florida. The pictures looked nice, and the price sounded very reasonable. Birgit and I talked about this particular aircraft. She told me that must have been a connection between the two aircraft. "Why don't you talk to the guy in Florida who bought the Falco from Montana? He knows the Titusville Falco for sure," she said.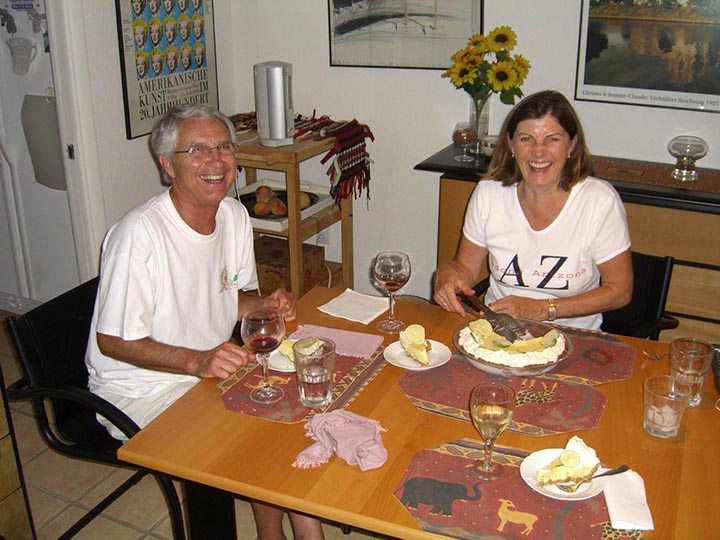 Howard and Petra Jones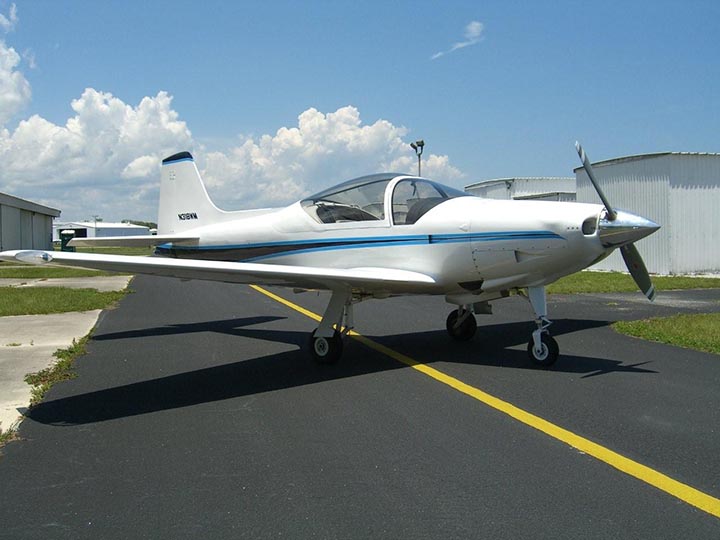 N318WM, Built by Mel Olson
Smart move, that's just what I did, and this is how I came in contact with Howard Jones and his lovely wife Petra. Howard flew commercial airliners for PanAm and Delta Airlines and spent many years in Europe where he met Petra. What a coincidence! We soon came to the conclusion that the Titusville Falco would not be a suitable aircraft for me. With passion he talked about his Falco that he snapped away right in front of our noses. Howard sold his SF.260, and he was seeing Marchetti-like performance from his Falco at half the cost! Great deal! He invited us to visit his Jacksonville house whenever we were in the area. I didn't know that this would happen shortly afterwards.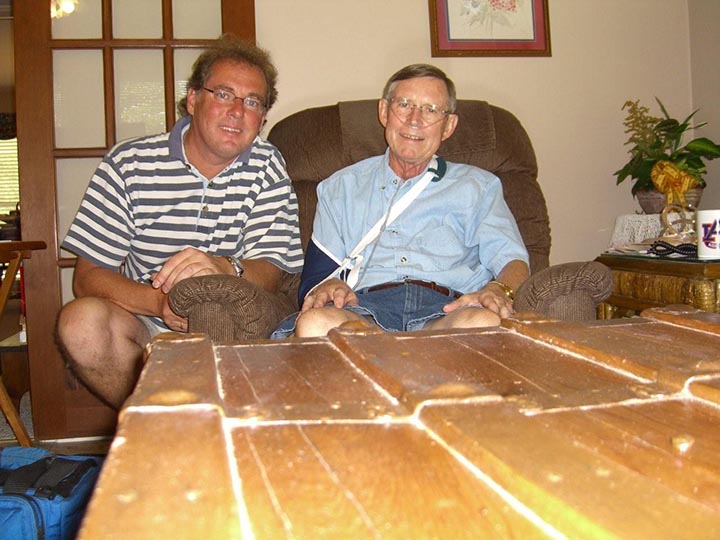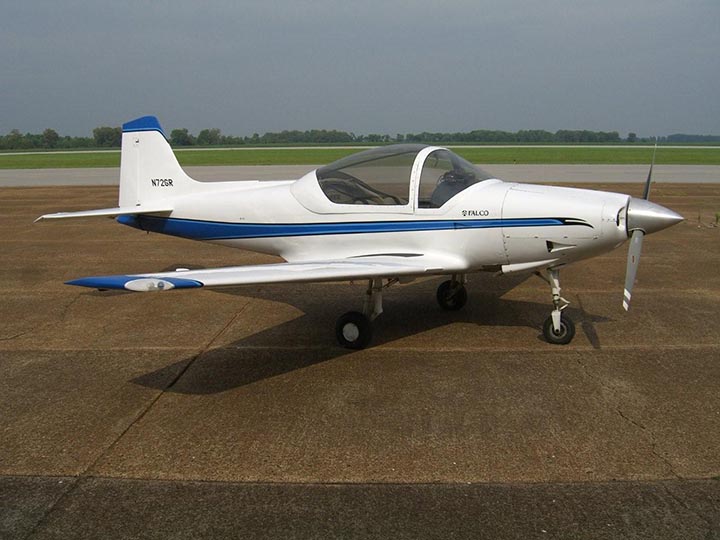 Simon, Glyn Russell and N72GR
Alfred Scott knew that I was looking for a Falco, and he informed me that a fine example would become available in Alabama during the first quarter of 2007. This particular aircraft, registered N72GR, was built, owned and flown by Glyn Russell, together with his brother-in-law Paul Montgomery. Glyn was terminally ill, and he was looking for a good home for his Falco. In August 2007, I flew from Frankfurt to Orlando on a Condor Flug Boeing 767, to meet Howard and Petra Jones, the owners of Falco N318WM. The meeting was warm and welcome, what a bunch of great people! The next day Howard showed me his Falco, and I was amazed at its beauty and clean lines. The low-drag canopy made the airplane look even better than a standard example.
I was stunned at the performance of the plane. We flew several aerobatic figures, including a Cuban Eight and an Immelmann, a few miles east of St. Augustine, and the Falco just wouldn't slow down. Truly amazing. It confirmed once more that the Falco is the pinnacle of homebuilt aircraft. There is nothing that beats its beauty, performance, ease of flying and comfort. It also confirmed that I'm too tall for a Nustrini-style canopy. Howard had to take the seat cushion out and replace it with a very thin foam layer just to make me fit. After the aerobatics my body ached in places I wasn't aware it could, but it was worth it all the way.
Next was a long and tedious drive from St. Augustine, Florida to Decatur, Alabama. Howard and Petra advised me that it would be a much better idea to fly Southwest to Birmingham and rent a car from there. Smart thinking, nothing beats flying. I arrived in Decatur and met with Paul Montgomery, Glyn Russell's brother-in-law who showed me Falco N72GR.
The airplane was very well built, but did have a number of cosmetic flaws and cracks. For some reason it performed less than expected, but I may have been spoiled by Howard's Falco. N72GR airspeed indicator wouldn't top 130 knots at 4500 feet with full power. I must admit that it was an extremely hot and humid day, not good for aircraft performance. Also the Falco had its gear doors removed. All gaps were open and uncovered. I guess another ten knots could be gained by making it aerodynamically cleaner.
Our EAA inspector in the Netherlands is liberal and easygoing. So is our general attitude, which isn;t always good, but he had his reservations about the cracks and cosmetic flaws of which I had sent him some digital pictures over the Internet. Isn't the Internet great of stuff like this? The world is so small nowadays and data zooms across the globe at the speed of light. Truly wonderful.
I had apologize to Glyn and Paul, but N72GR would require a significant amount of work to bring it to Dutch airworthiness standards, and the sale fell through. It was with lead in my shoes, having to leave Glyn and Paul like this, I knew it was the last time that I would see Glyn, and I didn't want to disappoint him like this. I wasn't happy at all with the situation, but Glyn and Paul took it rather light-heartedly. Truly wonderful characters and great people. Their airplane was sold a few weeks later to a gentleman from Sweden who dismantled and shipped the Falco to his home country. It will be registered SE-XJR and as far as I know, it is the only Falco currently registered in Sweden.
I flew back by Southwest Airlines to Orlando and spent another day with Howard and Petra Jones. Next day the Condor Boeing flew me back to Frankfurt. I was disappointed and slightly frustrated. My search for a Falco was going nowhere. I was just spending money on traveling to available aircraft, but I couldn't find an airplane to meet my wishes. I was tired and sour, traveling by train from Frankfurt to our house in the Netherlands when my cell phone rang.
It was Howard Jones. He had taken another look at the Sequoia website and found a Falco that met our requirements. Well built, with a Lycoming O-360 180 horsepower engine with constant-speed propeller and a normal canopy. It was offered for sale in Grants Pass, Oregon, about as deep into the USA as possible from where we live.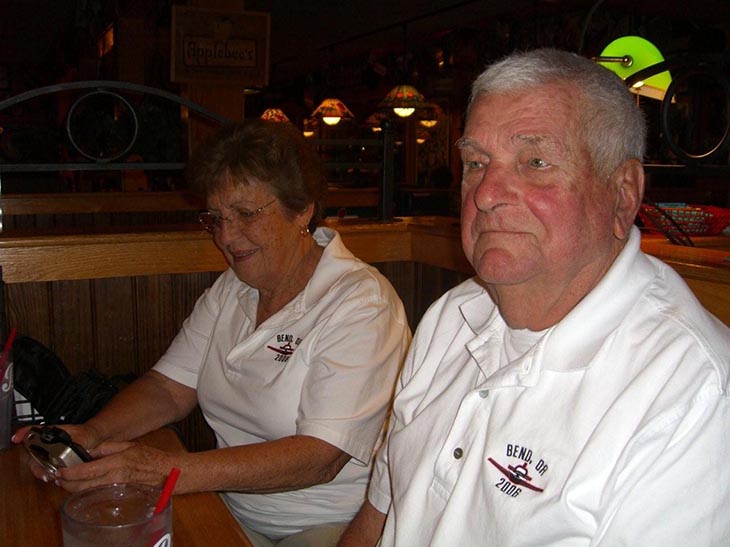 Jody and Rex Hume
Anyway, I called the owner from the train, and we talked about the aircraft. He had built the Falco over a nine-year period and flew it for thirteen years. Rex Hume enjoyed building and flying the airplane. He had been an A&P mechanic for the Douglas Aircraft Company and put all of his knowledge and craftsmanship into the Falco. It showed. N660RH won thirty trophies in homebuilt competitions, and the only reason for parting with the plane was the loss of his medical.
We agreed rather swiftly on the conditions and price. I wasn't going to let this one slip away. Through Howard Jones and the EAA, I found an expert on woodwork in aircraft construction, a pilot and a mechanic who could do a pre-buy inspection. He was impressed with the aircraft. It was well-built, with an outstanding finish and aerodynamically clean. The interior was the only item that needed an upgrade. I could fix that.
In October 2007 I traveled to Medford, OR where Rex and his wife Jody picked me up from the airport. Yet another bunch of great people. It seems that the whole Falco-community is made up of warm and caring characters. The Falco must be a "bird of bonding"! Next day, we traveled to the Grants Pass airport to look at the Falco and fly it. It was another wonderful experience. This was one of the fast-flying species, 160 knots at 6000 at 24/2400. I was impressed. This would be our bird, and we would take good care of it.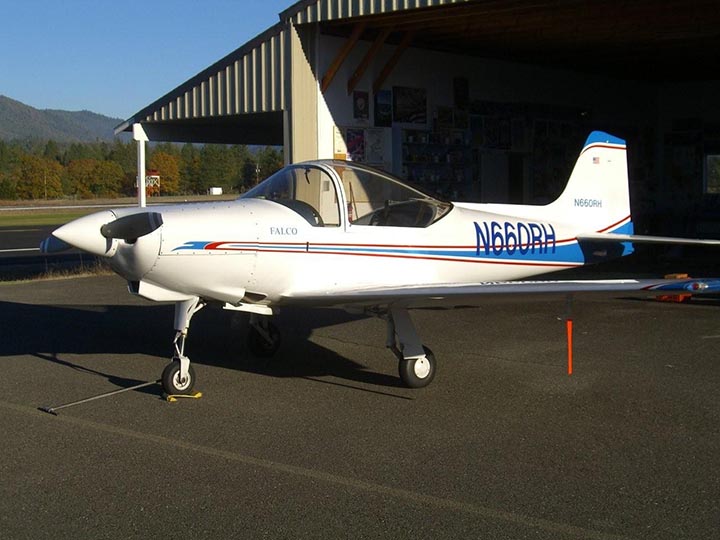 In the preceding months I had ordered new avionics and a TruTrak autopilot, and Rex and I set out to install it. Rex and his buddy were also busy with the ferry tank -- 48 gallons of fuel would assist my Atlantic ferry flight to the Netherlands. Rex and I worked steadily, happily but quietly along side to prepare the Falco for the longest journey it had ever made. Installing the autopilot took more time and effort than anticipated.
We were regularly interrupted by locals who wanted to meet this crazy Dutch guy who was going to ferry a homebuilt airplane across the United States and then across the ocean to Europe. But the bottom line was a lack of time to ferry the airplane across the ocean especially because the weather in Canada was starting to deteriorate. Snow storms and low freezing levels would make the ferry close to impossible. I elected to keep the Falco in the hangar and fly it across in the spring of 2008. In the remaining week I enjoyed flying the Falco on local trips across Oregon.
The Oregon people are truly nice. I met a local pilot who retired from IBM a few years ago and was learning to fly his Lark Commander. Gary Houston heard about my adventures and moved me from a local hotel to his house. What a great guy. I now had somebody to talk to in the evenings, and it gave me the opportunity to enjoy Mary-Ann's Oregon cooking. One day I flew the Falco to visit a friend. Gary went along for the ride, and he was flabbergasted with the Falco's performance. Compared to a Lark Commander, the Falco flew almost twice the speed at the same fuel consumption.
October 25 was the last day I flew the Falco over Oregon. I changed the insurance on N660RH to ground damage cover only to save a few bucks and said goodbye to Rex, Jody, Gary, Mary-Ann and all the other good people. I would be back in the spring to pick up N660RH and fly it to its new home. In the meantime, Rex was going to take good care of the plane and run the engine from time to time.
It wasn't until May 5, 2008 before I returned to Grants Pass. The Falco had spent the winter in the warm and clean hangar and was looking ready to go. Rex installed the ferry tank and during a few test flights I was able to confirm that it worked beautifully. Fuel flow was established and all other systems, such as a newly installed Garmin GNS430W worked fine. It talked to the autopilot and there were no other squawks on the plane. In fact, by May 9, I was fully ready to go. At Gary and Mary-Ann's house, I looked at the weather for the first leg to Winnipeg. It looked just perfect, no convective activity, no low ceilings and great forecasts. Compared to the European system, it's truly a piece of cake to file an IFR flight plan in the US and before I knew it, I was 'in the system.'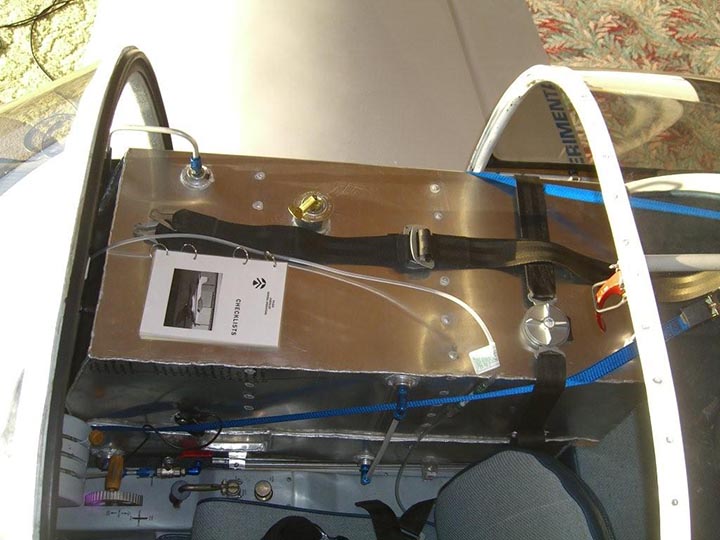 Ferry tank
Preparations for an international ferry flight cannot be taken light-heartedly. Special considerations include: Make sure the plane is technically immaculate; Insurance for ferry trip and compliance to liability insurance minima for all countries; Clearances to overfly all countries with an experimental aircraft with a restricted certificate of airworthiness; Having enough fuel for all legs and making sure that fuel, oxygen and oil are available at all stops; Prepare for high altitude flying by bringing portable oxygen; Rent or buy survival suit and dinghy; Take food and water in plentiful quantities; Take medicine, survival kits, thermal underwear and thermal blanket; Take flares and knives for survival; Get the airplane's ELT checked and buy or rent a Personal Locator Beacon or EPIRB; Be prepared in an aeronautical sense which means buying charts, approach plates and knowing the rules and regulations of all airspace being crossed.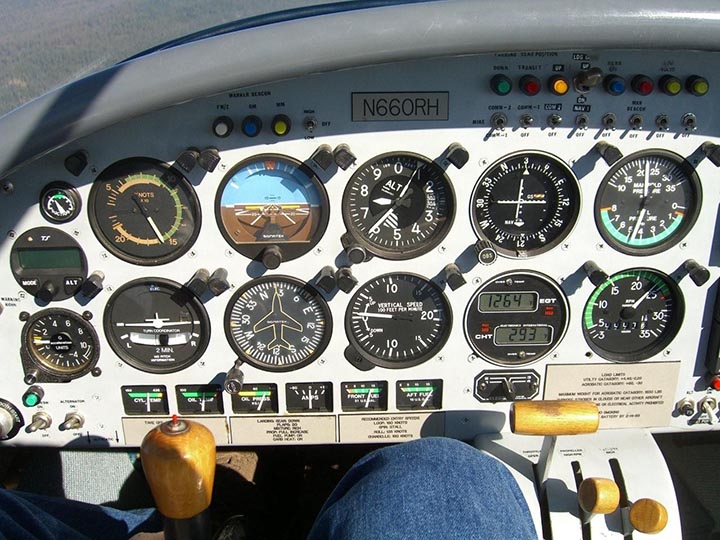 I was fully convinced of having covered all of this and more. By May 10 the Falco and I took off from Grants Pass for a short flight to Medford. Medford is a regional airport with a long runway and for the first heavy take-off I wanted as much runway as possible. This is where I fuelled up: 48 gallons in the ferry tank, 21 gallons in the aft tank and 19 gallons in the forward tank, for a total of 88 gallons, enough for roughly 11 hours of flying at eight GPH.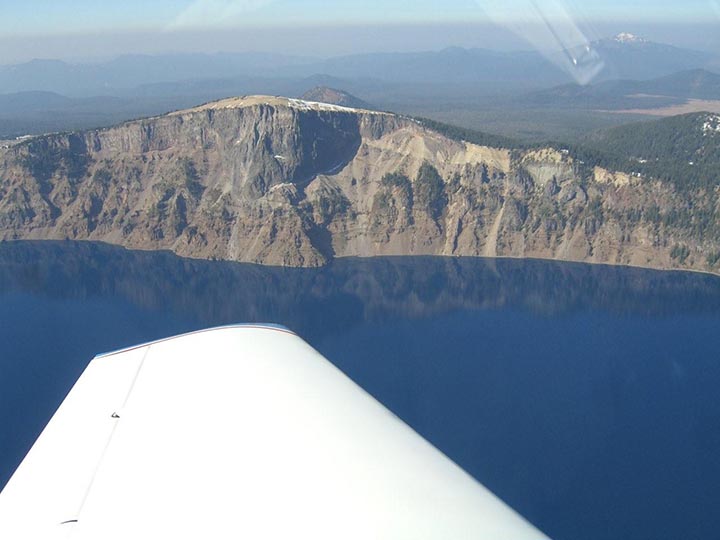 Over Crater Lake
The takeoff from Medford was uneventful, and the aircraft accelerated as if it were light. It climbed with almost 1000 feet per minute, and I was convinced of having made the right decision to buy this particular aircraft. Most of the flight was at 15,000 feet, just above a thin cloud layer. The Aerox oxygen system worked flawlessly and after 6 hours and 51 minutes I touched down at CYWG, Winnipeg Airport in CAVOK conditions. The Falco had performed without a hitch. Not a single malfunction. The friendly people at the handling agency were extremely helpful and had me in a local hotel within the hour.
The next morning I reported back at the FBO to prepare for the next leg to Goose Bay. The Winnipeg and Goose Bay weather looked perfect. In between I would encounter a few areas with low ceilings en route, but the tops of the clouds were at 15,000 feet, no problem to carry out this leg. On the previous day I had encountered ground speeds in excess of 200 knots but those tailwinds had died down and the calculated TAS of 175 knots at 11,000 would now also be my groundspeed. I was looking at about nine hours of flying that day. This would be the longest of all the ferry legs. Goose Bay to Reykjavik, Reykjavik-Wick and Wick-Maastricht were all significantly shorter.
I filed my IFR flight plan with Winnipeg Centre and departed around eleven o'clock in the morning. I cruised initially at 9,000 in very smooth air. IFR flying is mostly about 'nagging for directs' so that's what I did. Navigating with the help of the Garmin and a TruTrak autopilot with altitude-hold is truly a piece of cake. With a few exceptions, I have always found VFR flying much more demanding than IFR, and all I was doing that morning was watching the engine gauges, temperatures and pressures. Rex had done a great job by equipping N660RH with CHT and EGT sensors on all four positions. It also had a carburettor temperature probe and an outside air temperature probe. I was watching these gauges continuously and all looked well.
About two hours into the flight I entered a thin cloud layer at 11,000 feet. In fact, I could still see the sun faintly by looking vertically through the canopy. The base of the clouds must have been at about 7,000 feet. Not a problem to continue into this thin layer. The airframe did not ice up, nor did the carburettor, and the air was smooth. All was well until about half an hour later when all hell broke loose.
Without any warning, the engine produced a loud bang and simply stopped producing power. The airframe shook continuously, and the autopilot was fighting to maintain altitude. This put me in a dangerous position. I saw the airspeed decay rapidly. The autopilot was quickly trading speed for altitude and a stall was imminent. I disabled the altitude-hold function and declared an emergency with air traffic control. In the meantime I worked through the emergency checklist in an attempt to restore engine power, unfortunately to no avail.
I told the controller that I was descending rapidly to get below 7,000 feet in order to become visual with the ground and prepare for an emergency landing. I also requested a vector to the nearest airport. He told me that Geraldton was the closest, heading 056 and 21 miles. I was probably not going to make that, but it would be close. I was heavy, still some 70 gallons of fuel on board and with a glide ratio of 1:10, I could glide 110,000 feet or about 18 nautical miles. I thought I had a fair chance. That was until the controller told me that he had bad news for me. The visibility at Geraldton was down to a quarter mile in snow and the cloud base was estimated at 500 feet.
I wasn't all that cheerful before he gave me this message, but the situation now looked rather hopeless. As most pilots do, I read accident reports in the hope to learn from them. I knew that my chances were slim. This was the first time that I thought I might not live to tell the story. The only way to stand a chance was to keep on flying the airplane. I heard the voice of my instrument instructor Marco, "Fight for each and every knot of airspeed and degree of heading, come on Simon, fight for it."
That was really all I did. I prayed to God to take good care of Birgit and our kids and help me on my way down. I needed all the help I could get. The Garmin started giving me terrain warnings as I passed through 4000 feet, still solid IMC. The last thing I needed were warnings like that, but I didn't want to switch it off. In fact, I didn't want to do anything but fly the plane.
I broke out at around 500 feet, and the view from the stricken Falco was devastating. High pine trees, far enough separated as not to form a cushion of branches, rocks and snow. This is worse than the simulator! I was sure that my life would end right here and right now, what a terrible way to go. A thought slipped through my mind about if and how the rescue people would find me. This was when I discovered a dark area on the horizon.
The horizon is usually far away, but not in this case. The visibility was so restricted that the visual horizon was only hundreds of feet away. The dark area looked like a valley, an area without trees. I steered the Falco in this direction and traded a little extra speed for altitude. I couldn't help but clip the top of a pine tree when I discovered that the valley was actually a river. I guess my prayers were heard, this was an opportunity to live on.
I lined the Falco up with the river, made a few more mayday calls and descended to inches above the water. The airspeed bled off nicely, I kept flaps and gear up and let the aircraft touch down very gently into the cold and clear water. Rex had done a great job by keeping the belly clean. No antennas and a fully enclosed landing gear. The belly resembled that of a boat, and the Falco sat down as quietly as a goose -- the only noise was the water being pushed aside by the fuselage and the wings. I was amazed at how quickly the airplane stopped and even more amazed at my physical condition. Not a nail broken so far.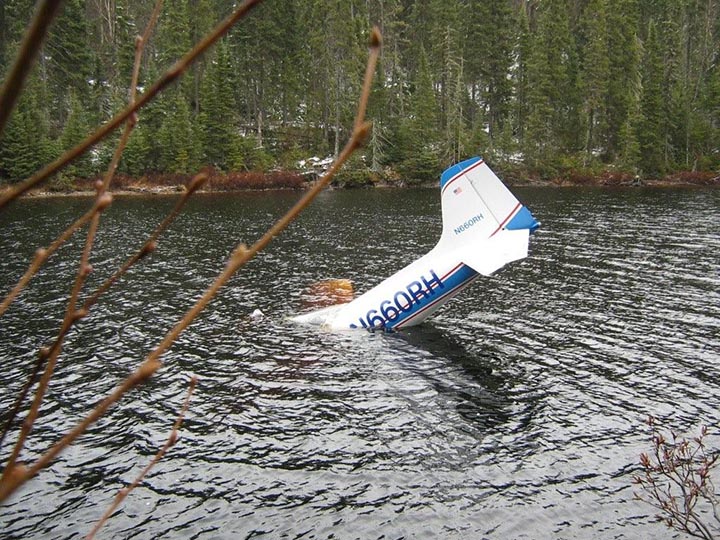 The engine is the heaviest part of the plane, and the front fuel tank was full. I had been using the aft and ferry tank only. This made Falco rather nose-heavy, and it started sinking quickly. Water filled the cockpit, and I was quick to release the canopy and slide it back. I threw the EPIRB which I had activated seconds earlier into the water followed by a bag with all essentials. After putting on a life vest, I jumped into the ice-cold water and swam ashore -- only about 20 feet or so but enough to make me wet and cold to the bone.
Once ashore I looked at the Falco and couldn't understand what had happened and why it had failed on me. This emotion quickly made way for pure euphoria, a state of very intense happiness and feeling of well-being. I had made it through the Kafuffle and just survived a crash. I can't really remember the emotion that followed that, but it must have had something to do with the cold.
It was truly cold up there, and on top of that a light snow was falling. This wouldn't help my rescue. Fortunately I was able to rescue my heavy coat that was floating down the river, and I found shelter between branches and trees on the shoreline. The first aid kit in my bag contained an aluminium thermal blanket which I put on without delay. Now it was just a matter of waiting and hoping that a local family of brown bears wouldn't call me their lunch.
It took about an hour and a half before I heard a helicopter. It was clear that they were looking in the wrong spot, but there was nothing I could do about that. The flares had disappeared, they were no longer in the bag and must have slipped out during the landing or the throw from the airplane. Very slowly the helicopter was coming closer and at one point I could even see it. I waved at them with the blanket and turned my portable strobes on. They didn't see me, and it frightened me. It was a light helicopter. It looked like a Squirrel, and they usually don't have a very long endurance. I was afraid they might head out for fuel, leaving me to spend the night on the shoreline.
Much to my relief they showed up about 20 minutes later. The helicopter pilot dropped two fire workers, one to get me and the other one to cut down about 20 trees to make a clearing for the helicopter to land. Murray Sitch was the guy who rescued me and seeing him was like seeing an angel.
These guys did an amazing job and flew me to the Geraldton airport where an ambulance was waiting to take me to the Geraldton General Hospital. Apart from a mild hypothermia, I was just fine and after a two-day observation I left to travel back home on the airlines. A friend and homebuilder picked me up from Amsterdam/Schiphol airport and brought me home. In times like this you get to know your friends. My family had decorated the house for my return and being back felt like a rebirth. What a lucky man to have family and friends like that!
Now we are in the aftermath of the accident. A great guy called Bob McCallum volunteered to get the plane out. He took a week of unpaid leave and set out to get the plane. The Falco however is the middle of nowhere, and it's extremely difficult to get it out without professional help. He contacted Recon Air of Geraldton to assist him, and they promised that they would. It looks like the only way to get it out is by helicopter making the salvage a $25,000 operation. The Canadian Government made me liable for all damage to their property but the insurance is, so far, reluctant to cooperate and cover the expenses under the liability insurance that I have. As far as I know, the plane is still in the water, and everybody is still waiting for each other.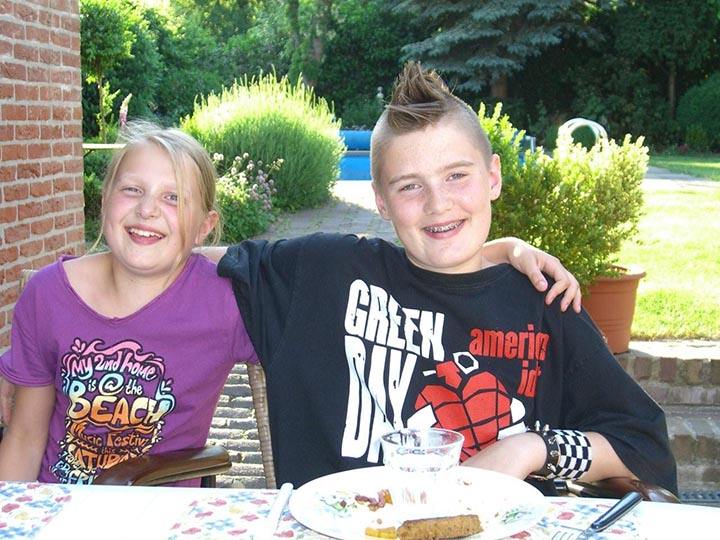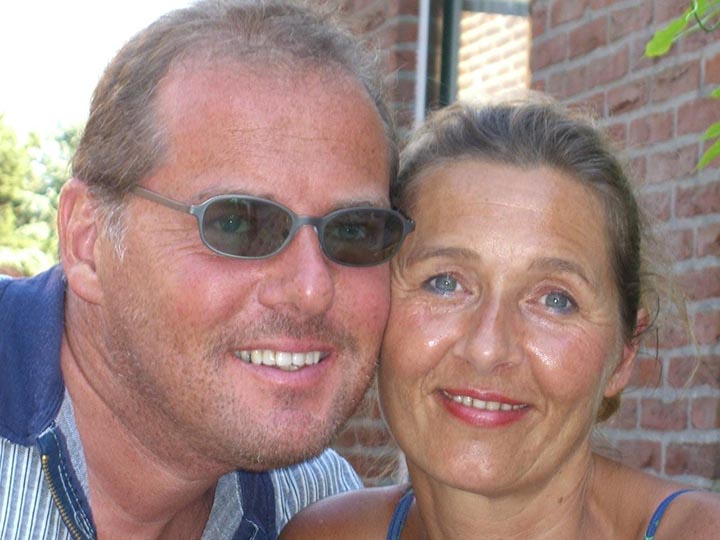 As if anyone needs to be reminded of what really matters.
Top: Joris and Simone
Above: Simon and Birgit Paul