by Jack Cox
This article appeared the Winter 1994 edition of Sportsman Pilot, a wonderful quarterly aviation magazine published and edited by Jack Cox who was the editor-in-chief for over two decades of EAA's Sport Aviation magazine.
It's a marvelous experience to be able to interview and write about pilots such as the subject of this article, Rex Hume of Williams, Oregon. Born in 1923, he will be 72 this spring, which is a span of time that cuts across the most amazing of all eras of human existence, at least for those of us who love flying. Think about it. In his lifetime, Lindbergh flew the Atlantic; both the North and South Poles were reached by air; the great National Air Races were broadcast live on nationwide network radio; Pearl Harbor was bombed to pull the U.S. into the wars already raging in Europe and Asia; the jet age, atomic age and supersonic age came in rapid succession; the Korean conflict ushered in the age of "brushfire" wars; the space age began; and humankind first set foot on another world.
There may never be another 70 year span of time in which so many startling changes take place. Certainly humans will someday launch out into the solar system, and eventually into the galaxy and beyond, but the difficulty of doing so is likely to be so great that long periods of development will be necessary between each step along the way. Many of us have lived through substantial parts of the aerial age, but not all of us have been participants in the great events that shaped the 20th Century. Rex Hume has that distinction, and he's still at it. Without intention or overt effort, indeed by default as much as anything, homebuilding has found itself becoming the mainstream of general aviation over the past decade and a half, which is exactly the period Rex spent building and flying his homebuilt Falco.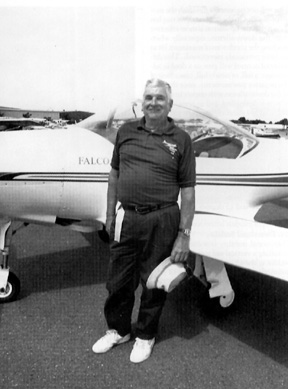 Rex Hume
Rex was born and grew up in the little town of Carlisle, Indiana. Enamored virtually from birth with aviation, he built models, devoured every aviation book and magazine he could lay hands on, was transfixed by radio programs and movies on flying, and headed for California to "get into aviation" as soon as he graduated from high school in the spring of 1941. After completing a three month course in aircraft engine maintenance at Santa Monica Tech, Rex was hired by the U.S. government as a civilian employee at McClellan Air Force Base in Sacramento at a salary of $1,320 a year, which was good money at the time. He was at McClellan that December 7 when the Japanese bombed Pearl Harbor, and was immediately set to work unpacking machine guns, cleaning the cosmoline off them and installing them in aircraft to defend against the invasion of the West Coast that was feared at the time. Rex was also still at McClellan when Jimmy Doolittle's B-25's were flown in for modifications needed for the famous raid on Tokyo. The work was top secret, but everyone on the base knew something unusual was afoot. They just didn't know what or where or when it was to take place.
Rex was at McClellan for about 9 months. During that time, the draft age was lowered to 18 and he was required to register for induction.
"As soon as I registered, I thought, 'Well, I might as well start at the top and get in this thing.' I picked Naval aviation and was accepted as an aviation cadet."
Rex was initially sent to Monmouth, IL for 3 months of "flight prep," which was just the first step in a weeding out process intended to provide the Navy with the best possible candidates for flight training. Surviving flight prep, he was sent to Las Vegas, New Mexico to learn to fly in a War Training Service (WTS) program run by Highland University. Las Vegas, NM has one of the highest airports in the country (this is where Lyle Shelton set the 3 kilometer world speed record in 'Rare Bear') and the trainers being used were 65 hp Aeronca Chiefs but the little Airknockers handled the altitude with no problems, Rex recalls.
"The worst thing was the snowbanks. A lot of guys groundlooped into them and ended up washing out."
Rex made it through the WTS phase and was sent to the University of Georgia at Athens for preflight training. After about 6 months however, the Navy decided it had too many pilot candidates in the pipeline, and Rex was told to choose some other career path. He opted to go to the aviation mechanics school at Norman, Oklahoma, but after about 6 months there, he was recalled for flight training! Back he went to Athens, then finally was sent to Memphis NAS for primary flight training in Stearmans. He flew those narrow geared cadet humiliators for about 150 hours, then was sent to Corpus Christi, TX for basic and instrument training in the SNJ. Next came Pensacola and multi-engine transition in the SNB2C (Twin Beech). By this time the war was over, and faced with a 2-year extension of his enlistment and an 8-week wait for assignment to PBY's, Rex decided it was time to move on. He resigned from the Navy, moved back to Santa Monica and went to work for Douglas.
For a time he was involved in the conversion of C-54's to civilian airliners, then was transferred to the Experimental Department as a mechanic. There, the work was quite interesting, involving the AD series, the Skystreak and exotic birds such as the F3D.
After getting out of the Navy, Rex began using his GI Bill benefits to get his civilian licenses. He had about 250 hours of military flight time, so it was just a matter of taking the writtens and flight tests for his Private and Commercial licenses, plus instrument, flight instructor, multi-engine and single engine sea ratings. He also obtained his A&E (now A&P) license, which was little more than a formality since that was the work he was doing at Douglas. In 1948 Rex thought it was time to begin enjoying the fruits of his labor, so he bought a Monocoupe 90A and flew it until 1950. That year he met a young lady named Margarete, fell in love and married.
"I thought I wanted to be a sailor, so I sold the Monocoupe and bought a sailboat. One trip on the ocean was enough of that, however, and I've kicked myself ever since for selling the airplane. I've even considered building a replica of a 90A, it was such a good airplane."
During this period, Rex was also very actively involved in the CAP. He earned all the CAP ratings and was the operations officer for Squadron 43 at the Torrance, CA airport. He was also a check pilot, search instructor and search base commander. He flew a lot of search and rescue missions in L-4's, L-5's and L-16's.
In 1955 Rex bought a Stinson 108-2, the small-tail version with the 165 Franklin. He really enjoyed that airplane because he could take his whole family along, which by this time included a son, Larry, and a daughter, Karen.
On the job front, Rex had transferred again, this time to pre-production modification, but that was not the assignment he wanted. He was angling for a flightline job, and when it was not forthcoming, he left Douglas and took a job with North American where he worked for three years as a final assembly inspector on F-86D's. Ultimately, however, he went back to work for Douglas, landing a spot as a preflight inspector in the Experimental Flight Test Department.
"I was actually doing the walk-around inspections for the test pilots. The field service inspector would turn the airplane paperwork in to the flight office, then I would pick it up, go out and check over the airplane and sign it off for the pilots. I always had fun going back in and telling them, 'I just took it around the pattern and it's O.K. for you now.' Later, I went into missiles and space work for a while, then ended up on the Pregnant Guppy and Super Guppy. I was involved with the flight test program and also in hauling missile stages to Cape Canaveral."
In 1961 Rex sold the Stinson and bought into a partnership with his Palos Verdes neighbor, Mel Heflinger, and another friend in a Harlow PJC-2 that Mel had located in San Diego. He worked for the next 7 years on the restoration, but sold out to Mel when he moved to San Diego. (Mel and his Harlow were featured in our Spring 1983 issue of Sportsman Pilot.)
"I was on the DC-8's, -9's and -10's. I was on the DC-10 program all the way from inception through putting it in service with the airlines. I was a customer service rep with responsibility for engine indicating systems and whenever anyone had a problem, I had to go and take care of it. The longest trip I made was to Rome, where Italia Airlines operated the -10. In 1975 the airline business was slowing down and I was laid off, but I went right to work with Aurora Industries in San Diego-Chula Vista, actually-doing the very same thing I had been doing at Douglas. That didn't last too long, however, and I was laid off again. That ended my aerospace work. I was with Douglas for 27 years, but that's the way you usually end up when you work for companies that deal mainly with the military and the airlines. For the next few years I did a number of things. I built houses and went into the roofing business for a time. In 1979 I saw Sequoia Aircraft's ads for the Falco plans and decided to build one. I had always liked Navions and had been thinking about buying and restoring one; then I saw the Falco and thought, 'Look at the shape of that-it's a 2-place Navion. I think I'll build one.' I started the project while we were in San Diego, then took it with us when we moved to Williams, OR in 1984. I lost a year up there building a shop big enough to finish the airplane. I renovated an old 30' x 30' barn and finally had room to mate the wing and fuselage."
Rex started out with the small components-wing ribs, tail components, etc.-and would eventually make all the wood parts except for the fuselage frames, which he bought from Little River Aircraft. The airframe is basically spruce and Finnish birch plywood.
"On the average, the plywood is 2 mm thick, 5 plies of .080 thick veneer. It is about half the price of U.S. plywood. Because of all the compound curves, all of it had to be prebent. You have to soak it in water, then clamp it over a form and let it dry. The wing to fuselage fillet on this airplane is wood instead of the fiberglass most Falco builders use. I figured if the Italians could do it, so could I. It took a lot of steaming and bending and a lot of scarfing, too. It is all scarfed together, with blocking underneath. I used the FPL 16A epoxy glue, which I like very much. The only resorcinal glue in the airplane is in the fuselage frames I bought. All the plywood skin is covered with Stits fabric and there are 25 coats of paint on the airplane. I flew it for a year before the color coats went on. I had a friend paint it for me. He used Du Pont acrylic enamel, and there are two coats of clear on top of that."
Rex would buy the landing gear, canopy, engine mount and other metal parts from Sequoia Aircraft. The engine he chose was the 180 hp Lycoming O-360 A1A, but he made a few changes for the Falco installation. It has an AN fuel pump instead of a diaphragm type, and the gearing in the accessory section was changed a bit. A new Hartzell CS prop and spinner were bought through Sequoia Aircraft early in the game for $2,700.
"That prop costs about $5,700 now, so I made the right decision in buying it years ago."
Rex says he is the only builder he is aware of who has a metal cowling on a homebuilt Falco.
"I made up the pattern in fiberglass and had a guy up in Oregon beat it out for me in aluminum. He normally does antique car fenders. He's one of those craftsmen who can make anything you want out of a sheet of metal. Between the two of us, we built two cowlings. I made a pattern out of fiberglass and he made one to match out of metal. I've got a lot of money tied up in that cowling!
"There's not much fiberglass in the airplane. I have the full complement of gear doors, and they are fiberglass. I've got more labor in that landing gear than anything else in the airplane. It just takes a lot of fiddling. Right now it is trouble free, it's working beautifully.
"Another thing I did that is unique to my airplane, as far as I know, is my canopy lock. I designed my own and it works well. It uses the same key as the ignition and allows you to lock the canopy from the outside. And as you can see, I chose to use the standard canopy rather than the low-cut racing bubble. I did it for the head room. I don't like to fly with my head cocked forward. This airplane is more like the original Falco's built in Italy. It has the standard canopy and the air scoop for my carbureted engine. I don't do any upside down flying, so I don't need fuel injection. I'm from the old school, I guess."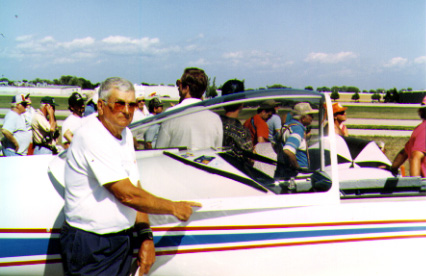 Oshkosh '95, Rex points to Stelio Frati's autograph on his Falco.
Rex's Falco has two fuel tanks, each holding 22 gallons. One is mounted ahead of the instrument panel and the other is aft of the baggage compartment. There is no fuel in the wing. The airplane is certified for IFR and has, among its other goodies, a 618 loran, KX 155 and KX 97.
"I made the first flight in the airplane on June 27, 1989. I hadn't flown since I'd sold the Stinson in 1961, so I got my medical, got about 2 hours in the right seat of a friend's Falco, did some landings, then I got my BFR in a 172 and crawled into this thing. I did several taxi runs, then flew it. Went up to 4,000 feet over Grants Pass Airport, flew it around a little, did some stalls and came in and landed it. Very uneventful. It was a little bit out of trim. I had to put a fixed tab on the aileron and another on the rudder, but after I got them properly adjusted, the airplane flew beautifully. That was five years ago, and I have about 194 hours on it now (this was at the Merced, CA fly-in last June). That's not a lot of time for 5 years (about 38 hours per year), but at 71, I'm not trying to build time anymore. I don't just go out and bore holes. There has to be some reason, some place to go. I like to go to fly-ins and I enjoy taking part in the Oregon Air Tour. I went to 14 air shows and fly-ins last year and camped out at most of them. I enjoy that, because we'll all sit around late at night talking airplanes."
Rex's Falco came out weighing about 1,250 pounds. He says he cruises it at 165 knots at 2,350 rpm, which is full bore and 21.5 inches at 8,000 feet. On climbout, his VSI is pegged at 2,000 fpm, and that's good enough for him. He hasn't bothered to time any climbs.
"I just go out and fly the sucker. I really enjoy it, and it has all the performance I need."
There is a perception in the homebuilt world that the Falco is, at least, a time consuming airplane to build. Asked his evaluation of it as a project, Rex said: "To me, this is not a complex, hard-to-build airplane. It just takes a lot of hours. It is labor intensive. I had 7,000 hours over 10 years in mine before I took it to the airport, then I stopped counting. There's nothing difficult, it's just a big model airplane, a big wooden model. You just take it a piece at a time. I think that's what scares people-they are afraid to start one of these things. They think in terms of the whole project, but you build a lot of little things and eventually they all come together. Of course, there were nights when I'd lay in bed at three o'clock in the morning solving problems. But I didn't burn myself out. I'd work 4 or 5 hours a day, then I'd go do something else-go fishing or something. And if I ran into a problem, rather than mess it up, do something wrong, I'd turn out the lights, lock the door and walk away. A lot of problems solved themselves that way. Including the engine, prop instruments and avionics, I've got about $60,000 in the airplane. It has been a lot of fun, though, and I really enjoy it. I've given one official Young Eagle ride in it so far, and I also flew another kid on the Oregon Air Tour. He was flying with his grandfather in a Fairchild 24 and there was a little concern about one of the legs that required a high altitude takeoff, so I was asked to take the boy on that leg. I did and when we got out of the airplane, he said, 'Boy, I want to go with you the rest of the way!' When they got home, he wrote me a nice letter, thanking me for the flight. I've got it on my hangar wall, along with all my posters, pictures, Reno tickets, patches and stuff. It kinda made all those years in the shop worthwhile."
And you say you wonder where the next generation of pilots will come from?