by Alfred Scot
This appeared in the June/Sept 2000 issue of Falco Builders Letter.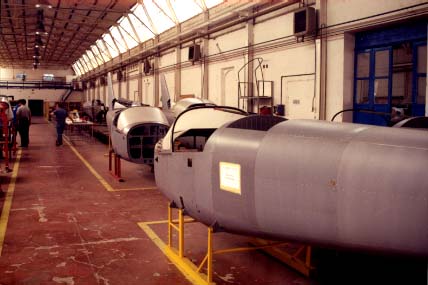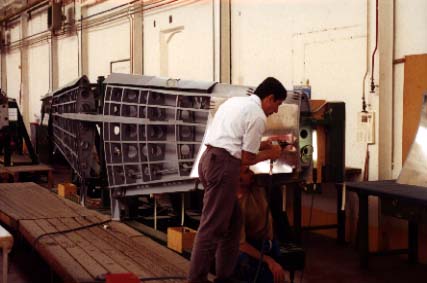 At the General Avia factory in Perugia.
Stelio Frati's old company, General Avia, is now in new hands. Frati's atelier in the Milan suburb of Pioltello is closed and production of the F.22 is at the factory in Perugia. I was in Italy in May on vacation, and I drove to Perugia to check on the state of aviation, Frati-style, in Italy today.
I wasn't optimistic, because I've heard for years how the Italians have taxed aviation out of existence. Airplanes are taxed by weight and the annual tax on many designs is greater than their hull value, so most airplanes have long been sold to other countries. When I arrived at the Florence airport, I visited the Aero Club there. There were a few airplanes out on the ramp, and the office was quiet and occupied only by the man who ran the place.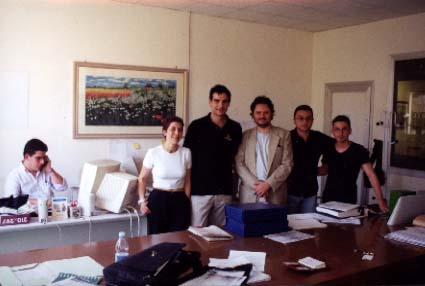 The engineering office. Konrad Lozinski is third from right.
I drove out to the airport in Siena, where we were staying, to find a huge field with three airplanes in residence: a Socata Trinidad, an old French Rallye, and a Cessna 182 for the local parachuting club, which kept the plane busy on weekends. I struck up a conversation with the group at the Aero Club trailer. All knew the Falco, revered Frati and an old mechanic had fond memories of working on Falcos.
I was watching the sky for Andrea Tremolada, who was flying down from Milan for the day. He didn't arrive, and he later called to say he had landed in Parma, and that his ferry tanks, which he was testing, had failed, split open and dumped their contents into the bottom of the Falco. Fortunately, he was carrying water on the flight, and he said that the tanks had failed after four hours of flight and that this was the second time they had failed after four hours in the air. Visions of Andrea and his Falco exploding over the South Atlantic filled my mind and kept me awake all night.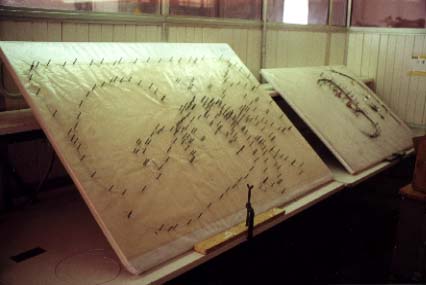 Wiring looms
With these pleasant thoughts, I drove to Perugia only to discover that there was no General Avia in Perugia at all. But someone thought it was in a tiny hamlet on the shore of Lake Castiglione. I retraced my steps and found the factory nestled in a sleepy little waterfront town. Everyone was at lunch, and we walked a couple of blocks and found Konrad Lozinski at a café. Konrad was Frati's draftsman in the 70's and had worked on the Falco project then, and because he was from England and thus spoke perfect English, he was my contact back then. He's now in charge of quality control, and he gave me a tour of the plant.

Stabilizer assembly.
There are about 70 to 80 people working at General Avia now, and the plant is located at a historic old location, once the home of Ambrosini. Many famous designs of the 30's and 40's were produced here, including Stelio Frati's Rondone, a famous canard design, and several jet fighter designs of the second world war.
And it's clear that they are located here because the production equipment was already in place. There is ample factory space, plenty of it unused, and one building houses a pin router, another a hydro-press and heat-treat ovens. Machine-shop equipment is all from the 50's and little has changed in production for the last forty years, except for the PC's which they used for their office and CAD. All of the machining is done in the old, manual way, with nary a programmable lathe or milling machine to be found. And it's fun to see the Falco landing gear retraction motor gearbox, which I designed, as part of the design.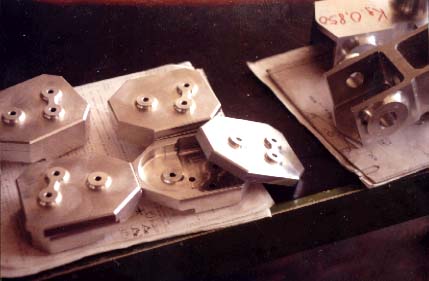 The landing gear retraction motor gearbox.
They make almost everything at the plant, including their own exhaust system, probably just because it's simpler to bend up some tubing and weld it together than to deal with suppliers in another country. And the drawings and manuals for the plane are all done on computer, and it's a rare find now to come across a drawing with the famous S Frati signature on it. It's now all in the hands of production, and despite its racy looks, the F.22 is still a trainer design intended for slower flight and hard landings at the hands of clumsy pilots.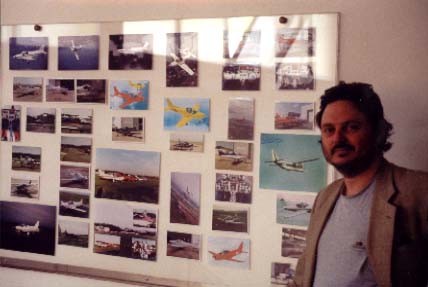 Konrad Lozinski and the General Avia trophy wall.