| | | |
| --- | --- | --- |
| | Al Aitken | |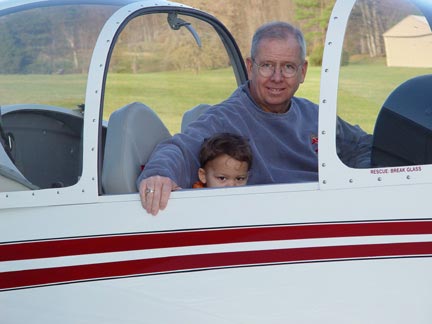 | | | |
| --- | --- | --- |
| | Al Aitken and grandson David trying out the Mike and Jack Weibe's Falco. | |
Seventeen years ago I looked and felt much younger when my wife Nancy gave me the Falco plans as our seventeenth anniversary present. We're now approaching our 35th anniversary, and the Falco is still in progress. My first four years of effort on it happened while I was still on active duty with the Marines working 14 hours a day at Headquarters, which left me only about 15 minutes a day to work on the Falco.
When I retired from the Marines in 1990 and went to work for American Airlines, I thought I would have far more time to work on and complete my Falco. It didn't work out that way. Nancy and I started a home-based computerized embroidery business, and it came to totally consume our time. Alfred had warned me of that and advised me to forget the business and get to work on my Falco. I should have listened to him, but the experience I had running a small shop with Nancy was well worth it.
Then along came an opportunity to buy land at Joel Shankle's Berryvale Private Airpark and build the hangar and new home of our dreams. It took a few years to complete the transaction, so I could not start on the Falco's wing fearing I would not be able to move it before it was finished. So I waited. During these years I stayed involved with the Falco community by helping write the Falco Flight Test Manual, developing the Falco Flight Test Cards and flying the first flights on a number of well-known builders Falcos such as Jonas Dovydenas, George Barrett, Al Dubiak and Mike and Jack Wiebe. At least I got to fly a number of Falcos which were all very rewarding experiences and gave me friendships that are worth more than any airplane.
In 1998 we moved into our new hangar on the Berryvale grass strip and lived there while the new house was being built. Of course, I could not work on the wing then because we were packed into our hangar with everything we owned including our dog and cat. George Barrett became so concerned about my slow progress that he bet me a nickel I would not be able to finish my Falco within five years.
Finally in July of 1999 we moved into our new home and cleaned out the hangar so I could get restarted on my Falco. Joel Shankle and I had just finished making the wing jig boards and were nearly ready to begin the wing building process when the pilot union for American Airlines conducted a sickout which nearly shut the airline down for several days and severely inconvenienced thousands of people.
I knew the only way to keep the union from destroying itself was to replace those involved in the sickout decision, so I ran for union office and unfortunately, I won. So much for the Falco project as zero work on it occurred for the next two years. Then came tragedy on September 11, 2001 and my heavy involvement in passing new federal legislation to arm our nation's airline pilots, and another two years flew by with no work on the Falco. As the five-year nickel bet with George Barrett drew to a close, George kindly raised it to a dime and gave me until I retired from American Airlines in 2008.
I began to feel like the old cartoon character, Mighty Mouse and his theme song, "Here I come to save the day!" I realized I suffered from what I was sure must be a rare disease called "responsibility". I feared I would never be able to put the time required into finishing this extremely tedious and time consuming Falco project. I began to consider giving it up.
Then a very strange and ironic set of circumstances occurred that got me back on track with my Falco. I flew a month of trips with an American Airlines Captain who had recently completed an RV-8 and during that month I went flying with him in it. He had done a very nice job, and we talked the entire month about the details of building an RV kit. It seemed like a project that I might actually be able to finish in spite of my other responsibilities. I started collecting information on the RV's and metal working tools and methods. I began to mention it to Nancy. In November 2003 I flew my Maule to Rosegill in formation with the Canadian Falco and mentioned it to Mike and Jack Wiebe as well.
Suddenly I began hearing from many in the small Falco community telling me not to give up, chastising me for even thinking about a metal airplane and shaming me into going back to work on my Falco. I don't know if Nancy had put them up to it, or maybe Alfred, but I do know I've done more work on my Falco since November than I have done in the previous 17 years combined. The wing spars are now in the wing jig and I'm nearly finished aligning it all and will begin gluing ribs very soon.
And I know something else. The friends I have made in this very special Falco family are like gold, and I'm going to win that dime from my good friend George Barrett.
Al Aitken

Al Aitken
Al Aitken is a pilot for American Airlines. He retired as a Lieutenant Colonel, United States Marines, in 1990 after 20 years as a fighter pilot flying F-4 Phantoms and F/A-18 Hornets. He was a test pilot at Patuxent River, MD testing the F/A-18 prototypes in 1980. He and Nancy now live in Culpeper, VA (1 hour southwest from Washington, DC). Telephone (540) 825-1057, e-mail votorschair@vabb.com Al is still inflicted with his "responsibility" disease and recently founded and is Chairman of VOTORS (Virginians Over Taxed On Residences) and has a website at www.votors.org.
Construction Photos
Tail Nose Gear Main Wing Spar Fuselage Frames
Frames Glued To Spar More Fuselage Frames Wing Assembly