| | | |
| --- | --- | --- |
| | Bill Hoffman | |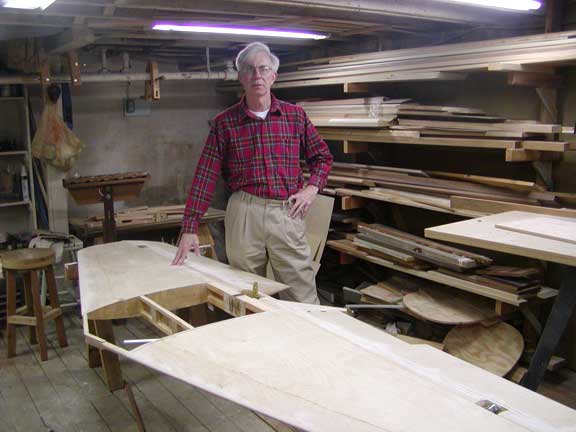 Bill Hoffman
I am originally an aeronautical engineer but spent most of my time in banking and finance. So now I am back to my original hobby of making wooden airplanes.
I started in cutting and gluing the stabilizer ribs June of 2004. Since I am retired I figured I could make quick progress, but I have spent an inordinate amount to time just staring at the parts and saying to myself "How am I going to do that?" I have been slowed up a bit by the mill where I am getting the spruce but this too will pass. I am using Aerolite and homemade hardener so far. The hardener is just diluted acid died green.
Bill Hoffman
Bill Hoffman 1518 West Pennsylvania Street, Allentown, PA 18102 flyguy@rcn.com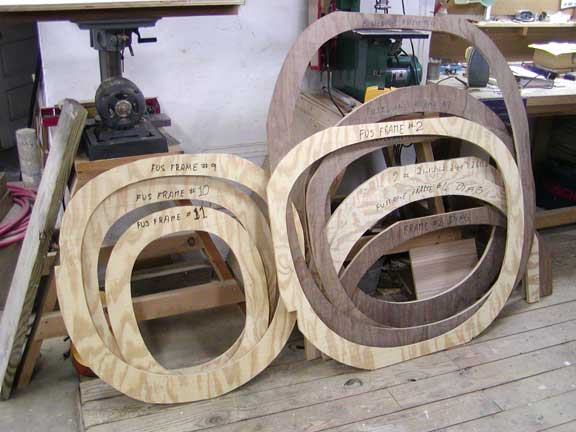 I have cut jigs for all of the fuselage frames by plotting the formula on the plywood and connecting the dots. I rough cut the inside of the jugs with a jig saw then finish sanded with a drum sander mounted in my drill press. I figured out the points on an excel spreadsheet which I would be happy to share.

While I am building in my basement for now, I need to find a larger space when I start the fuselage\wing construction and one that is warm enough for me in the winter. I can't wait to get more of the plane together.